SEATTLE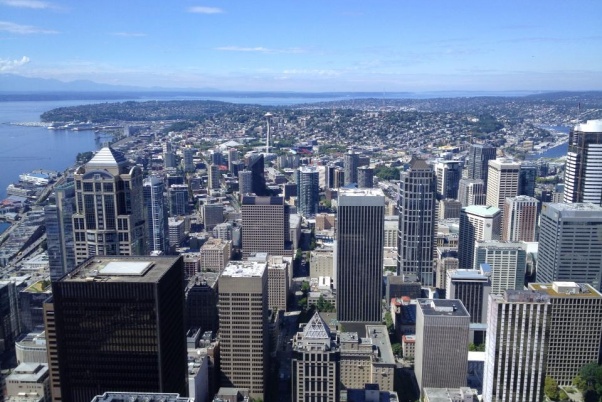 SEATTLE
The birthplace of Grunge, Boeing, Starbucks and Microsoft... And now the Amazonians are taking over!! 

This city does quirky and hip very well. And the American's customer service exceeded my expectations every single time - I love them... 

Despite its reputation for rainy weather, we timed it perfectly as summer in Seattle brought us long days (9pm sunset), clear skies and warm weather... 

Mobile Phone & Internet
Download the APP Viber (there are a few others but I use Viber) and make sure your loved ones, family and traveling companions also have the app.. It enables you to call/text over the Internet for free... 

THANKS to Starbucks for not only being on every corner (over 140 stores) but for providing me with free wifi constantly!! If u need free wifi in the USA just stand outside a Starbucks...


***First hand recommendations from my week in SEATTLE***

Train from airport to Westlake station which is the last stop - takes 45min and is only $2.75

Hard to get taxi's, need to ask your hotel to call one for you

Accommodation
- due to Julian's contract we stayed @ Hyatt Place which I actually loved due to the big rooms
For a shorted stay I would suggest Grand Hyatt Olive 8, Max hotel, Westin or Four Seasons


Sightseeing - things to see & do
**definitely purchase the CITY PASS @ $80 & you can purchase at any attraction on the pass**
- Argosy Cruises Harbor Tour, we boarded at 5:15pm, perfect for sunset
- Space Needle @ 7pm as you catch the last light and also sunset
- IMAX movie at Pacific Science Center
- Sky View Observatory
- Pike Place Market
- Underground Tour @ $17 per adult / 75min
- Take taxi ($20) to University Village for a cute shopping centre with lots of top brands and sales!! When there be sure to eat at the great Italian restaurant called "Italian Piatti"
- Seahawks stadium
- harbour is not flash at all


"Happy Hour" is offered nearly at every establishment for both food and drinks and its great and cheap and definitely longer than an hour....

Restaurants/Food
- Sky City revolving restaurant at top of Space Needle
- Japanese Gourmet Restaurant @ Pike Place market, for some great Japanese food - family owned restaurant for more than 20yrs
- Street food fair @ Capitol Hill
- Whole Foods supermarket, not to be missed, once you see it you will understand
- Hard Rock Cafe
- Boom noodle
- I don't recommend the seafood restaurants by the waterfront (Crab Pot, Ivar's etc)

Bars
- Yard house - 140 different beers (also there food is great)
Pomegranate margharita was devine
- Von's 1000 spirits
- "Cocktails" on pine street
- Six Arms, they brew beer onsight
- Boom noodle @ Capitol Hill has great cocktails and cheap

Flywheel Gym - for those who like a top work-out whilst on holidays - first session free and additional ones $25


Things I didn't have time to do but highly recommend.....
Water activities on Lake Union
Alki
Fremont District
Ballard & the locks 
Kirkland
Bellevue
Green lake / blue water 
Dukes restaurant
Tillicum Village with Argosy Cruises
Washington Wine region


Seattle, my week with you was sensational and mainly due to your "VARIETY" & Proximity!!