JAPAN - Hakuba ski village, Tokyo, Kyoto, Osaka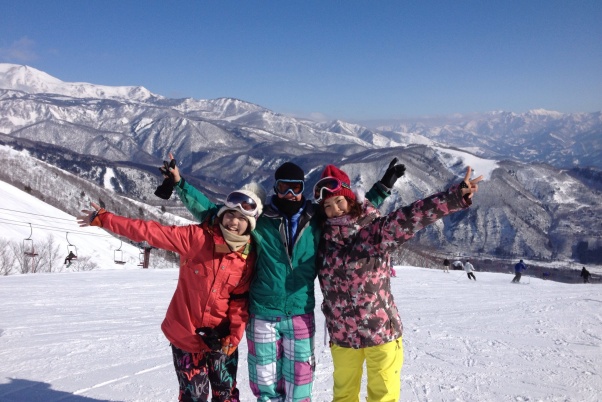 "Konnichiwa"
Japan is a foodie's paradise, has amazing hospitality and services everywhere you go. It's a beautiful country with stunning gardens, temples, and shrines.
I thought I would be eating sushi sushi and more sushi on my trip to Japan however that was not the case there's much more to be discovered when eating in Japan! With both traditional and modern styles, flavours that vary by region, and the best STEAK I have ever experienced. In Japan, a high quality of service is so much a part of the culture that there's even a word for it - 'omotenashi'. I experienced 'omotenashi' nearly everywhere I went.
I flew with Japan Airlines - Be sure to check-in online using their QUIC system https://www.jal.co.jp/en/quic-i/ comfortable seats, staff very friendly and helpful, entertainment system not great.
WIFI tip - you can hire a device at the airport for AUD$100 that you can connect 4 devices to and have wifi. You just pick up when you arrive and return on departure. Also go to the info centres as they offer tourists free wifi for 14 days - available in certain shops - just ask them and they give you the logon details.
1. HAKUBA - ski village
I arrived at Narita airport at 5pm and caught the CHUO TAXI to my accommodation in the Hakuba Ski Village (as too late for bullet train). The drive was 7 hours and had a dinner stop half way, the mini van was extremely comfortable. Cost $165 per adult.
For the return journey I caught the local bus from Hakuba bus station to Nagano Train Station (took 1.5hrs) and then the bullet train (shinkansen) to Tokyo Station (took 1.5hrs). Very convenient and comfortable, I love the fact that you are not allowed to talk on the mobile phone on buses and trains.
I stayed at Yamano Hotel - lovely little Japanese style lodge, with great restaurant that won the only Michelin award in Hakuba, very comfortable and only a 10min walk to the start of the ski lift for HAPPO ski mountain.
Lift ticket for 1 day is $55AUD.
Ski/boots/poles hire for 1 day is $55 AUD - can hire your gear from Spicy's.
Great value food on the ski mountain - $8 for big Japanese dish.
2. TOKYO
Fast-paced, energetic and busy, the city rarely seems to rest.
Tokyo offers an unlimited choice of shopping, entertainment, culture and dining to its visitors. Tokyo has many centres. Shinjuku, Shibuya, Ikebukuro and Ueno; Nihombashi, Shimbashi and the famed Ginza.
Taxi fare are JPY740 for the first 2 kilometres and 80 yen for each 274 meters thereafter. The elevated JR Trains and Subways are the best transit option.

Hotels that I stayed at in Tokyo
Shangri-la Hotel, Tokyo - Excellent lead-in room size and all the amenities expected of the brand. Wet room particularly good. The hotel's proximity to Tokyo station is a huge plus. Marunouchi and the Imperial Gardens are all a 10 - 15 minute walk away. The hotel occupies about six floors at the top of the Marunouchi Trust Tower so you benefit from some very impressive views.
The Peninsula, Tokyo - The location to Ginza or Palace is excellent. Rooms are large, comfortable, beautiful, quiet, and private but the room electronics a little complex. The lobby breakfast area however is not great, bad space, service was slow and no ambience.

Tokyo Station Hotel - Housed in an old historic redbrick building located right inside Tokyo station. Renovation just completed. Mix of colonial and modern. The first couple of room grades are really only big enough for 1 person. They have a valuable service of meeting you at the arrival of your train from narita, if you ask in advance. They will also bring you to your train upon checkout. This is useful as the train system and station takes a while to understand.

Sightseeing in Tokyo
Mount Takao is one of the closest natural recreation areas to central Tokyo, offering beautiful scenery, an interesting temple and many hiking opportunities. It takes only 50 minutes and 370 yen to reach Takao San kuchi station from Shinjuku.

The peak is 599 meters over sea level and offers views of Tokyo, Mount Fuji and as far as Yokohama on clear days. We unfortunately had a cloudy day so couldn't see Mt Fuji. There is a cablecar and chair lift leading halfway up the mountain. From there, the ascent to the summit takes about 45 minutes - it took us longer as the ground was covered in snow (not normally like this, Tokyo had its first snow fall in 60 years 2 weeks before i was there and still lots of snow around).

A perfect thing to do after your hike up Mt Takao is to have lunch at UKAI-Toriyama - Michelin star rest - call them and they will pick you up from closest train station. Walk through their Japanese gardens and dine in their individual Japanese traditional teahouses. We had the 4 course banquet chicken charcoal broiled of 4 courses - AUD$40.

Imperial Palace - residence of Japan's Emperor - open 9am till 4pm (not open MON and FRI) - free entry.

Tsukiji Fish Market - biggest seafood wholesale market in the world. Outside the market is the outer market "Jyogai Shijo" with many seafood retailers and restaurants. Famous tuna auction daily - if you want to see the tuna auction be prepared to leave the hotel at 3:30am to register as only 120 visitors are allowed to see.

Roppongi Hills Observation Deck Tokyo City View - spectacular panoramic views of Tokyo at twilight.

Tokyo Skytree – one of Tokyo's newest attractions, which opened in May 2012 and is the world's tallest tower at a total height of 2,080 feet (634 meters). $18 per adult.

Asakusa - temple quarter - located on the west bank of the Sumida River, sightseeing via Rickshaw (tokyo-rickshaw $50AUD per adult or $80 for 2 adult for 30 min tour) is a great way to see the area - Senso-ji, Tokyo's oldest Buddhist temple and browse the avenue of outdoor food stalls and souvenir shops leading up to the temple.

Hamarikyu Gardens - lovely to walk around and finish with a tea ceremony 500jpy pp.
BULLET train from Tokyo to Kyoto - Shinkansen - 2hrs - 130000jpy = $130 - your bags are left at the hotel and they transfer them separately for you by truck to Kyoto (easier than taking on the train) - they will arrive at your hotel in Kyoto same day afternoon.
3. KYOTO
Japan's former capital and the emperor's residence from 794 until 1868 has approx 1200 Buddhist temples. Sannenzaka - beautiful area to walk around, lots of little shops and at the end is the Kiyomizudera Temple.
Imperial Palace - foreigners can go at 2 specific times during the day with passport and sign-in which takes 20min or so and you can walk around the gardens freely
Tea and Dance performance from Maiko (apprentice Geisha) - this is a MUST DO
Minimum taxi charge in Kyoto 700jpy (in Tokyo it's 720jpy)

Some hotel recommendations
Hotel Granvia Kyoto - 4 star at station
Kyoto Hotel Okura - 5 star in Gion area - highest building in town Hyatt Regency Ritz Carlton - newly opened and is absolutely amazing, beautiful rooms that open out onto own Japanese style garden terrace

Matsui Bekkan Hanakanzashi - clean comfortable and friendly, located near the food markets Gion Hatanaka Ryokan - the best Ryokan in Kyoto - perfect location - lovely onsen - Ritz Carlton recommends this one Yoshida Sanso - only has 5 rooms - 4 star Sumiya Ryokan - most famous - 7 min from Kyoto city
Hiragiya
Tawaraya
4. OSAKA
Osaka International airport is 1.5hr - 2hr from Kyoto airport
40 rivers and 808 bridges
1 hour to hot springs

Try dishes such as kitsune udon (noodles topped with deep-fried tofu); okonomiyaki (savory pancake); shabu shabu (thinly sliced beef and vegetables with dipping sauce); hakozushi (Osaka-style boxed sushi); tako-yaki (deep-fried octopus dumplings); and other local delicacies like tecchiri (puffer fish), kushikatsu (skewered kebab) and me-oto zenzai (sweet red bean soup). Beer tasting at Asahi Beer Factory

Tempozan Harbor Village next to Osaka Aquarium Kaiyukan is one of the largest aquariums in the world. Ride Tempozan Ferris Wheel - panoramic views of Osaka Bay and the city's skyscrapers. Top floor of the Abeno Harukas, a skyscraper whose 62 flights make it the tallest building in Japan!
Kitashinchi area great for restaurants Michelin etc.
Nightspot - Doton-bori
NAMBA area great shopping street with station at the end, close to Swissotel, huge underground shopping mall.
In Osaka I stayed at the RITZ CARLTON - Great location next to Osaka Station City and close to the shuttle bus stop that is used for Kansai Airport. Luxury hotel with lovely big room and staff extremely helpful. Breakfast buffet one of the best. 
WEATHER in JAPAN
End march early April spring - cherry blossom season lasts 1 week - never know exactly when depends on hot weather. June and July rainy season. August is summer. Mid Sept to Nov is Autumn. Winter Dec Jan Feb.

OTHER AREAS of JAPAN
NORTH - Hokkaido - great skiing and abundant outdoor activities - fantastic to visit in Summer and in Winter. Hiroshima - The place which entered our collective memory in that moment of horror - and yet recovered to become a bustling, vibrant city serving great food.
Shirakawa go - A world Heritage village with unique architecture and a special social system.
SOUTH - Kyushu area - Location for some of Japan's best hiking routes - green rice fields fill the eyes, volcanic activity stirs the soul and ample hot springs refresh the body.
 Himeji - home to one of Japan's most beautiful castle's - a vivid reminder of the Samurai era Okinawa, in the south - beautiful beaches.
Nara - The old capital before Kyoto from 1710 to 1784 graced by the Great buddha and the influence of chinese culture - 40 min from Kyoto.
NAGOYA - It also famous for miso based food like miso-katsu, miso udon, etc. It has a rich food culture there also. Nagoya Castle and it is also home to Toyota, so there is a Toyota Factory/museum they can visit.

NAGANO - What to see: Sensoji Temple, also close to Matsumoto, so you can do a day trip to Matsumoto Castle. Nagano is famous for its soba noodles, very different to what you get in Tokyo and other areas of Japan
Day trip to Shirakawago 1hr drive from Takanawa - is a farmers village with 60 farmers houses Kanazawa - pop 700k - "Small Kyoto" is what Kanazawa means Japanese seaside.
Tokyo - Nagoya 1.5hrs
Nagoya - Takanawa 2.5hrs
Kanazawa(seaside town) to Kyoto 3hrs train
I don't want to give away all my secrets and fantastic recommendations, however a full comprehensive list of each SHOPPING area along with a very long list of recommended RESTAURANTS and BARS for every occasion, budget and taste will be given to you when you book your Japan Holiday with me.
"Sayonara"