LOS ANGELES - Universal Studios and Disneyland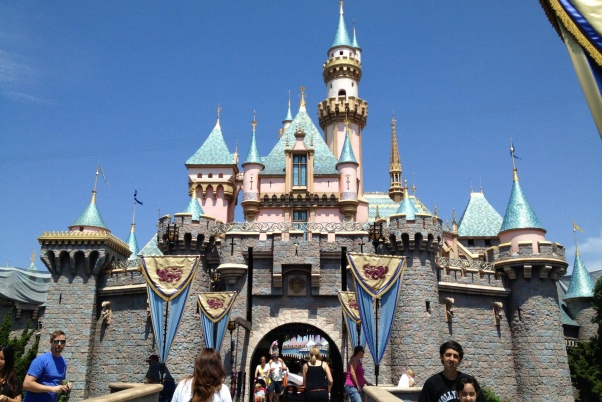 Universal Studios
We stayed right at the park at the "Hilton Universal City" which was fantastic, the king bed corner suite was big and had a great view of the park. The Sheraton hotel next door is also a good alternative. 
1 day entry pass is $80 plus I definitely recommend paying the extra $85 for the fast pass. Having the Fastpass meant we didn't have to line-up once for a ride as you ho straight to the front of the queue. Tony Roma's for ribs was great which is located just outside the park at Universal Walk. Back to the hotel for an afternoon swim before heading back to the park for some more fun at night-time!! As park open till 10pm. 
Rides - start with Transformers and work your way back... Mummy's ride great, do Jurassic Park when your ready to get wet, Simpsons, Shrek & House of Horrors..... The studio backlot tour is a must when you are in need of a rest as you sit down for an hour and also includes King Kong 3D!! Waterworld show is awesome and try and sit front row in middle section... You will find out why!!
Disneyland
We stayed in the park at "Disney's Grand Californian Hotel & Spa" which gave us an extra hour in the park from 7am till 8am before it was officially open so we were able to quickly do as many rides as possible with no line-ups!! Plus with our hotel so close meant we could split up our day in the park with a swim at our hotel pool... Strawberry ice creams in the park, yum!!
Disneywalk had some great little shops, bars and restaurants.
Valet Car parking @ Grand Californian only $20usd per day
Rides - entry $97 for 1 day... we didn't bother with the fast pass system here as it didn't seem to shorten your line-up. Our key here was to elect to ride as single riders as you go straight to the front of the queue and fill in the gaps, but as it turns out you get to ride 2gether 50% of the time anyway... Indiana Jones ride at Disney was possibly the best... Plus of course the teacup ride!!