The South of Italy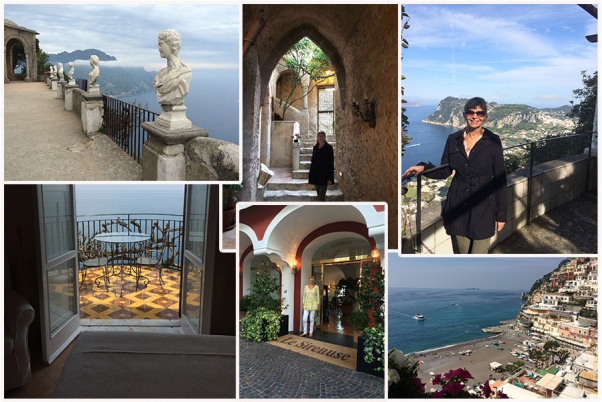 The south of Italy is a magnificent destination with spectacular scenery and wonderful, stately accommodation, as I discovered during a recent visit.
We flew into Rome; next morning our group, invited by The Leading Hotels of the World, ventured south to Naples. We boarded the ltalo train in comfort we travelled at speeds up to 300km/h, arriving in Naples in just one hour!
Our coach transfer motored along the coast to Sorrento and we arrived at the Grand Hotel Excelsior. Perched on the cliff edge of Sorrento, the hotel has been owned and operated by the Fiorentino family since 1834; it has breathtaking views of the Bay of Naples and Mount Vesuvius. Ruins of Roman Emperor Augustus' villa are said to lie beneath the property, and the past is also alive in such details as the 18th-century columns, frescoed ceilings and antiques displayed throughout. Outside, the region's beauty is evident in the lush gardens, filled with Mediterranean plants, citrus and olive groves. The town of Sorrento is perched above cliffs that separate the town from its busy marinas and is known for its panoramic views and Piazza Tasso, a cafe-lined square.
Next stop was the picturesque Isle of Capri. Arriving into this beautiful island harbor, we travelled up the winding roads to the town of Anacapri and to the Capri Palace Hotel & Spa. The hotel has a distinctly modern aesthetic, with sleek interiors and pieces from the owner's personal art collection. Guests enjoy ground breaking spa treatments at the Capri Beauty Farm and lavish dinners at the two-Michelin starred restaurant L'Olivo. Capri is famed for its rugged landscape; we took the chairlift to the top of Anacapri and took in amazing views.
Positano was our next stop, with a stay at Le Sirenuse Hotel. The majolica-tiled rooms are filled with museum-worthy antiques. From there we had a short drive along narrow coastal roads to the village of Amalfi and the Hotel Santa Caterina, one of the Amalfi Coast's oldest grand hotels.
The property is a personal expression of local style. The exteriors feature centuries-old gardens and sweeping views of the Bay of Salerno. Eleva­ tors cut into the rocks sweep guests to a private beach club complete with a large saltwater pool. The romantic setting amidst orange groves and bright-pink bougainvillea has not been lost on big names, in· eluding Angelina Jolie and Brad Pitt who've stayed there.
In our time staying in the village of Amalfi, we also visited the picturesque hilltop village of Ravello, which is known today for its beautiful gardens and amazing views and wonderful summer concerts held twice a day in the village square. A Visit to the cathedral in the village of Amalfi is a must for art masterpieces.
There is so much to offer in this southern area of Italy; the food is exquisite, the scenery amazing and the people wonderful. I thoroughly recommend it!