Ovation of the Seas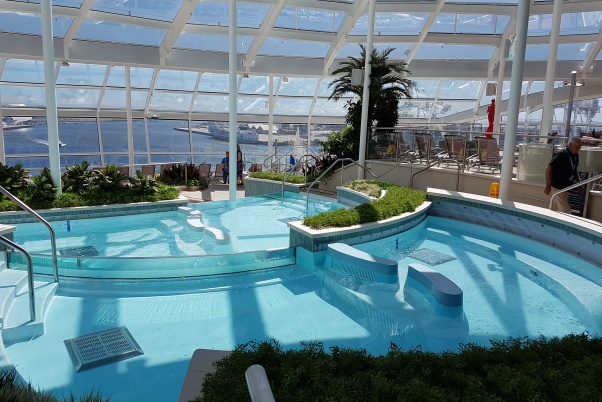 This is the first season in Australia for Ovation of the Seas and I was very excited to sail on her. Yes, she is a massive ship, with over 4500 guests, but she doesn't feel crowded once onboard. Obviously check in/checkout can take a bit of time – so patience is needed. I am sure as the crew become more familiar with the processes, this will be streamlined.
We did the 5 day Perth – Adelaide sailing, which was just enough time to check out the ship! There are so many things to do and has something to appeal to everyone – families, couples, groups etc.
Considering the amount of passengers boarding in Perth, our cabin was ready by 1.00pm which I thought was excellent! I loved our cabin – a superior balcony – so much room and nice to see the shower having a glass door rather than a shower curtain. Such a small thing can make all the difference! The balcony, whilst they are never big, was certainly adequate with both chair and footrest.  Yes, it does have a hairdryer onboard J
There are so many iconic activities on this ship – North Star, iFly, Flowrider – make sure you book before sailing (if possible) because they do book out.  Remember some of these are weather permitting so you may need to be flexible. Of course, for those who just want to relax, head to the Solarium. I spent every day here. There are 3 small pools and 4 spas – and of course a bar and cafe! This is a glass enclosed area at the front of the ship and was beautiful.
You definitely do not go hungry or thirsty on Ovation. Check out the Bionic Bar for something a little different!  The dining room is separated into set dining times on deck 3 and my time dining on deck 4. This gives a feeling of space and not overcrowding.
I found the dining room ok, but not as amazing as other Royal Caribbean ships. Perhaps this is teething problems as well. What was fantastic is the Chef's Table dinner ($85.00 pp incl wine) and Wonderland ($49.00pp) The best way to describe Wonderland, is think Heston Blumenthal and you're on the right track! I definitely recommend it. There is a dining package valued at $85.00pp which includes 3 restaurants (Wonderland, Jamie's Italian and Chops Grille) It is very good value. With the amount of food on offer, we used the stairs nearly all of the time, but when we did use a lift the wait was not very long.
Service onboard was very friendly, but apparently 300 crew did not make it onboard our cruise in Singapore due to visa issues. This was noticeable in the food and beverage areas. Again, once Ovation arrives in Sydney this will be rectified.
Overall I really enjoyed the cruise – my favourite areas were the Solarium, bar@270 for sunset cocktails and Boleros for an after dinner Espresso Martini!
For more photos head to my Facebook Page - https://www.facebook.com/DeannaNapierMTA/