Castaway Island, Fiji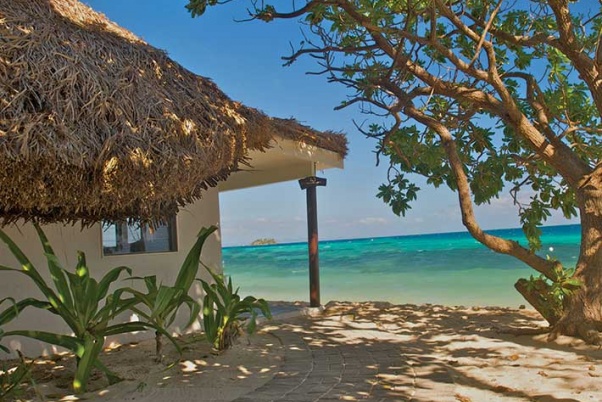 I have been lucky enough to visit Fiji 3 times now and I just can't get enough of it! I have experienced and inspected properties on the Coral Coast, in Denarau, and in the Mamanuca Islands.
Fiji is the perfect getaway. Just a short flight from Australia, white sandy beaches and turquoise blue water awaits! It is such a great place to escape, unwind, and simply relax.
I recently spent 5 nights on Castaway Island in March 2014 and absolutely loved it. From the moment we stepped off our seaplane, we were greeted by the friendliest of staff. We were taken straight to the main restaurant where we were given a refreshing welcome drink to enjoy whilst we completed our relaxed check-in. We were personally escorted to our room and were shown the different areas and facilities the island had to offer us during our stay.
Castaway Island offers three types of accommodation - Island Bures, Ocean View Bures, and Beach Bures. All of similar decor and size, the Island Bures are surrounded by tropical gardens, the Ocean View Bures offering an ocean view as the name suggests, and the Beach Bures are situated right on the beach. We stayed in an Ocean View Bure and just loved it - Fijian decor, spacious with lots of storage, a comfy bed (very important!), a good sized bathroom, and just a short walk down to the beach.
A highlight of the island was definitely the adults only pool. And to make things even better, this also has a swim up pool bar! This area is a great place to relax in the sun on your deck chair, take a dip in the pool or the spa, and to enjoy a beverage or two.
I can't talk about Castaway Island without mentioning the food... It was just amazing and could not be faulted! There is a poolside cafe, a sports bar overlooking the ocean where you can enjoy wood fired pizza, and the main restaurant which offers buffet and a la carte. I have to say that the a la carte menu was simply divine and our favourite option! The food was simply delicious, great sized meals, and the dessert was to die for...
I can highly recommend this gorgeous island to couples and families alike. It is the perfect island getaway and you will leave feeling relaxed and refreshed!