4 Family Friendly Destinations in Africa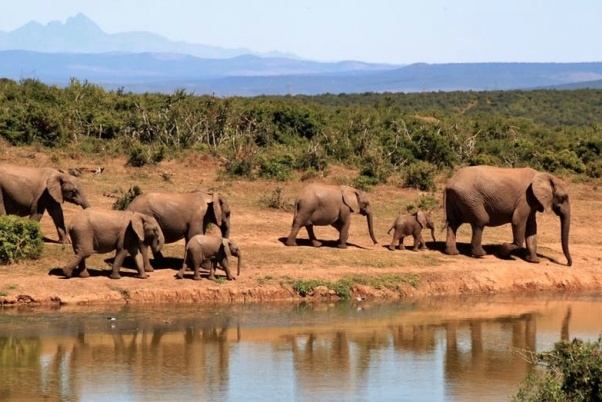 Africa is a beautiful continent, with so much to offer in terms of natural scenery, culture, and animal life (think of all those elephants!) That said, so many people think Africa is a dangerous continent that's unsafe for travelling - which couldn't be further from the truth! While it's true that certain countries on the continent are unsafe and perhaps not the best place to take a holiday, there are plenty of destinations in Africa that are fun and safe for the whole family.
If you're looking to experience something new and different, trigger the spark of creativity and cultural intrigue in your kids, and see some stunning natural scenery while you're at it, Africa is no doubt the perfect destination. And if you're taking kids along with you, here are 4 fantastic travel spots in Africa that are suitable for families of all ages and sizes!
1. Mauritius
Mauritius is a top holiday destination for so many reasons. Safe, friendly, with perfect weather all year round, this is the place to go for a beautiful and relaxing vacation. Picture stunning white sand beaches, luxurious resorts and hotels with plenty of facilities to keep the kids entertained, beautiful waterfalls and nature hikes, and a melting pot of French, Indian, Chinese, and Creole cultures.
With a thriving tourist industry, Mauritius won't be so much of a shock to young kids as they'll get to enjoy many of the same luxuries as back home. The resorts and hotels offer plenty in terms of comfort, pools, playgrounds, and entertainment, and the beaches are perfect for spending days playing in the sand. To try something different, you can go on a zipline tour, a submarine safari, on an under-sea walk, and visit sugar cane or tea factories. Teens can also enjoy various watersports, so there's truly something for everyone!
2. Namibia
Namibia is a relatively safe country to travel to when it comes to health matters, with good medical services available. Keep in mind though, Namibia can be extremely hot and dry and if your young kids don't take to that too kindly then it's perhaps not the greatest destination! On the other hand, Namibia is a tonne of fun for teenagers and adventure enthusiasts.
There's so much to see in Namibia when it comes to stunning natural scenery and formations, and that African wildlife and safari you've been dreaming of since you were a child. With lots of beautiful deserts and incredible waterfalls, it's a great idea to hire a campervan and hit the road on the ultimate family road trip in Namibia. Take a visit to the Epupa Falls in Kaokoland, see one of the world's largest seal colonies at Cape Cross, marvel at the granite peaks at Spitzkoppe, and get up and close to African wildlife at Etosha National Park.
Experiencing the tribes of Namibia while there is also a must, just to see the differences in their way of life and their dress and interactions. An authentic experience with Namibian tribes will take the cultural experience to the next level and truly enrich your children's lives and their perspectives on the world. An easy way to do this is to take a Himba village tour, where you and your children will have the opportunity to paint your skin with ochre and ash, see goats being milked, and step inside a Himba hut, amongst other cultural interactions.
3. Egypt
Who hasn't dreamed of going to Egypt? Children especially have the fresh memories of learning of the pyramids and the pharaohs and would relish the chance to visit this beautiful and historic country. While Egypt is undergoing its own political difficulties at the moment, it's still a safe country to travel with the whole family, and there's plenty to see and do whether you're into history or not!
Important archaeological sites are a must if you're travelling to Egypt, and it goes without saying that you'll be making a trip to the Pyramids of Giza and Sphinx. Let the kids ride on a horse or a camel, or if they're too afraid you can even hire carriages to tour you around the site. If you're keen for more then head down to Aswan and Luxor for more historic ruins and sites. Hit the beach and dive the Red Sea in Sharm El Sheikh, where kids can spend the day playing in water or snorkelling. There's always the chance to take a desert safari and visit hidden oases, go shopping in Egypt's busy and cheap bazaars, and do more adventurous activities like quad biking and rock climbing.
5. Zanzibar
Zanzibar is a tropical island off the coast of Tanzania, known as the 'spice island' thanks to its history as a spice trading port. Today, Zanzibar is all about luxury resorts and sprawling white sandy beaches, making it the perfect destination for a relaxing and picturesque family holiday. Like Mauritius, the resorts in Zanzibar will offer a host of activities for kids, from beach volleyball tournaments to Swahili language lessons, at the same time giving you plenty to do in terms of day spas, gardens, and pools.
The Jozani Forest is a great opportunity for kids to get up and close to a monkey while also soaking in the sights and sounds of nature. Stone Town, the capital of Zanzibar, is a UNESCO world heritage site with plenty to see in terms of markets, galleries, beautiful architecture, and cultural experiences. Visit the colony of giant tortoises on Prison Island, and don't forget to also do some snorkelling. Make sure to also visit The Rock restaurant, which is built on a huge rock sitting on a beach - it gets washed out during high tide and you have to take a boat, but you can get there on foot during low tide.
Already see yourself sitting back on the beach while your kids run around immersed by nature and beautiful wildlife? Don't just dream about it, let's start planning your African family adventure today!