Abu Dhabi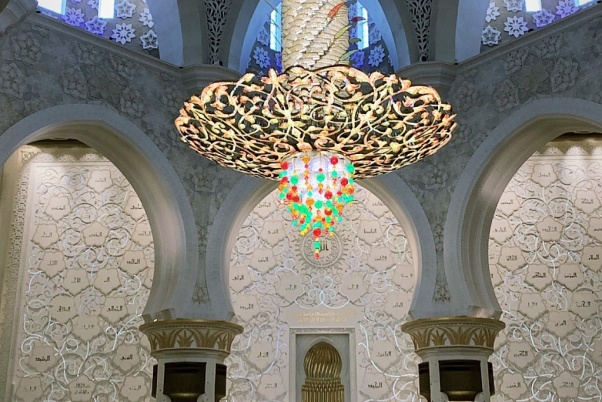 Earlier this month I was lucky enough to be invited by Abu Dhabi Tourism along with Etihad Airways to visit and explore the wonderful Abu Dhabi, boy am I glad I did.
For us Aussie travelers Abu Dhabi is seen mostly as a stopover break on the long Journey to Europe and the UK, however, Ab Dhabi is a true destination with something to offer for everyone.
Abu Dhabi is the Capital City of the United Arab Emirates (UAE) and is only a 90min drive from Dubai. I have not been to Dubai myself but have been told by many people you cannot compare the two.
The people were extremely friendly, and I always felt safe. This is a destination I hope more people explore. It's growth over the last decade is mind boggling and what Abu Dhabi has in store for its future means this destination will only get bigger and better.
The top sights that blew me away:
The Palace, Qasr Al Watan- Wow, this was straight out of Aladdin. The grandeur of the palace, the size of the multiple chandeliers; one which is even large enough for a man to stand into complete maintenance. Be sure to stay until after closing, grab yourself a set and watch the sound and light show, it is incredible.
Sheikh Zayed Grand Mosque - Likely one of the most stunning buildings you will ever see. An all-white mosque set against the desert sky at sunset, breathtaking. It's unique with most mosques only being able to be visited by Muslims. The mosque here is FREE to visit by all and it is not to be missed. It's also home of the largest chandelier in the world which is designed to look like an inverted Palm Tree, built with millions of Swarovski crystals.
The Falcon Hospital- Sounds dull but trust me this is a cultural experience you can get nowhere else in the world. A wonderful way to experience this unique aspect of Emirati culture. See the waiting room filled with Falcons of all sizes waiting for their daily procedures, we even saw multiple falcons getting their treatments. Highlight, holding one of these majestic birds.
The Historic Fort, Qasr Al Hosn- This was the one activity I really had no interest in doing but it's the one that also pleasantly surprised me the most – I actually really enjoyed it!  I was blown away by the history of this area told in this finely polished museum built in the old fort from 1760. The story of nomadic Bedouins turned to some of the richest people on this planet is astounding. Highly recommend doing the full tour which includes traditional coffee making and tasting at the end.
Saadiyat Beach- I had no idea Abu Dhabi had pristine beaches with pure white sand and turquoise waters. This beach area has recently been developed with world class beach resorts. 
The Louvre- The first Louvre museum outside of Paris, this building is architecturally impressive and has some of the best displays I have seen anywhere in the world. Size wise it is easily manageable in a 3-hour visit, 1.5-2 hours was enough for me.
Theme Parks - Warner Bros Movie World & Ferrari World are all indoors to account for the weather, which given the temp can go above 50 degrees an all air-conditioned building is such a lovely way to do theme parks. And you also have Yas Water world, an expansive water theme park. All of these parks in one location and we did them all in one day, I would suggest at least 2 days to properly enjoy and explore them. The lines at Warner Brothers and Yas Water world were fine but Ferrari World were long waits – around 1 hr per ride so I would opt for the fast pass here.
Ferrari world – The fastest roller coaster in the world. It was epic!! It is so fast and not being a rollercoaster lover myself I actually loved this and would do it again.
Theme park tip - You can purchase a hopper ticket to do the parks, this is the best value for money. Plus there is a free shuttle to easily get around Yas Island and the theme parks.
Desert Safari- A 4WD trip to a desert camp, we enjoyed a relaxed evening of local buffet, henna tattoos, camel rides, sand skiing, belly dancer entertainment and a silent few minutes star gazing. This is suitable for all ages. 
Hotels I personally experienced:
Saadiyat Rotana Resort & Viilas – Perfectly beach appointed property, a breathtaking property, excellent service, amenities, pool, spa and kids club. The food here was also exceptional.
Yas Hotel – soon to be W Hotel – One the renovations are completed this property will be superb. It was really cool to have a view directly over the F1 circuit and the Marina. There were cars on the track until around 7pm at night, so if the sound of cars rushing around isn't your thing – stay somewhere else. This is also a great location to explore all the exciting theme parks of Yas Island. With a free shuttle to get you around.
Bab Al Qasr – Great central location close to the Corniche and it's a also a beach front property. Great food and service and well-appointed room with views of either the Palace or the other side views of the beach.
Emirates Palace – We did not stay here but had a site inspection and experience real Gold coffee and real Gold ice cream – yummo! If you like gold, then this is the place for you. It is very grand and very gold. A very unique experience and great location.
Rosewood – Again I didn't get to stay here but we had an expansive hotel inspection and enjoyed a delicious yum cha lunch. If I was to go back with my family this is probably where I would stay. Although it's not beach front it has an amazing view and the pool area is very inviting. The club benefits are also to be considered; it would almost make your stay all-inclusive (adults only). What I loved most about this hotel is does a very 'homely' feel about it and it's location directly attached to the galleria is perfect. Don't forget to check out all the incredible art work on the walls too, the hotel even offers tours.
Top Tips-
*Purchase hotel rates with Breakfast Included, this is not the sort of place you can wander out and eat breakfast outside of your hotel and to purchase breakfast on the spot within the hotels it is a pricey add on.
*Book day trips/activities, there is very little usable public transport outside of taxi's so an inclusive tour to the various sites is great. Uber is also more expensive
*Travel November to March to avoid extreme summer heat, however, expect peak prices during this time.
* A far as hotels go you will find some of the largest and well-appointed hotels rooms in the world. They are also a step up from what we would expect. For example, we stayed in a 4 star property that would easily be considered 5 star in Australia
To book your adventure in Abu Dhabi please email me - Mashton@mtatravel.com.au