Who Chooses to Cruise P&O and Why?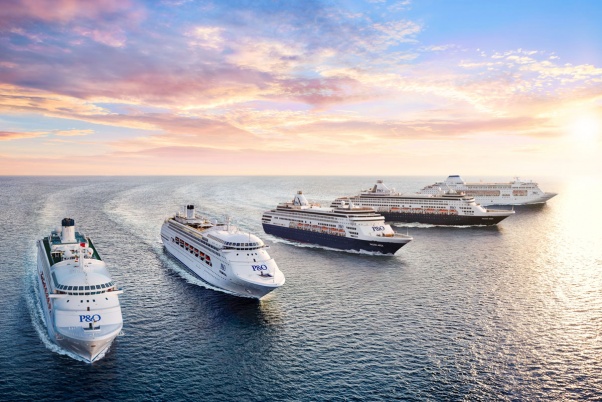 After a recent ship inspection of the Pacific Jewel in Sydney, I was motivated to write a little piece on P&O Cruises and what I would advise clients to look for when they are deciding what line to cruise with, or to not cruise with as the case may be!
This first article is a look at P&O Australia - the iconic cruise line of choice for Australian travellers. No other cruise line actively embraces modern Australian culture and its changing face like P&O. P&O want you to step on to their ships and feel instantly at home, with a modern décor that is smart, stylish and unpretentious. Their menus, dining options, wine -lists and on board activities are designed specifically with Australian tastes in mind.
The P&O fleet home-porting in Australia is comprised of smaller vessels with capacities of less than 2 thousand passengers. They dock in White Bay – this gives you the unique opportunity of sailing underneath the Sydney Harbour Bridge as you depart our beautiful harbour city.
The P&O you cruise in 2017 and beyond is a far cry from the days of Pacific Sun and Pacific Sky. Recent acquisitions of two HAL ships and also the Dawn Princess to be fully refurbished have allowed the newly christened Pacific Aria, Eden and Explorer to set the P&O standard to a new high. New décor themes and colours, new dining experiences, new bar and lounge facilities, revamped kids clubs, more spacious staterooms, improved drinks and WIFI packages on board have raised the bar.
So who chooses to cruise P&O? It is the ideal choice for first time cruisers. Why? A wide selection of short (3 and 4 night) cruises departing virtually year round give the perfect opportunity for the cruise novice to sample shipboard life. The smaller ship size is also appealing to some first time cruisers as they don't feel like they will get "lost in the crowd" or be overwhelmed by the scale of the ship.
P&O is firstly and foremost a family friendly cruise line. A perfect choice for multigenerational groups travelling (Mum and Dad with the kids and the grandparents!) Wonderful kids clubs for all age groups, cabin configurations that allow for interconnecting rooms to be booked, a variety of on-board activities to suit all ages, especially those tweens who think they are too old for kids club but are too young to be in the bars and nightclubs, with the introduction of The Edge – an on-board adventure park that includes a flying fox, "walk the plank", a climb up the ship funnel, Segway rides and more. (Yes, these are at an additional charge and yes -height/age restrictions apply for obvious safety reasons.)
The Waterfront restaurant is a lovely surprise – on what some people would rate as a 3.5* to basic 4* ship (Pacific Jewel is the next ship due for a facelift) it is a 5* experience with an ambience that is delightfully unexpected.   
So lets talk about cost and value – they are two very different aspects of choosing your cruise.
Cruises on the Jewel are costed at a lower price than the Eden and Aria with the new Explorer coming in on the top of the ladder. Cruise is like everything – you get what you pay for. The newer ships are fancier, with more facilities and for this someone pays – the passenger. So once we look at the cost of the cruise, what does it include and what more do you pay? This is where value starts to come into play.
You can eat 3 meals a day, snacks, soft drinks (including juice) and tea/coffee included in your fare. Kids Club is included in your fare. Use of the gym facilities and SOME gym classes are free. There is no cover charge for admission to the night club. Use of the pools, hot tubs, entry to the Oasis (adults only area) is all complimentary.
So what costs extra? You will pay for a premium coffee / cake and New Zealand Natural Ice Cream at the café on the pool deck. You will pay for drinks served over the bar. You will pay for a meal at the specialty restaurants on board (more on this later). You pay for personal training, some classes including yoga, and all the services offered at the Spa on board. Casino activities and on board shopping (retail therapy!) is obviously at your expense.
You can Boot Camp at Sea for $59 for 2 sessions (includes boot camp sessions, dynamic stretching and an InBody Test and Personal Analysis). One on One personal training is $107/session or $261 for 3.
Remember to observe extra hygiene rules at a gym at sea. Shirts/tops must be worn, you must be over 16yrs old, equipment must be wiped down with a sweat towel when you are finished.
A typical gym day at sea would start around 7.30am with a sunrise stretch and relaxation, yoga, abdominal conditioning and a boot camp session. There are health and fitness seminars through the day, for example "secrets to a flatter stomach" and "how to improve posture", then of an evening you will usually find a pilates/stretching class happening as the sun goes down. Nice!
Let's look at the VALUE of the inclusions on P&O. Pacific Jewel – the Oasis area for adults only has lounge chairs and a bar, but no swimming pool. This could be a critical factor for some. (There is an adult's pool in another section of the ship, just not looking out over the wake as you sail along!) The specialty dining options include Luna (Asian Fusion) and Salt Grill (Luke Mangan's menu). Are they worth the money? The meals are definitely a step up from the standard in the Waterfront dining room – more complex, intricate, and unique. It is still a much cheaper way to experience quality dining than eating at a comparable venue on shore. The restaurants are smaller and more intimate, the service levels higher. So yes they add to the cost of your cruise, but they also add value to your experience.
The Waterfront lunch, for example, offers a choice of Beef Carpaccio or Mushroom and Green Asparagus Risotto, followed by Pan Roasted Ocean Trout, or Sea Salt and Lemon Myrtle Lamb Shortloin or Slow Cooked Beef Short Ribs, with dessert being a tough choice between Cookies 'n' Cream Cheesecake, or my personal favourite of Wattleseed and Mango Crème Brulee.
Luke Mangan's Salt Grill may offer more interesting options like a Tapas Menu including grilled squid, arancini or prawn toast, Oysters, pumpkin/coconut/ginger and lime soup, Lobster agnolotti, 4 choices of beef or fish main courses (including grilled Moroccan spiced Lobster Tail), 9 choices of different sauce to accompany your dish of choice, and a choice of 5 desserts including Luke's Liquorice Parfait with Lime Syrup and tuille
The cover charge is $39pp for lunch or $49pp for dinner. Luna Asian Fusion is open for dinner only and the cover charge is $29pp
Drinks packages are the talk of the town. Yes they add cost to your on board account – do they really add value? This is something that you really need to consider on a case by case basis. With an average price around $6/beer $8/glass of wine $12-15 per cocktail (remember there is a per drink $ limit on what is included in your package – you cannot order drinks over a certain value as a part of most packages). On shorter cruises of those with more days at sea, you are more likely to drink enough to make the package worthwhile. Remember that on days when you have port calls, you have less "drinking time" available to you, so you need to go "extra hard" on the sea days to catch up. HOWEVER RSA still applies on ships, and if you over indulge you may find yourself cut off at best, and at worst in the brig if you cause any problems on board. The bottom line is, if you are in doubt, one thing the package does offer you is the security of no surprises with your bar bill at the end of the cruise. Drinks packages come in all shapes and sizes, from soft drink only, to basic drink, to a premium all inclusive, and the offerings vary depending on the length of the cruise. They are a fixed price per day of the cruise, and must be purchase for the full duration of the cruise per person, and cannot be shared. Do they add to he cost of your cruise? Yes. Do they add to the value? Sometimes. Research is required before you decide.
Can you smoke on a cruise ship? Yes – but in restricted areas, not your room or balcony. A fire at sea is the worst possible scenario. Pacific Jewel has 3 dedicated smokers areas on Decks 14,12 and 7.
Tipping – this is the crucial question for many cruise passengers, especially those new to cruise. P&O understand that the Australian market are reluctant to accept being told they "have" to tip. Tips or Gratuities are not automatically added to your bill with P&O. Yes, this is a benefit when you look at initial cost of your cruise. Most times though, you will find that your cabin steward, regular table waiters and bar staff are just so great, have such great personalities and add such value to your cruise experience, that you will end up leaving them a little thankyou at the end of your cruise. Add a few dollars to your budget, and this will definitely be a value-add to your cruise.
So for P&O? I would recommend to families, young couples looking for a fun cruise, multi-generational groups of travellers, the shorter cruises are great for celebrations – 50th birthdays, hens and bucks parties, weddings, anniversaries, 21st birthdays, the bigger the group the better (book together thru and agent and discover how booking as a group can save you money). 2 of my most elderly clients also love P&O as its "not so stuffy!" like some of the other cruises lines that are supposedly more "suited" to the more mature traveller. If you don't want to be cruising with heaps of kids, avoid school holidays and choose the longer sailings. Get your agent to book any airfares required to meet the cruise as part of the package – they have some amazing deals!! If you want a smaller ship, more personal experience, then you too should give P&O a go.
Me personally? I like the sound of the waterslides with the coloured lights that flash as you woosh towards the pool at the end... that is my next goal!