Singapore Airport - The Jewel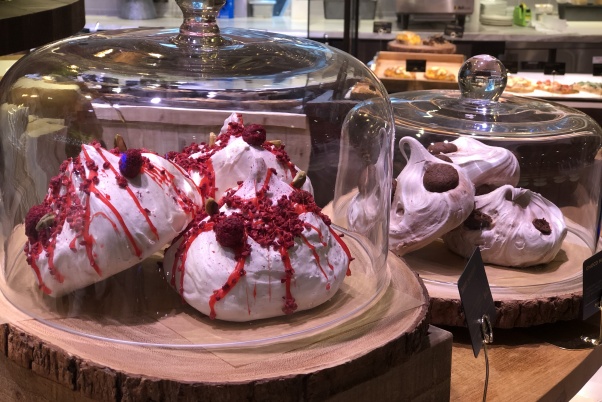 Singapore Airport – where to begin? What a wonderful experience to transit through such a user friendly and efficient airport. BA lands at Terminal 1 and from arrivals it was a slick process. We were handed immigration forms on the plane, but these are only required to be completed if you plan to clear customs. You can certainly explore the retail and dining precincts of the terminal without leaving the building, however if you have time, The Jewel is well worth a look. This is a new precinct recently opened that is well worth a visit. You need to clear immigration and "enter" Singapore and The Jewel entry is basically right there.
So what is The Jewel? With a waterfall as the centerpiece, the surrounds are like an indoor rainforest – so much greenery, beautiful fresh smells, delicate flowers and orchids, even with lots of people around it feels like and oasis of tranquility. So what is there? Why make the effort on a transit? Allow at least 2 hours to experience Jewel before you have to leave and head to your flight departure gate. There are a plethora of dining options representing many different nationalities and styles of food, there are bars, there is a large children's play area, climbing activities, adventure activities, and of course shopping.
The Jewel is also a great option for passing time if you have a late flight out of Singapore. Instead of staying in town and paying to check out late from your hotel, come to the airport early. You can check in anything between 12 and 24hrs before your flight at self service kiosks. Play, dine, shop, play some more, shop some more, grab a coffee, champagne or milkshake, and just enjoy the tranquility and coolness of the environment, until its time to head to your gate. It's hard to describe in words how impressive The Jewel is in words so I hope the photos I post will give you some inspiration.
Its also a feeling – the smell of the rainforest and water, the coolness and freshness…. Gorgeous. A little point to note…. If you have done online/kiosk checkin and have electronically printed boarding passes, as you move from The Jewel back through security to the terminal, you will need to visit a checkin counter to get the pass stamped before security checks you through.
We were moving through the terminal between 4pm and 7pm and the lines through security were very short – if you are visiting the Jewel keep an eye on how long it will take you to move through the airport.