Travel Blog: Franz Josef Glacier NZ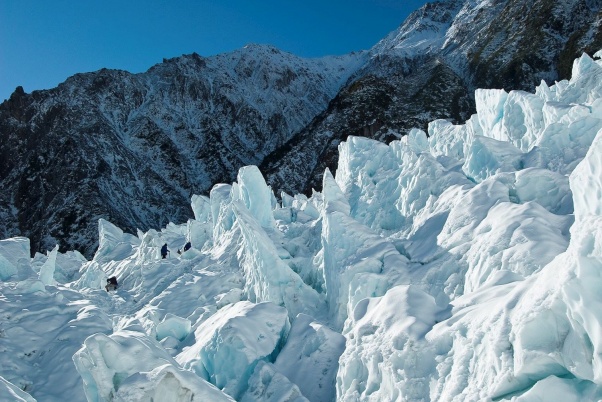 While backpacking around New Zealand's North & South Islands, we stopped off at Franz Josef the day prior to our Glacier Hike.
So far on my trip I never really classified myself as a "backpacker" - I had a roll-away suitcase, I ate out at every meal and didn't carry any food with me other than chocolate, thanks to my travel buddy Tia.
The night prior to the hike, we had a brief that we needed to bring our own lunch with us on the day. Strapped for ideas and just so happened to miss my own cooking (I was backpacking for a month at the time), I decided to pick up a few things at the shops. 
I get back to the hostel and set up my kitchen area ready to cook!
What did I create? The world's best spaghetti bol! My speciality!
All batched up and ready for my lunch the following day, already imagining eating my spaghetti bol on top of one of the natural wonders of the world. Nothing could beat that thought.

Next morning, I arrive at the kitchen to find that some hungry/drunken backpackers had absolutely demolished my dream lunch leaving only the empty containers behind.
As upset as I was, I remembered crying instantly and saying to my friend, "I really tried to be a backpacker. I really, really tried!"
Back to the shops to grab something cheap and nasty, definitely was not the same. 
My distress soon disappeared when we reached the base of the glacier. We walked quite a long way toward it and as we got closer, our surroundings began to get louder. There were some red like staining on the ice which apparently is residue from the dust storms we had in Australia at the time. The redness flew across the ditch and embedded itself in the ice, pretty amazing to see. 
We split off with our guides and away we went. Chipping through the ice and navigating our way through ice caverns and underground ice tubes. Being able to fill your drink bottle in a puddle of water along the way was a highlight. Not only was the water the perfect temperature, but it had also been purified for thousands of years before me. The view from the top was absolutely spectacular, eyes wandering down the ice you've just climbed up. The view made the valley look so small. A totally different perspective to when my journey first began. 
Definitely proud to tick it off my list and would do it again in a heartbeat. Next time I would have loved to spend longer in Franz Josef and made use of all of the hot natural springs nearby.
A beautiful part of the world and so close to home!