New York to Los Angeles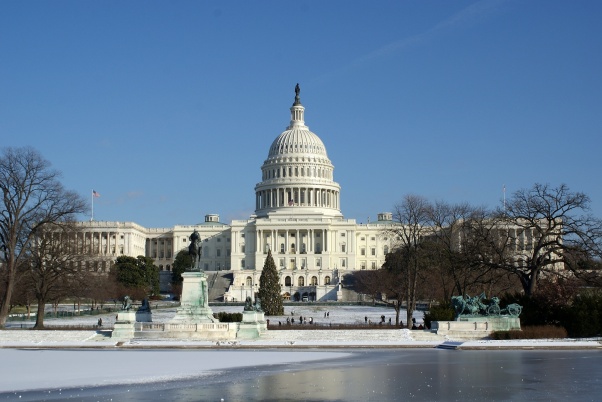 Having experienced many miles of driving in the USA, my husband and I decided to drive from New York to Los Angeles.  Wow! What an adventure and one we would love to experience again. The journey lasted 4 weeks and as we were travelling in December/January, the weather determined the route we were to take.
Arriving in New York, we checked into the Crowne Plaza Times Square. The central location was important for us because we wanted to explore New York on foot, which we love to do.  Yes, it was cold but we were dressed for it and we've experienced these temperatures before. At this time, the 9/11 memorial was in construction stage so we visited the 9/11 museums which was an extremely emotional experience.  After 4 full days in New York, we drove to Washington with the snow coming in just as we were leaving New York.
Arriving in Washington was a beautiful sight because it was snowing and after checking into our hotel, we donned our warmest clothes and ventured out into the streets.  The next 4 days were just magical, with Capitol Hill, The Washington Monument, The Whitehouse and the Lincoln Memorial all glistening in the snow.  Of course, a visit to Washington is not complete without going to the Smithsonian Museums and America's most hallowed ground, Arlington Cemetery. We also had lunch at a fabulous little pub in Georgetown to complete our stay.
From Washington we drove to the unusual city of Atlantic City. With my husband having a keen interest in the American Civil War, we headed for Virginia, first staying in Fredericksburg, visiting the Fredericksburg Battlefield and then continuing onto the Chancellorsville and Wilderness Battlefields. Just amazing!
With the weather turning a bit nasty, we headed South through North Carolina (with an overnight stay in Charlotte, NASCAR Territory) and South Carolina, Atlanta, Alabama, Mississippi arriving in New Orleans, Louisiana. Visiting New Orleans is an experience like no other and we really enjoyed the musical treats of musicians spontaneously setting up in the streets of the French quarter, showcasing their talent.
Texas was next and how could we go past The Big 'D', Dallas. Visiting the Sixth Floor Museum at Dealey Plaza was next on our agenda. This Museum chronicles the legacy and assassination of President John F. Kennedy and we found ourselves lost for hours in the many artefacts, photographs, documentary films, areas where evidence was found and eyewitness accounts. Of course, being huge NFL fans, a visit to Dallas would not be complete without visiting the home of the Dallas Cowboys NFL Team, Cowboys Stadium. This stadium is the largest NFL Stadium and is one of the biggest domed sports structures in the world.
After Dallas we headed for Oklahoma City, visiting the Oklahoma City National Memorial and Museum which was created to honour those who were killed and those who survived the April 19, 1995, bombing of the Alfred P. Murrah Building in Oklahoma City. Of course, being sport fanatics, we were fortunate that an NBA game was on that night in the city, which we were able to purchase 2 of the few tickets available. Fantastic!
Driving into New Mexico we encountered a snow blizzard and were snowed in at Albuquerque for 2 nights (would you believe?) and then we headed for Las Vegas. Although we are not gamblers, Las Vegas is one of our favourite places to visit because there is so much to see and do, no matter how many times you go.  We try to stay in the middle of the strip each time, and this time we stayed at Planet Hollywood, after staying at Caesars Palace Hotel and The Bellagio Hotel previously.  Going to several shows, I would have to say that 'The Blue Man Group' was just so entertaining, and the colour and music of Cirque Du Soleil's 'Beatles Live' show was just spectacular as well.
After Las Vegas, our adventure was coming to an end after a visit to San Diego and Los Angeles. We definitely have another driving adventure in the USA in mind and look forward to it in the future.