Silverstone, Formula 1 Grand Prix - 2012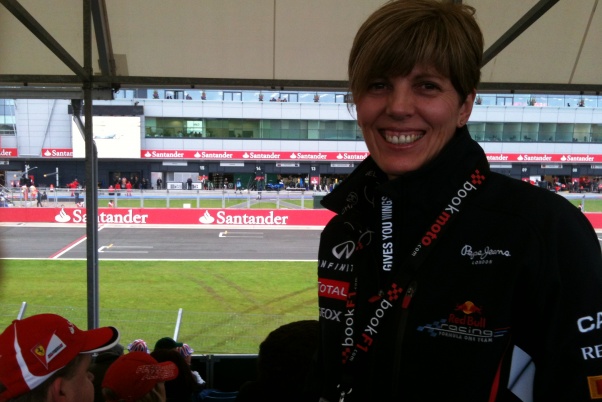 For me, being a Formula 1 fanatic, travelling to Silverstone was the perfect way to celebrate my 50th birthday.
My first Grand Prix experience was a very special one and has given me the desire for many more! My husband and I arrived in London and we stayed at the Charing Cross Hotel for a few nights before heading up the motorway to Silverstone.  We really like the Charing Cross with its very English décor and the location is so central with good tube access, being situated right above the Charing Cross Tube station.
Arriving at Silverstone, we stayed inside the complex and it soon became obvious that we should have bought some 'Wellies' (Wellington Boots) in London. We tried to use the defence that we were from Perth, when the locals queried why we weren't armed with a pair of these boots.  Plus the fact it was meant to be summer!  However, no amount of rain and mud could dampen our spirits and the thousands of diehard fans that had flocked to the British Race of the F1 schedule.
We secured seats in the International Pits Straight Grand Stand on the starting grid, for Sunday's Race day, but also had roaming grand stand seats for the practice sessions and qualifying. This gave us the opportunity to experience all views at the track. Being a Red Bull fan, Mark Webber and Daniel Ricciardo of course, I could not go past the merchandise stand without purchasing a nice warm Red Bull jacket, all ready for Race Day. My husband was well decked out in his McLaren gear.  Race Day came and we found our seats nice and early, elated to find them positioned opposite pole track position no. 2, exactly where Mark Webber had qualified.  
As the celebrities gathered, I could see Hugh Grant, Simon Pegg and then the drivers arrived. What a fantastic view!  However, nothing could prepare me for the awesome sound of the Formula 1 cars at the start of the race (which I recorded on my phone and still playback!). The race developed with Ferrari's Alonso out in front and Webber behind him, until Webber made a passing move and as I jumped for joy. I then realised that the hundreds of McLaren fans around me were doing the same thing as well. They love him over there! So, to my delight, I watched as Webber took to the podium in first place and cracked open the bottle of champagne.
To complete our Grand Prix experience, we walked out onto the track and soaked up the atmosphere. Can't wait to go again!