Formula 1 Triple Header 2018 - France, Austria & Great Britain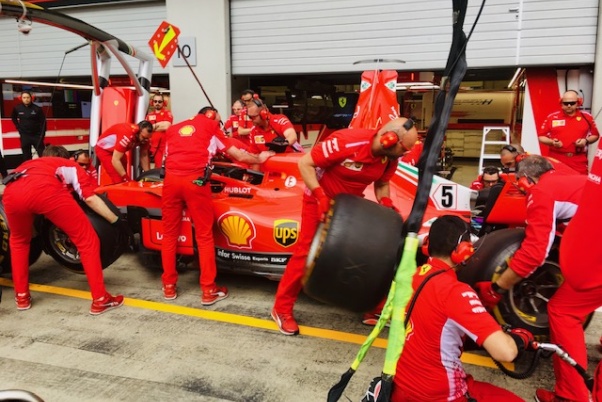 This year I was fortunate to attend Formula 1's first (and probably last) Triple Header in France, Austria and Great Britain. The careful planning of this trip started in October 2017 and was perfect in every way. I have to say that this trip certainly sits amongst the top of all of my holidays and I think I am still buzzing from it!
First stop - Marseille, France for the French Grand Prix > Upon arrival in Marseille we checked into my favorite hotel here, The Intercontinental Marseille - Hotel Dieu. The views across the harbour and Notre Dame de la Garde are simply stunning in the early hours of the morning.  
Up early on Sunday, it was Race Day and we made our way to the Paul Ricard Circuit. Once inside we located our seats, checked out the Fan Zone and of course the F1 Merchandise store and grabbed a bite to eat, whilst meeting up with some fans from England. There is never a shortage of people to strike up a conversation with, all having a common interest.  The pre-race entertainment was good with a Jet-powered man flying overhead, jet flyover and the stands filled with enthusiastic fans waving red, white and blue flags. The atmosphere was electric. Sitting in the main grandstand you get a bird's eye view on all of the action of the grid pre-race.
The start was a bit chaotic with Vettel sliding into Bottas, giving him a puncture.   Then Toro Rosso's Pierre Gasly clattered into Ocon, forcing both out of the race.  A commanding win for Lewis Hamilton, Max Verstappen 2nd & Kimi Raikkonen taking the last spot on the podium. Perth's Daniel Ricciardo took 4th place.
After our taste of the French Grand Prix, next stop was Austria with a brief stop in Vienna.  This city is full of beautiful architecture, alfresco cafes (Mandatory Sacher cake & coffee stop) and of course checking out the Swarovski store.
Next stop….Austrian F1 Grand Prix > Beautiful views as we flew over Austria in the Austrian Air DH8. Upon arrival in Graz, we checked into the Lend Hotel, full of anticipation of our F1 Experiences package starting the next day. Couldn't wait! Unexpectedly, we bumped into none other than Red Bull's Dr Helmet Marko who promptly informed us that 'we must get down to the main square today because Daniel and Max will be driving the Red Bull tram'. So securing a spot at the front, there we were in the main square with hundreds of  fans waiting for them to arrive. It didn't disappoint. Fantastic interviews with Mika Haikakinen, Ricciardo, Verstappen & Dr Helmet Marko.  The drivers followed up by signing autographs and I was happy with my Red Bull, Ricciardo signed hat. Later we found out that we made an appearance on the Red Bull Video!
Graz, full of character & charm and obviously the home of Red Bull with signage throughout the town. I was excited to see a well-stocked Red Bull World store where I might have made a purchase or two!
Thursday arrived and we met our delightful F1 Experiences Guide, Ashley, so helpful and efficient. She organised us all onto the bus and we were off on our journey out to the Red Bull Ring. Stunning scenery made the bus ride very easy. Dropping us off at the front gate (love the VIP status!) our first stop was a Pit Lane Walk. I could spend hours here as we watch the inner workings of each garage and the constant team practice of the pit lane stops. Driver 'spottings' were Force India's Perez and Ocon riding in on their bikes. Then it was onto the F1 Experiences Truck as we were driven around the track with expert commentary by F1 Experiences guides giving you their perspective of  the circuit. Great way to get a sense of feel and understanding of the track. This was fun! Return to the starting grid and a photo opportunity with the Championship trophies and then it was back to the hotel to get ready for our big day on Friday.  
After our very Austrian breakfast on Friday, we were wizzed off to the track. After practice, standing outside the Paddock entrance, we met our F1 Experiences guide, Sam (very knowledgeable), who navigated us through security. What we were about to experience was much more than expected. Starting with an informative walk through the F1 Paddock learning about the garage setups, stopping at the Pirelli Garage (yes, I held a tyre), then it was off to sit in the Safety Car and have a chat with Bernd Maylander. Hold on, I have to catch my breath! It didn't stop there as we were guided up to the Driver's briefing room (with a very interesting chat with the Event Logistics Co-ordinator for F1, Christian Pollhammer), the Post Race Driver's room, Stand on the Podium for a photo opportunity and then off to dinner and a chat with Team Sauber driver, Marcus Ericsson. Interesting to get an insight to a Driver's life, and we were all very happy to have a photo taken with this impressive young man. A delicious dinner followed as we stood out overlooking the pits and starting grid trying to digest all that we had experienced. What a sensational finish to an outstanding day. I am so impressed at how accessible F1 has become through this immersive experience.
The next 2 days was full of action as it always is with qualifying and the build up to the race. The Max Verstappen fans were here in numbers and added to the engaging, electric atmosphere. There were orange t-shirts everywhere. What an entertaining race it was with so many retirements as well. With main grandstand seats included in our F1 Experiences package, we watched in front of us the number of cars returning on the back of the truck, sadly including Daniel Ricciardo, Hamilton & Bottas. With Lewis Hamilton dramatically out, Max Verstappen took the chequered flag much to the delight of the thousands of Max Verstappen fans who stormed the track at the end to see their hero stand on the top step of the podium. Raikkonen 2nd and with Vettel's 3rd place he took the lead in the Driver's Championship.
Austria, thank you for one of the best experiences I have encountered at an F1 Grand Prix, I will be back.
 Next stop….Silverstone, F1 Grand Prix > Next on the agenda was the British Grand Prix at Silverstone. After a brief interlude in London, we drove off to Milton Keynes and checked into our hotel. Drove to the track on Thursday for the Sky Sports F1 Show and we knew from previous experience it's best to secure a seat early in the main grand stand.   The passionate British fans are so entertaining and have a great sense of humour. The show starts and the Mercedes Drivers are first to come out, followed by Red Bull drivers,  Ricciardo and Verstappen with the former successfully orchestrating a crowd wave. All the team drivers make an appearance, interviewed and try to kick a soccer ball against a giant dart board! Lots of laughs!
F1 Experiences very kindly invited us to the Champion's Club on Saturday for Qualifying. We were indeed spoilt with the offerings of  first class hospitality and an F1 Executive appearance with Managing Director of Commercial Operations for Formula 1, Sean Bratches as Guest speaker. The room was silent as we intently listened to what he had to say about their plans for the future of the sport that we are all so passionate about.  So impressed and it never ceases to amaze me as to how accessible and personable everyone has been and he was no different. Really excited about what is happening in the future. 
 Sunday (Race Day) produced another surprise with an invite to view the F1 Paddock by F1 Experiences. Wow! How exciting as we immersed ourselves into the electric atmosphere of Race Day passing by the likes of drivers Fernando Alonso & Daniel Ricciardo, the Team Hospitality Centres and into the F1 Experiences Garage to check out the two-seater F1 cars. What a thrill! Then it was back to our seats in the International Pits Straight Grandstand for the race. A sensational, action packed race evolved with Ferrari's Vettel triumphant, Mercedes driver Hamilton 2nd and Ferarri's Raikkonen taking out 3rd place on the podium. 
In contrast to what we had just experienced over the last couple of weeks, we finished off with a relaxing stay out in the English Countryside at the beautiful Wentbridge House Hotel where we could reflect on all that we had just experienced. What a trip!