CANBERRA IN AUTUMN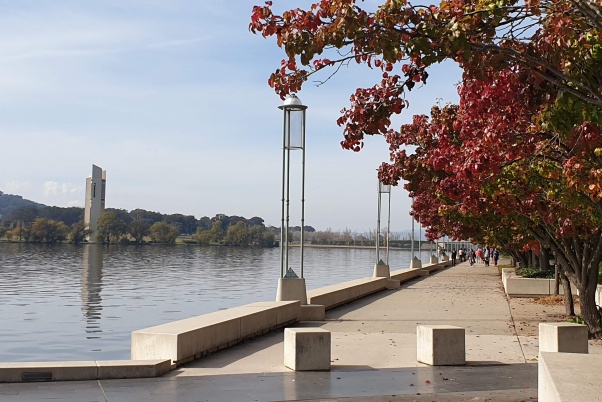 I have been Canberra many times but never during Autumn.  First time out of greater Sydney in 16 months!
From Sydney first stop was lunch at Bungendore at the Cafe Wood Works adjoining the Wood Works Gallery, a must see.  From there it is an easy 40 minute drive to the city.
The colours of the trees range from yellow to orange to red to dark maroon and contast so well with the olivey green of the eucalupts.  Some trees had already shed their leaves and others were still green and starting to turn.
The following day we went to the Hartley Hall Markets, where they have up to 300 stalls of assorted goods and food!  They are open the first Sunday in the month.  After the markets you can visiit the Murrambateman wine area or head back to the city to the Arboretum, War Memorial, Parliament House.   
The Old Bus Depot markets are due to re-open early July, every Sunday.
We went to the Arboretum - 'a tree zoo' and from the main building the view across the Canberra basin was fantastic.  A walk though the Bonsai room is a must and to see the trees in minature in all their golden splendour was a treat.  There are many walking trails as well.
The Botiicelli to van Gogh exhibition of paintings from the National Gallery, London did not disappoint.  With the staggered entry it was not too over crowded.  Afterwards a walk along the lake edge and a coffee in the sunshine was a perfect way to end the morning.
Highlight for dinner was at the Ottoman Cuisine Restaurant, modern Turkish.  Food and sevice were good.  Bookings are essential especially during COVID.  There are so many restaurants to choose from.
Looking forward to Spring!