Cairns - a Favorite Holiday Spot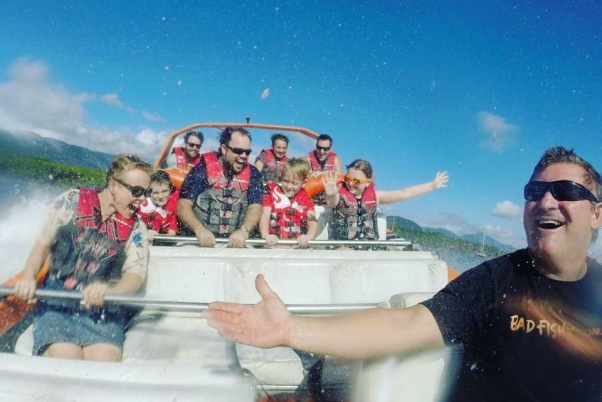 Cairns for a great holiday? It's a winner hands down!
Cairns and Tropical North Queensland is a great place to visit to escape the winter chill of the southern states. Head north anywhere between May and October and enjoy warm days and balmy evenings. There is so much to see and do, that whether you are seeking a romantic week away, or an active family holiday, there is something just perfect for you in Cairns. Outside these dates you will still get the heat, but you can also get the rain that comes with the tropical climate Cairns experiences.
For the grownups? I would suggest head just north of Cairns and check out Palm Cove. There are some lovely apartment and resort style accommodations right on the beach front. Fabulous places to eat and drink, and oh so relaxing. Last time I stayed in Palm Cove it was at the Mango Lagoon Resort and Wellness Spa. It suited us perfectly – 2 bedroom apartment for the family, studios for the couples (we were there with extended family for a wedding), a lovely pool, and walking distance to the waterfront. Your other option could be Port Douglas. Again, plenty of beach front (or close to) accommodation, resorts, apartments, great boutique shopping and so many choices for drinking and dining that you can eat each meal in a new place for your entire stay. For those looking for something more romantic, why not book local Cairns celebrant/ identity/ personality Wayne Rees (he is vivacious and flamboyant but so lovely) and get married in the beautiful St Marys Church by the Sea  - a gorgeous white timbered chapel! A great pier just behind it for photos too…
 From either beachside paradise you can access tours that will take you out to the Barrier Reef, further north to the Daintree, or inland to explore the Atherton tablelands including Milla Milla Falls and so much more.
For the families? I would stay in Cairns. Bunker down in an apartment for the week, and go for broke! Cairns Zoom and Wildlife Dome, Hartley's Crocodile Farm, Muddy's Playground along Cairns Esplanade, Bad Fishy Jet Boat rides, excursions to the Reef, the Botanical Gardens, Sugarworld Water Park, Paronella Park, the fig tree cubby house in the playground near the Cairns International Reef Fleet Terminal, day trip to Kuranda, (via Scenic Rail and SkyRail), the Night Zoo, waterskiing, bungee jumping, plenty of clubs to grab a great value feed at the end of the day (Brothers, Cazaleys), Rusty's fresh fruit and veg markets, when to stop the list!
Cairns is easy to get around, so a fly/drive package is a great option – also means it can become more convenient for you (maybe not always cheaper) than booking tours and day trips with various operators. Go where you want, when you want, take whatever you want with you (we always took water bottles and snacks of our own to help with our budget) and come home when you feel like it.
If you don't want to drive, then the tour operators in Cairns have honed their service levels to perfection. You will be very well looked after, be able to have hotel pickups booked for you, and have a wonderful time.
The biggest thing that I noted on my last trip to Cairns with the family was how happy, friendly and eager to please the staff at the places I visited were. As a mum I often rate my experiences on how well the staff treat my children.  I can say without word of a lie, that the crew at Hartley's and the Cairns Zoom, especially, were just amazing. So personable and great at their jobs. They really made sure the kids (and by default the parents!!) had a great experience. Cazaleys is a leagues club (AFL) and a little out of town, but they have a great play area where the kids can run around and have fun whilst you are waiting for your meal. It just makes life easy. And that is what a holiday should be. Easy!
Biggest tip I can give you for Cairns? Book in advance. The July and September school holidays are crazy busy up there. You cannot just arrive at the airport and expect to collect a hire car. They are all sold out. Trust me – I tried to upgrade from a little buzz box to a larger model so that I could fit more family in comfortably over the Easter break this year – not a chance. Airfares become more expensive as time goes on, and accommodation more limited.
Water, sea, sand and fun. The perfect combination to chase away your winter blues. Call me and book now for the next school holidays!