Ballarat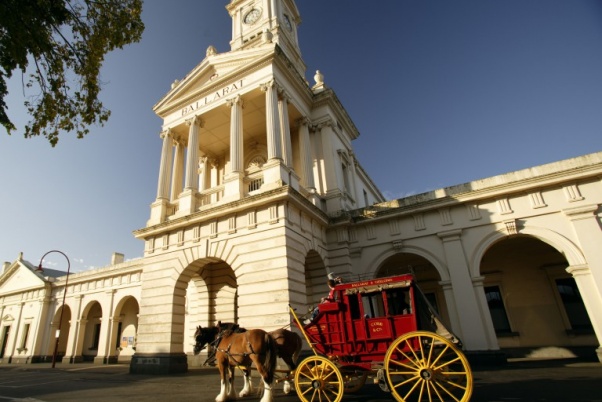 "Wander Victoria – Welcome dawdlers, explorers and weekend travellers. Leaf-peepers, toe-dippers, quaffers and nibblers. Brisk Morning Walkers, and afternoon nappers, amblers and sailors and selfie snappers. Pants-rolled paddlers and snowball chuckers, here is your place. Fil up, slow down, uncoil or recharge. Devour, discuss, discover, wander."
If you are planning a trip to Victoria, here is a wonderful website you can explore. I can help you plan any combination of places you wish to visit, and today I have chosen to share with you Ballarat.
http://www.visitvictoria.com/Regions/Wander-Victoria 
If you want to get a real sense of Australian history, spend a day exploring Ballarat. With magnificent buildings from the Gold Rush era, you can almost smell the excitement of the early settlers.
Ballarat celebrates its Gold Rush past while embracing the contemporary. Visitors can explore new cafes, trendy wine bars and restaurants, an impressive regional art gallery, an historic theatre and a museum. 
Families are drawn to the excitement of Sovereign Hill, the fun of Kryal Castle and the cuddly animals at Ballarat Wildlife Park. 
As the days grow cooler, Ballarat comes into its own. Crisp blue mornings with the odd dash of hail or snow are the perfect excuse to indulge in hot chocolates, hearty dishes showcasing local produce and fun events such as Ballarat Winterlude Festival and Sovereign Hill's Christmas in July.
MORNING
8am: On a fresh morning, there's nothing better than a quick walk around pretty Lake Wendouree to get the circulation going. The track circling the lake (the setting for the 1956 Olympic rowing) is an easy 6km. Look out for the birdlife, the historic boathouses and some of the city's grandest homes.
Breakfast
9am: If you're after some Melbourne-style cafe fare, head to Yellow Espresso (13 Sturt Street) in the city centre. About two years ago Santina Trigazis and husband Leo moved from St Kilda to take over her dad's souvlaki bar. The coffee is excellent, sourced from Axil in Hawthorn, and there's usually an interesting single origin on offer. The acai berry bowls and organic green-tea powder matcha lattes are right on trend.
Walk
11am: The stories behind the city's grand streets come alive with Ballarat Heritage Tours. Led by a dapper Andrew Sharpe, dressed as a Victorian gentleman, explore Lydiard Street, one of the longest Victorian streetscapes in the world. Learn about the 1880's Gold Rush and visit the Mining Exchange, a beautiful building still in use. Andrew relates the history of the railway station, the Old Colonialists' Club and the Gold Rush.
FOR KIDS...
One of Ballarat's biggest drawcards for families is Sovereign Hill, where the goldfields of the 1850s are recreated. Explore the outdoor park from a horse-drawn coach, take a guided gold mine tour, learn how to pour gold and try your luck at panning for the glittery stuff.
AFTERNOON
1pm: All that walking is sure to give you an appetite. Take some time out at Kittelty's café, a little oasis at the Art Gallery of Ballarat (40 Lydiard Street North). Here's a cafe that embraces local producers such as Green Eggs, Tuki Trout Farm and Meredith Dairy. Frittatas and salads are recommended but look out for warming winter specials. Favourite sweet treats include chocolate Guinness cake, frangipane tart and almond coconut cake. kitteltys.com.au
Culture
2pm: The Art Gallery of Ballarat, which dates from 1884, is the oldest regional gallery in Australia. Conveying the wealth of the boom era, the original gallery features an impressive permanent collection (with a strong Australian contingent) and visiting exhibitions. It's worth taking a guided tour so you don't miss anything. Opening in June, the Last of England: Emigration in prints chronicles the mass migration of people who left Britain in the 19th century to seek a better life in the colonies (25 June-14 August).
Bush tucker
3.30pm: A short drive away is the Museum of Australian Democracy at Eureka (M.A.D.E.) (102 Stawell St). First though, enjoy a snack at Brigid Corcoran's onsite Saltbush Kitchen cafe where bush foods are the main focus. She uses native foods such as bush tomato, quondong and lemon myrtle in the contemporary menu. You can also take home native spices, homemade syrups and bush flavoured teas. The cafe overlooks a potted garden and Eureka Park.
History
4pm: Go on to explore M.A.D.E. Here you can see the original Eureka Flag, which was flown by the Eureka rebels in 1854 protesting the unfair gold licensing system. The museum is on the site of the rebellion, one of the most significant moments in Australian history and the birthplace of Australian democracy. M.A.D.E. is an exciting interactive display museum that celebrates democracy in Australia and around the world. Using the latest technology, the centre is genuinely educational and entertaining. For details visit: made.org
EVENING
6pm: Take refuge from the evening chill in the city centre with pre-dinner drinks and some sophisticated bites at Mitchell Harris Wine Bar (38 Doveton Street North). An 1890s produce store/garage is reborn as a cosy wine bar and cellar door. There's a good selection of wines from western and central Victoria, a great buzz and delicious tapas. With the industrial chic vibe and good drops, you may not make it to dinner. mitchellharris.com.au
Dinner
7.30pm: Ballarat has a chef hatted classy Asian diner. The smart contemporary Catfish Thai (42 Main Rd, Bakery Hill) is where locals like to celebrate. Chef Damien Jones, who worked with the renowned David Thompson in London, returned home to open Catfish Thai. Dark walls, red banquettes and exquisite food have people queuing to get in. (Another good dinner option is The Forge Pizzeria.)
Stay
10pm: Ballarat has an ever-growing number of new places to stay. Try Lake Wendouree Luxury Apartments (good for lake walks), The Provincial (newly restored historic hotel) or Lake Edge Apartments (well-located contemporary apartments).
WINTERLUDE
Ballarat annually embraces the winter chill with the Winterlude Festival (June/July). Kids love the pop-up skating rink in the CBD while adults will be interested in light displays, live music, art installations and special culinary experiences.
Sovereign Hill will transform its outdoor museum into a Christmas wonderland with faux snow, Christmas trees, carols and nightly light shows. The Ballarat Winter Pass from the Visitor Information Centre offers discounted entry to different attractions.