Cruising as a Family Holiday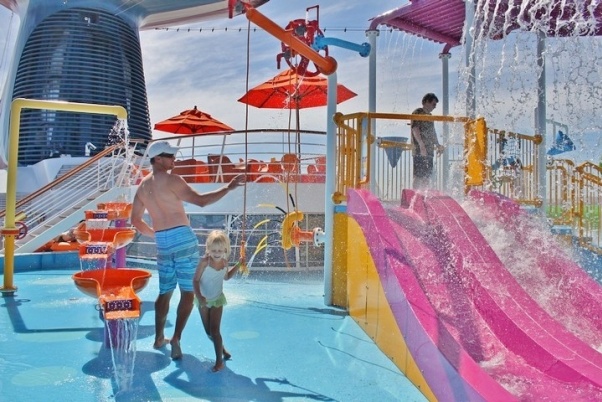 So…. After my recent experience on Carnival Spirit, I put some thought into why Carnival is the number one choice for so many families looking for the perfect holiday. I came up with 5 good reasons.
1. Unpack once – when you travel with kids (and husbands) the more times you pack and unpack, the more chances there are of leaving things behind. Shoes hidden in the drawer, a phone charger in the wall, those beers in the fridge….On a cruise, unpack once, utilise the space in the cabins (robes and drawers) to get organised, and it's just like home. Tick!
2. Travelling with kids does not always mean it's a relaxing break for the parents. Kids still get sick, fight with each other, argue over who is first in the shower, and generally torment each other. On Carnival Spirit I have 2 words – Camp Ocean. Kids clubs designed for different age groups, with great activities running all day and half the night…..you don't need to be child free all cruise, that defeats the purpose of a family holiday. But a few hours here and there to enjoy The Serenity (adults only area on board) or have an afternoon nanna nap is good for everyone's health and well-being! Another tick for a cruise holiday.
3. New destinations – instead of having a week or 2 in the one place, and struggling to find something new and interesting each day, take a cruise – every port of call offers a chance to explore a new destination, a new culture, and maybe try something that you have never done before. I ticked 2 things off my bucket list on my Carnival cruise – rode a Segway and attempted to ride a stand-up paddle board. They say variety is the spice of life – yet another tick towards a cruise holiday!
4. Just say yes. This one is a focus on the children. We spend so much time instilling discipline and structure into our children's lives, how good is it to see the looks on their faces, when for a whole week you can say "yes"! Pizza and soft serve ice cream and frozen yoghurts are available 24/7 and included in your fare. If the kids are hungry…."mum can I have pizza?" You can just say yes! It's a holiday and treats are OK.
5. Family time – this was the thing I was least expecting and struck me as the best idea of all to take a cruise. There were many inter-generational groups travelling together. Parents with their children and grandchildren travelling together. The Grandparents got to spend quality time with the little ones while mum and dad enjoyed a quiet pre-dinner cocktail. They also could mind the kids while mum and dad went to the late comedy show. While the kids were in kids club, the parents and THEIR parents get to have quality time together. Everyone has their own cabin and space when they want it, but a great time together when they want it too. Best of all I was on a cruise over Mother's Day, and no mother had to do anything to help anyone else celebrate the day. No organising family meals, no cooking or cleaning up after, no argument as to whose mum you saw for lunch and whose for dinner. There were groups of women travelling together having left the men and kids at home – that was their treat – some time off for Mum, and some time for Dad to spend with the children – a bit or role reversal from the norm. Go the cruise holiday for the family!!
Is Carnival the right cruise ship for your family holiday? Fun for All, All for Fun is their tag line, and they live up to it. Each night in the dining room the wait staff would entertain the diners with a few songs, dancing on tables, and lots of laughs. If table dancing during dinner would make you roll your eyes instead of laugh out loud, then Carnival is not your ship. If you work on the theory that you are here for a good time, not for a long time, and you like to laugh away your holiday in free-spirited carefree fun days and nights, then I encourage you to consider Carnival for your next family trip. Do the maths and compare the value for money…you will be pleasantly surprised (and you can pack away the GPS and Siri for the holiday!)