Earlybirds are here!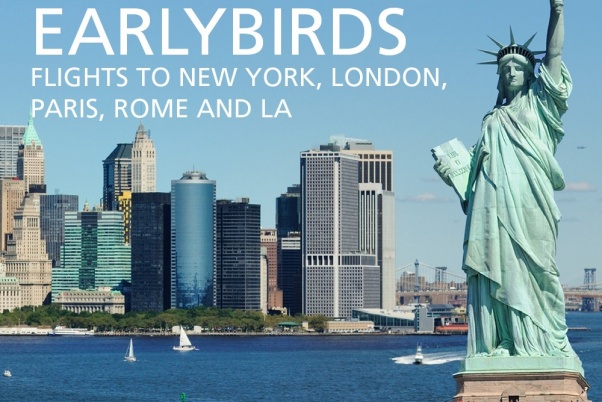 How to Take Advantage of GLOBAL Earlybird Airfares
We're all looking for great deals and getting more value for money when it comes to flights. Saving more on flights means you have more to spend on that room upgrade, dinner at a restaurant you've been dying to try or that tour you really wanted to do. Any traveller looking for a great flight deal better be prepared as all of the major airlines are about to release their global earlybird airfares for 2017. So, get those passports ready because you're about to score yourself the trip of a lifetime.
The major advantage of booking earlybird airfares is not only that you have lots of time to prepare your holiday but you get the best prices. The prices are significantly cheaper than what they are going to offer you later in the year. Earlybird season generally starts in September and this is the best month to book that European escape or American adventure and turn your dreams into a reality. Although the major discounts will be for Europe you can also bag yourself a bargain to other hotspots of the world. If this hasn't been reason enough to call your MTA Travel Expert to book your romantic Paris getaway or tour through Tuscany, then read on for some more reasons to take advantage of earlybird season.
Don't wait, book now. There is no holding back with these earlybird fares. They're called "early" for a reason. You have to jump on them as soon as they are released as the most competitive and popular fares will sell out fast. They do say the best time to book a holiday is now!
Be Flexible. Don't be too fussed on your travel day or dates. The earlybird flights are best value for travel in the early part of the year. Also try flying in the middle of the week as this could be significantly cheaper as most people are prone to fly on weekends or around popular holiday periods.
Zero Flight Risk. Travel with peace-of-mind with MTA's Zero Flight Risk guarantee. You can be assured that any products and services you purchase through MTA that you'll be reimbursed your funds in the event of any approved travel intermediary or end supplier becoming insolvent, and being unable to deliver the product or service. This is particularly beneficial when booking your holiday in advance.
Add more to your trip. Get imaginative with your holiday and flights by booking destinations you've always wanted to explore or exciting new experiences you've never seen before. By adding more to your holiday you can get a better offer with accommodation, tours or a cruise. Don't assume your mobile travel agent can only book flights, it's the perfect time to grab a whole package and we have access to the hottest deals, many which are unavailable to the general public.
Fly off the beaten track. All the must see destinations are available with these flights including New York, London and Paris but why not try out the less popular destinations and grab yourself a better flight price. Try flying into Barcelona, Frankfurt or Athens and not only will you get a cheaper price you can explore those cities that are bursting with culture, welcoming with smiling faces and tantalising cuisine to devour.
Find a route that suits you. While you are busy being flexible with your dates why not be flexible with your route. You may not always find the most direct flight is the right one for you. Let your agent know you are open to different ways of getting to your final destination. It may take longer in travel time but you may have a connecting flight in a destination you have always wanted to see. A direct flight may also be more expensive and you may need to pass through London or Rome before you get to your final location. Who knows, you may find yourself with 24 hours to explore a city you have always dreamed.