Is a River Cruise For You?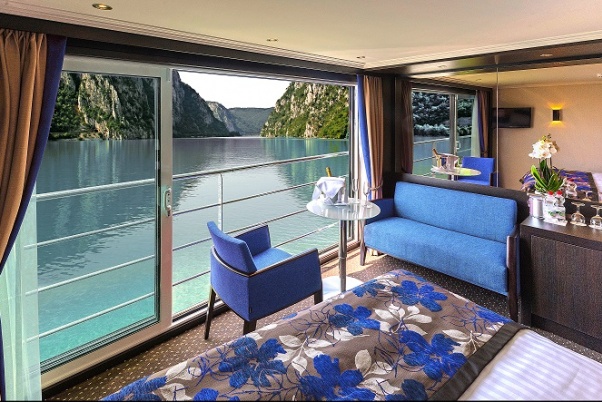 Europe – Cruise or Tour?

There are pros and cons to all styles of travel, which is why there are so many ways to travel around Europe – something to suit every style of traveller.

Today we are looking at river cruising – who what when where and why?

I figure the how is easy – you get on a ship and cruise along the river, stopping at places along the way to go ashore and explore. This is a simple but true explanation of the how. It's all the others that have variation

Let's look at the ships and service that are out there.
If you are a 5 star type of person who does not mind paying for that extra luxury, those added inclusions, all with service to match, there is a cruise for you. Consider Uniworld, Scenic or APT as your options. Uniworld is separated from the other 2 by the unique nature of their vessels. Each ship is individual, each room within the ships styled on a difference décor theme. French provincial, Louis XIV, Asian inspired, Georgian or Edwardian. Opulent yet comfortable. Service of the highest level where no matter what your request for a drink or menu item that is not on the list, the effort is made to prepare or provide it for you no matter what it takes.

APT and Scenic both are beautiful companies to travel with. Once you have found the one you like, you will never cruise with another company. It really comes down to experience and personal preference. Both companies offer luxurious ships. Both offer unique experiences that you will not find offered elsewhere. Both have exceptionally high standards of service, meals on board, and both are fully inclusive – meals, drinks and all sightseeing during your cruise.

These 3 companies also, by their nature, sit at the top of the budget tree.

If you want to stretch your dollar further, the next group to look at is Avalon, Travelmarvel or Evergreen. They are all wonderful 4 star products. They all offer included sightseeing and meals. However you have the option to further enhance your travel experience by purchasing additional sightseeing excursions whilst on tour. You will be served wine and drinks with dinner. After dinner is complete you will then buy any additional drinks or liqueurs that you may like. My personal opinion is that the drinks inclusion is not a main reason for making a decision between, say, Scenic and Evergreen. The difference in price for "drinks included" means that you would have to almost be a non-stop drinker all day to reap the benefit. You look at other factors to make a choice. By the time you have completed the sightseeing excursions (time off the ship) your drinking time is significantly curtailed in my view – and a few drinks at dinner for most people is sufficient to end the day on a pleasant note.

Each ship has a Cruise Director who will give you interesting commentary en-route about where you are going, and what you are seeing on shore as you cruise along. They are a font of knowledge about all things historical, topical, social and cultural. They will organise your excursions ashore. Make sure your meals are to your liking. They are your first port of call (no pun intended) if you have any issues with anything on board during your cruise. This pretty much covers the "who" and "what"

When? The best time to cruise in Europe is May – September. If you travel any earlier or later, the weather is cooler and the days shorter. You get less time ashore as the daylight hours are reduced and it is getting dark by 5pm in some places. Conversely in summer, it is still light enough to be out and about at 9pm!

Where? Wherever there is a river! The Rhine and Danube are very popular, with the volume of river boats cruising the waters increasing each year. You can choose a longer cruise that goes through different countries, from 7-14 nights, or you may like a shorted cruise that stays just in France, Spain/Portugal or Italy. French River Cruising is becoming increasingly popular. The next big destination for River Cruise is in Asia- but we will save that conversation for another day.

That just leaves the Why?

So easy to answer. Unpack once. No need to say why that is so great. Gourmet meals 3 times a day (thankfully most ships have a gym on board (small)) and you will be doing plenty of walking! No fear of sea sickness –the rivers are beautifully calm to drift along on. Locks – passing through locks is one of the most interesting experiences I have had – have to see them to believe them. Not sitting all day on a coach.  Bad Back? Bad Knees? No need to sit all day and have them aching. On the ship you are free to lie in your cabin, sit on your balcony, enjoy the bar and common area, stroll the promenade, find your place in the sun on a deck chair, or hide away from the rest of the passengers in the coffee lounge with a cappuccino and a good book.

Great holiday for couples. The first time. Most men enjoy their first river cruise but for some reason a large percentage don't want to go again. But the girls do. So take your friends, ladies! Take your daughter, or your mother! Safe secure travel, plenty of time for socialising, shopping, relaxing and generally enjoying each other's company. The pace is slow, the experience relaxing and enriching.
There are departure dates with some river cruise companies that are specifically tailored for grandparents travelling with their grandchildren, and the itinerary is designed to reflect that need and those interests.

So is a river cruise ideal for everyone? Of course not. You will generally be aged over 45, have travelled to Europe before and be looking to travel again and see things at a slower pace, savour the moment more. Maybe ride a bike along the shore for a couple of km. Maybe spend all afternoon sipping Beaujolais and eating cheese. Head off into the small German villages where every second shop sells the most delicious warm gingerbread!
Most river cruisers will be travelling without young children, so there is a wonderful element of peace and quiet associated with that. If you like your holidays relaxing yet fulfilling, a nice mix of history and culture, shopping and social time, then seriously consider a river cruise for your next trip to Europe, the USA or Asia.