Crystal Cruises - in their words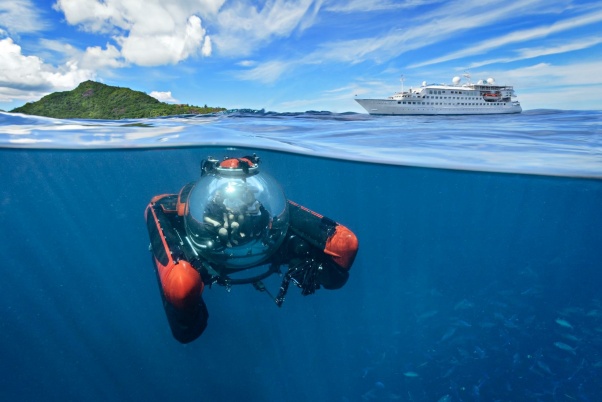 Aboard Crystal Symphony and Crystal Serenity, the hallmarks of Service, Space, Quality and Choices have earned Crystal Cruises the distinction as World's Most Awarded Luxury Cruise Line™.
Each Crystal ship has its own atmosphere and own unique character. With each voyage you sail, you are sure to discover something new on board, but will always come 'home' to a welcomed familiarity-your Crystal Family. Be it your first voyage with us, or one of many returns, you immediately feel a sense of belonging, a sense of place. Welcome to your home upon the sea.
It's the champagne chilled to perfection. The caviar served with hand-carved mother-of-pearl and delicately buttered blinis. It's the unspoken desire to make your every wish come true. From an Asian moo goo gai pan or kung pao chicken to an American lobster tail or cheeseburger, lavish themed buffets transform Lido Deck, allowing you to immerse your palate in the authentic flavors of worldly destinations.
Nowhere else does the grandeur and serenity of the world come into view more clearly than it does from the sublime comfort and quiet privacy of your well-appointed verandah stateroom or suite.
A welcoming and friendly smile sets the stage for a journey of uncommon discovery, where the industry's finest professionals create experiences of a lifetime, all day, every day.
A welcoming ambiance of contemporary style and warmth, Crystal Cove is host to soft piano music and lively conversation. An ideal setting whether meeting for pre-dinner cocktails or following a day ashore.
Renowned for our award-winning cuisine, the elegant Crystal Dining Room aboard Crystal Serenity and Crystal Symphony set the stage for exceptional culinary experiences throughout the day. Evenings are enhanced with a progressive new Modern menu served alongside a Classic menu of traditional favorites.
Fresh mango, muddled raspberries or a zest of ginger. Savor a custom-blended cocktail at the Crystal Cove bar, where something as seemingly simple as an aperitif becomes a stellar event unto itself.
Every aspect of the Crystal Experience, both on board and ashore, offers exclusive options for you to design your holiday to be as dynamic or relaxing as you wish.
Underwater discovery of a Technicolor Caribbean reef. Zip-lining through a Costa Rican rainforest. Junior cruisers thrill to their own worldly adventures with the best luxury cruise line for families.
Bordeaux's famed Château Lafite-Rothschild. Tuscany's legendary Brunello di Montalcino. From riojas in Spain to malbecs in Argentina, discover the nuances of wine at tastings lead by our expert Sommeliers.
Filled with classic literature and best-selling novels, the Library offers more than 3,000 titles, along with a selection of magazines and newspapers. Or, choose from a variety of DVDs, always complimentary, for in-stateroom viewing.
Cutting-edge Kineses systems. "Tour de Spin" cycling classes. Yoga, Pilates and Tai Chi courses. State-of-the-art Fitness Centers boast the latest treadmills and elliptical trainers with personal televisions.
Enjoy a game of paddle tennis on Crystal Serenity and Crystal Symphony's top-most deck. Crystal's fitness and sporting options are unmatched in luxury cruising
From ballroom dance to spiritual wellness, an Experience of Discovery® theme cruise brings together experts to lead lectures and demonstrations along with engaging optional shoreside excursions for a voyage that sails far beyond the ordinary.
Our curated collection of more than 2,000 Crystal Adventures® shore excursions provides you with enriching insight and privileged access to the world's most fascinating destinations, both popular and undiscovered.
On a voyage designed for the true adventurer, follow in the footsteps of intrepid explorers and expedition vessels as Crystal Serenity navigates this mystical series of waterways around Alaska, into the Beaufort Sea, through the Canadian Arctic Archipelago and on to Greenland