Uniworld River Cruise - in their words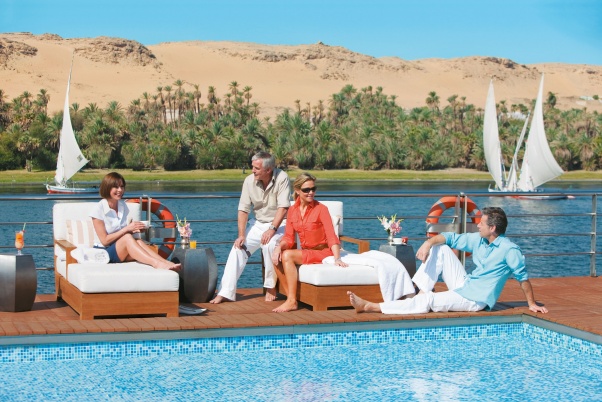 What is the Uniworld Difference?
When exploring Europe's greatest locales, it isn't often that the ship one travels on rivals the destinations themselves. Yet this is more than true for Uniworld's fleet of luxurious floating boutique hotels.
Every Uniworld ship is a work of art designed to be as unique and inspiring as the destinations it visits. Once aboard one of our award-winning ships, you will immediately notice the thoughtful touches, sublime artistry and quality amenities that set us apart. A simple walk from your sumptuous stateroom to breakfast will reveal original works by famous painters, master craftsmen and furniture designers commissioned exclusively for Uniworld ships.
Set sail on any of Uniworld's one-of-a-kind ships and discover a beautiful world, both onboard and onshore.
The Difference is in the Details
There's a moment on every Uniworld boutique river cruise when it becomes clear. Maybe it's while luxuriating in the comfort in your exceptionally appointed stateroom or suite. Or savoring yet another culinary masterpiece prepared by our master chefs. Or while experiencing the jewels of Europe from a perspective only the river can provide. A moment when you realize that this journey is unlike anything you've ever experienced and beyond anything you could have expected.
You Deserve the Best
Everything we do is focused on a singular goal. To give you the unique and unforgettable experience you seek, with the personalised industry-leading service you deserve.
In-Suite Butlers
Uniworld butlers go above and beyond to create special moments that our guests remember long after they leave. Service from specialty trained, in-suite butlers will be available to all guests staying in suites onboard our European fleet (except Russia and Portugal).
L'Occitane + Hermès
We pamper our guests with the highest quality amenities. Guest will enjoy both L'Occitane and Hermès bath and body products in all staterooms and suites when traveling on one of our European cruises starting in 2016.
ll-Inclusive Luxury
Uniworld elevates all-inclusive river cruising in Europe to an entirely new level. As we see it, our guests deserve the absolute best of everything and the difference is truly in the details. 
Impeccable Service with a larger onboard staff than any other river cruise line.
Intimate and beautifully designed ships carrying an average of just 130 guests.
All gratitudes onboard and onshore.
All-scheduled airport transfers.
Elegant and well-appointed riverview staterooms and suites.
In-suite butler srvice (Uniworld ships in Europe except Russia and Portugal in 2016).
All dining onboard and unlimited beverage (including many premium spirits 
such as Grey Goose, Crown Royal, and Glenfiddich).
A wide choice of personalised excursions led by English-speaking local experts.
A number of EXCLUSIVE EXCURSIONS offered only by Uniworld.
Well-equipped onboard fitness center.
Onboard exercise & welness classes (with certified onboard wellness instructors in Europe).
Bicylces and nordic walking sticks for onshore use.
Ship-wide internet and WI-FI access.
Onboard entertainment and signature lecturns.
Our Design Philosophy.
Uniworld puts a unique spin on river cruising, with floating boutique hotels that are meticulously designed with the signature touches for which our company is known. Each and every ship in our European fleet is rich in character and truly one-of-a-kind, with its own distinctive theme and colour palette, original art and sumptuous furnishings and antiques.
Uniworld's iconic ships exemplify true artistry, the very essence of our boutique philosophy. In partnership with the design visionaries at our award-winning sister company—the Red Carnation Hotel Collection—our ships have a stylish flair inspired by the rivers upon which they cruise, a blend of old-world elegance, the latest technological innovations, and ultra-luxurious amenities.
We take great care to ensure that every element onboard—down to the smallest detail—has been thoughtfully considered and flawlessly rendered. Our mission: to provide our discerning guests with a truly unsurpassed and unforgettable river cruise experience.
Décor
Every Uniworld ship is a work of art designed to be as unique and inspiring as the destinations it visits. Step aboard and you'll immediately notice the masterful touches, refined artistry, and sumptuous amenities that set Uniworld apart.
Accommodations
Our suites and staterooms provide an elegant and serene onboard sanctuary throughout your journey. From beds hand-crafted by Savoir® of England—purveyor to Europe's finest hotels—to the highest quality linens and Italian marble-lined bathrooms, every element is designed with your ultimate comfort in mind.
Shared Spaces
Uniworld ships feature stylish restaurants where guests can linger over a fine multi-course meal, an expansive Sun Deck, and plush lounges with full-service bars—the ideal spot for drinks with friends, after-dinner entertainment, or dancing the night away. We also offer a well-equipped fitness center and Serenity River Spa™ on every ship in Europe, perfect for an invigorating workout or a relaxing massage.
2017 Family Adventures in Europe
Your family deserves the best, so travel with Uniworld, voted #1 in the "World's Best River Cruising for Families" category by readers of Travel + Leisure.
Make new discoveries together onboard a 2017 Uniworld river cruise in Europe, setting a course for history, culture and fun for the whole family. Our multigenerational journeys provide unforgettable and in-depth experiences for people of all ages, and are an exceptional way to introduce young travellers to Europe's most spectacular destinations. More good news — kids ages 4-18 cruise for half price on select itineraries and departures.**
EVERYONE DESERVES THE BEST OF EUROPE
Venture beyond the ordinary with a Uniworld family river cruise. Simply step aboard, unpack once and embark on an unforgettable European journey.
BOATLOADS OF FUN
Every Uniworld Generations cruise is meticulously planned to keep young travellers engaged, with plenty of free time for adults to relax and recharge.
BON APPETIT
Culinary adventures are for kids, too! We provide kid-friendly menus onboard, as well as hands-on experiences such as baking strudel, making mini pizzas, and even foraging for mussels.
CHOOSE YOUR OWN ADVENTURE
Uniworld specializes in personalised travel, and that goes for our younger guests as well. Since no two kids are alike, we offer a full range of enticing onshore excursions and onboard activities—some geared for children and others tailored for tweens and teens.
Uniworld's unique Generations family program is available on nine European itineraries in 2017:
Art Lovers 
Excursions and hands-on activities to inspire creative expression
Go Active 
Exhilarating outdoor pursuits geared especially for teenagers
Mysterious Stuff 
Excursions for young people who love intriguing tales with a historical twist
Aspiring Foodies 
Tasty activities for adventurous eaters seeking new flavors
Curious Minds 
Excursions designed to cultivate a greater sense of curiosity
Thrill Seekers 
Exciting adventures that will appeal to junior adrenaline junkies