Close to Home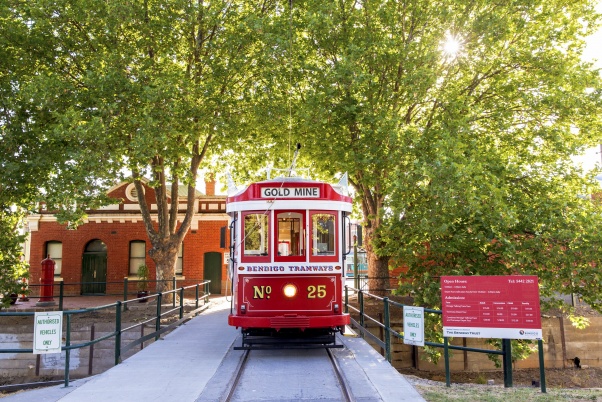 Think you can't afford a holiday? It's my job to help you realise you can!
Not all holidays have to be overseas extravaganza, or glamorous stays at opulent resorts. Let's get back to basics as to why we need a holiday from time to time, and what we should get from it.
I am a firm believer that we all need a break from the daily grind to recharge the batteries. Get a bit of perspective, and freshen up our outlook. Travelling is also a great way to meet new people, share stories, and learn something that you did not know before. All you need to do is change your everyday scenery for something different. Explore Australia! Take a few short breaks each year (even a road trip) rather than one big expensive holiday. Come back refreshed.
Jump in the car, on the train and head for somewhere regional, small, and see what you can discover. Consider this for an example.
Bendigo! What? I hear the curiosity in your voice….What is she thinking!!
Consider this little road trip in the Bendigo area.
Day 1: Head to Bendigo and start your trip with a half day wine tour. Bendigo is a comfortable 150km drive north from Melbourne's Tullamarine Airport and a perfect overnight stop between Adelaide and the snowfields. The climate and soil of Central Victoria, with its deep soils, spring rain and long hours of summer sunshine, are ideal for growing shiraz and cabernet sauvignon and the region is famous for its rich deeply flavoured varietal wines.
Red grape varieties seem to predominate over white, with the dominant red variety being Shiraz, and the dominant whites Chardonnay and Sauvignon Blanc. Other red grape varieties you will find in this region include Cabernet Sauvignon, Pinot Noir, Merlot, Cabernet Franc, Malbec, Mataro, Sangiovese and Touriga. Other white grape varieties include Riesling, Semillon, and Traminer.
A good option for tonight would be a place like the Heathcote Retreat Motel.
Day 2: Visit the Bendigo Art Gallery, founded in 1887 - Queen Victoria's Golden Jubilee Year. Closed on Mondays, you may choose to enjoy a free guided tour exploring highlights of the permanent display, 2pm daily. Travelling with children? Pick up an activity trail for families from reception and explore key works from the Gallery's own collection. Enjoy lunch at Rocks on Rosalind, and maybe consider treating yourself to a Delicious Dessert Tour along View Street. Rocks on Rosalind, Wine Bank on View and Mr Beebes, all located in View Street, have collaborated to create a delicious walking dessert tour. Three stunning historic venues, and three stunning dishes matched with a signature beverage. Dessert and cocktails at Rocks, cheese and wine at Wine Bank and dessert with craft beer at Mr Beebes. Tours are available 2pm – 5pm Monday to Saturday, visit the venues in any order you desire, at the pace you desire on your chosen day.
A typical tour could include something like……
Mr Beebes - Golden peach clafoutis served with wattle seed syrup, roasted macadamia nuts and white chocolate ice cream served with La Sirene Saison beer.
Rocks on Rosalind - Frangelico & Hazelnut Mousse served with an espresso martini
Wine Bank on View - Cheese platter with a matching wine.
Tonight move on to the Quest Bendigo Central
Day 3: Be sure you have arranged a late checkout for today so that you can enjoy a late leisurely breakfast at the Boardwalk Café overlooking Lake Weeroona. Head on towards Castlemaine and leave your bags at your home for tonight – Fitzgerald's on Lyttleton. Travel on the Victorian Goldfields Railway steam train (runs Sundays and Wednesdays) from Castlemaine to Maldon (return). To enjoy a great day out, the 11.45am from Castlemaine gives you 2 hours to have lunch in one of the cafes or pubs and explore the lovely little goldfields town of Maldon before returning to Castlemaine in the late afternoon. If you are hungry tonight, consider the Good Table. The Good Table is a local restaurant offering a daily menu that celebrates quality ingredients; seasonally sourced, locally grown, with emphasis on free range, organic and sustainable produce. They enjoy working with the region's smaller growers and producers, who share a passion for quality food and a commitment to the welfare of the animals they keep and the land on which they work. The food is prepared in an uncomplicated manner, influenced by the regional cuisines of Europe where the ingredient is king and the food is shared.
Day 4: In the heart of the Victorian Goldfields region, Maryborough boasts historic gold rush architecture, lush gardens, antiques, art and a fast growing food and wine scene. Mark Twain once described Maryborough as a 'railway station with a town attached'. The historic railway station is home to an antique emporium, art gallery, regional wine centre, tapas bar and restaurant. Browse through a vast array of antiques, collectables and books under the platform's roof if you're in town for the quarterly antique market. Its probably time that you started to head for home after lunch today, having seen a sample of what Bendigo can offer. History, food and wine, scenery and a cultural experience – all in 4 days. Fabulous short break!
Like the sound of this? Looking for more ideas? I would love to have a chat with you. Give me a call on 0404 831 867 any time.