Travelling with Kids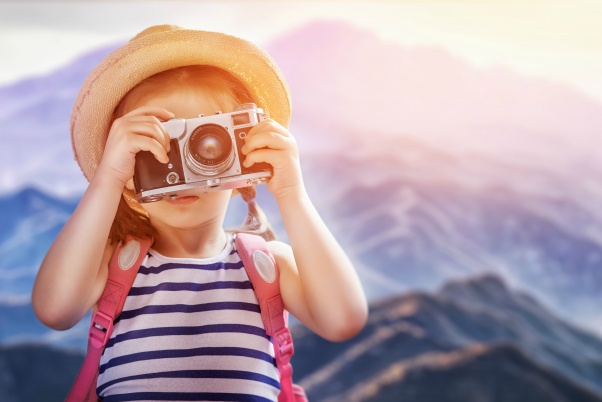 HINTS FOR TRAVELLING WITH CHILDREN
My children are 8 and 7 now, and have travelled with me from a very early age. There a few things that I find common no matter where we go, to ensure that both the kids and we parents enjoy our break.
I made the mistake of thinking that the first holiday I did with the family (to Bali) would be a relaxing holiday for me too…..wrong! The kids still argue, fall over, get sick, fight over who has to clean their teeth first…..some things are "same same" no matter where you are. Just take a deep breath, and smile!! Have realistic expectations and then you won't be disappointed.
AIRPORTS – are a source of amazement. The children want to run from window to window, watch planes, watch their bags disappear from the check-in conveyor belt, buy every lolly they see and eat at every fast food outlet. There are so many people coming and going that it can be overwhelming to watch them all. There are vending machines, internet stations, TV monitors and more, all commanding attention. The Airport is the first of the holiday experiences. Don't rush it. Give yourself plenty of time, more than you need, so that the kids can indulge in this feast of the senses. For us grown-ups, it is usually a source of frustration – crowds of people, not enough seats, and overpriced coffee. It's a wonderland for the kids – be patient and let them enjoy it.
BACKPACKS- are a great idea for the kids – let them carry their own water bottle, snacks, books, toys, games for the flight, spare undies, nappies whatever. They love it. For about 3 minutes. "Mum my bags too heavy – you carry it!" Even better is the one that goes "Josh – where is your backpack? I don't know Mummy – I could have left it in the toilet when I went…..????" Less is definitely more. Planes have on board entertainment (don't scrimp here – if you choose a budget carrier, buy the entertainment option especially if it's a long flight), they have food and water, blankets if you get cold. Many have kids activity packs to hand out. Choose a good airline that will help you look after your kids needs in flights. Don't pack everything and the kitchen sink in your carry on luggage….you will end up carrying it all.
TAKE A REALITY CHECK – If you are taking a long flight, the reality of young children is that their sleep patterns will be disturbed, they will be excited and curious, and you may need to give them your attention for long periods of time to keep them engaged, and stop them from getting bored. Don't expect that when you are travelling with kids to London that you will get to watch 3 movies back to back. As a responsible traveller, and a courteous one, remember the others on the plane with you. Make sure your kids are not kicking the back of the seat in front. Sit adults between the kids so they don't start a fight with each other. Engage your children in something to help the time pass for them. We love travelling with Lego – one box of a reasonably complex kit will keep Josh occupied for nearly an hour, sometimes more if it's a big project. Madi loves colouring in – a pencil box and a colouring in book keeps her occupied for long periods of time. Take an activity that suits your child's interest. And help them complete them.
REMEMBER THE SIMPLE FUN THINGS –Try and enjoy the simple pleasures. If you have a boring overnight stop in a motel in a town with nothing happening here is something to try…..is there a wardrobe in the room? Tell the kids to get in the wardrobe and look for Narnia. Let them use their imagination and you could be surprised what jumps out of the wardrobe back at you. Use your imagination and jump in the cupboard with them….. Guarantee they will love it. Pack a deck of cards and play snap, or fish. Turn off the devices and the TV, and just play. Sing together like no one is listening. Dance with them like no one is watching. They aren't!!
PROTECT THE KIDS FROM FATIGUE –Some people think I am over-zealous when I try and stick to some sort of a routine on holidays that sees the kids in bed at their normal times, at least 50% of the time we are away. Tired kids are grumpy horrible kids. Holidays are full of new experiences, coping with things being different to what they are at home, and stimulation of all the senses. The kids will get tired. You will get tired. Make sure you have a few early nights and you will make your life a lot more pleasant. It's just common sense when you think about it, but it's really easy to stray from common sense when you are having a great holiday in a beautiful location somewhere. Enjoy the moment, but enjoy the next day too.
KEEP YOUR TICKETS – If the kids have had a good time, you will find that when they get home, they will role play their favourite parts of the holiday over and over again. I have actually had my kids pack their trolley bags, and go sit in my car in the garage, pretending it was a plane, and invent their own holiday. Travel is an education – never forget that.
LET THEM TRY SOMETHING NEW – The best part of a holiday is doing something that you never do at home. If can something as exotic as riding an elephant or something as simple as having a hotel dinner while in bed watching TV if this is something you do not do this at home. Just try it. You too – not just the kids. You may find yourself enjoying it with them!
Hope these little tips and tricks help…..