Whales close to home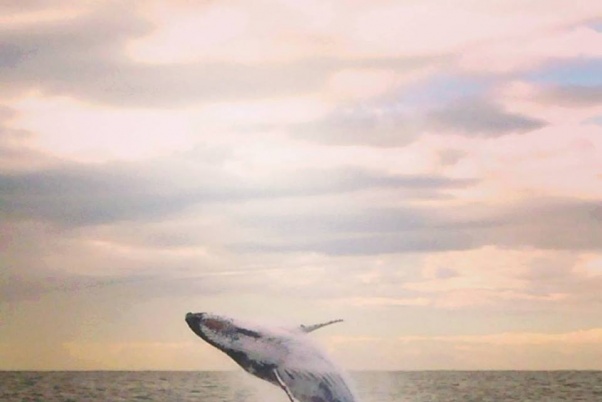 Whale Watching Cruise – Moonshadow Cruises – Nelson Bay NSW
I was, in July last year, a guest of Moonshadow Cruises on one of their whale watching cruises from Nelson Bay, in the beautiful Port Stephens. This is a super easy drive of around an hour from most parts of Newcastle, slightly longer if you are coming up from Sydney, but boy oh boy what a cruise we had.
The large vessel that we took out to sea was beautifully suited to the purpose. Stable and as safe as houses in lumpy conditions, plenty of area on the deck both fore and aft, and along both port and starboard sides, a spacious interior downstairs with a bar serving basic drinks and snacks (plus ginger travelcalm tablets if required, but get these into you early!!), and the bonus of a tea and coffee station at the front of the lower deck for complimentary tea, coffee and biscuits. Upstairs there were plenty of comfortable bench seats inside for those wishing to stay warm and dry, plus seating undercover towards the aft of the vessel, but open to the elements otherwise. With about 150 people on board, we still felt the spaciousness of the design.
Heading out to see, we were joined by a pod of common dolphins, though how these beautiful creatures can be described with the word common I will never know. Just lovely to see them racing along side of us, playing in the wake of the vessel. Those a little more observant also saw the seals basking in the sunshine on the rocks around the entry into the marina.
But we came to see whales, and see whales we did. As we headed into open water, not too far off in the distance we saw two of the beautiful humpback whales announce their arrival for the day with some leaps out of the water, straight up to the sky…..I would say about half of their bodies were up out of the water, as if they were signalling to us to follow them to watch their antics.
We did turn and head towards them, and we were not disappointed. For nearly an hour we were able to cut the engines on the boat and just drift around as a pod of about 4-5 whales teased each other, swimming in and around each other, almost as if they were dancing. We think there were a few males all trying to work out who was the boss as the female whale swam by. They got closer and closer to us as we just bobbed about (more on that soon!) and ended up doing a swim past the stern of the boat – so close I felt like I could have reached over and touched them. It was truly one of the most amazing experiences I have had with nature, so close to these enormous animals, and also so close to home that I could do this every weekend if I wanted to.
Now, to that bobbing about. I do advise that you take note of the weather on the day of your intended visit. We headed out in rather strong winds, and high seas, and were warned that it "could get a bit lumpy, this is no Carnival Spirit that you are sailing in." Now, when someone who works on boats says "a bit lumpy", for sensitive sailors like me that means "stay home and try next week, and don't think about bringing out the kids." We, however, tackled the "lumps" and were amongst the approximately 50% of people on board that day who suffered. There were bags aplenty, and I cannot praise the crew highly enough for the care and compassion they showed those of us who really just wanted to get off right there and then, but knew we still had an hour and a half of being tossed around like ragdolls before that could happen. They were extremely vigilant in monitoring the whereabouts and wellbeing of my children whilst I was otherwise engaged at the back of the boat, and for that I cannot thank Ebony, Jarrod and Ben enough. Our Captain on the day was informative, reassuring, entertaining and extremely good at what he did.
I would like to thank Mel and her sales team, the Moonshadow cast and, and the inhabitants of the Humpback Highway that is the NSW coastline for a wonderful experience in nature's playground this long weekend in June just passed. I would highly recommend this experience (check the weather and sea conditions first!) and if you have an extra day or two up your sleeve, combine a trip to Port Stephens with a jaunt across to the Hunter Valley for a spot of wine tasting before you head home.
More on that later though……I will leave you with a few Moonshadow pictures of the creatures who made my day!