Pacific Eden and Emerald Princess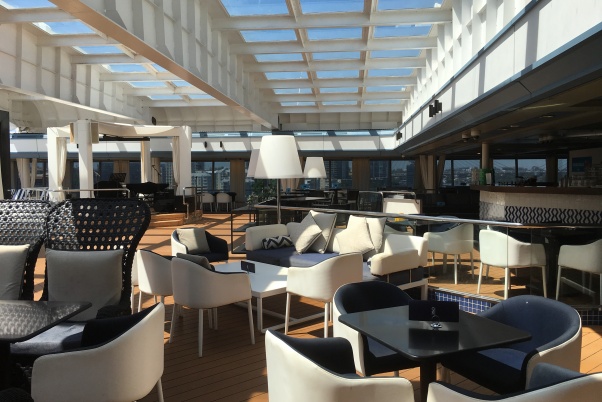 So January saw me in Sydney twice in a week, looking over the P&O Pacific Eden and Princess Cruises Emerald Princess.
Two totally different ships, but with some things in common as well as some vast differences.
So what was my verdict? I did not need to prefer one over the other, I liked both for different reasons. Let me try to explain.
The Pacific Eden is a ship that P&O bought from Holland America. As such the cabins are of a more generous size than the Emerald Princess overall. The biggest cabin differences are that the Eden (and her sister Pacific Aria) have a shower over the bath in all cabins ocean view and above. This may present problems with the "up and over" for some, however accessible cabins are also available if required.
Whilst on the cabins, Princess are proudly rolling out new bedding and linen across the fleet – the pillows are longer so they take up the width of the bed for that extra comfort. There is a pillow top on the mattress, and the new linens are lovely and soft.
The Penthouse and Suite category cabins on the Eden had to be seen to be believed. They were so spacious and well-appointed you would never want to leave and dwell in the public areas! Suite guests on the Emerald however did have an exclusive dining area just for them, with those few extra staff to provide that extra special level of service for dining.
On the Emerald I also saw for the first time a true "obstructed view" ocean view cabin. It is certainly not pretty to look out your window and see life rafts and cables running everywhere. However it does offer a cheaper price point for a room where you can see the daylight and know how the weather is looking for the day! If I could avoid these cabins, I probably would – your cruise experience is the sum of all its parts, and the cabin is one of those parts.
Would I burst a boiler to book a cabin with a balcony? Maybe…depending on the cruise. If I was cruising for a long period of time, yes. Personal space is a beautiful thing. On a shorter cruise, not so important as there is so much to see and do both on board and in port, I don't think you would utilise it much. One small table and two chairs, and the area is pretty full, unless you book a cabin with an extended balcony, and then it's wider. Having said that, it might be nice if your partner tends to take a long time to get ready for dinner of an evening to enjoy some fresh air whilst you are patiently waiting for them…..or if you are in a triple or quad share situation the story changes completely…. I would definitely consider a balcony in this situation as 4 people in a cabin can get a bit squishy…. At least one or two people can "escape" to the balcony and give the others more room to move comfortably.
No – just because you are a smoker that is not a reason to book a balcony room. Ships have specially designated smoking areas, and anywhere around your cabin and balcony is NOT one of them. The risk of fire at sea is taken very seriously. No smoking on the balcony please.
Perhaps the biggest difference between the two ships is there overall size. The reason P&O sail in and out of White Bay in Sydney is their smaller size – they can easily pass under the Harbour Bridge to sail out, and the passenger facilities at Circular Quay are larger and more designed to cope with the increased number of guests who board a Princess (or Carnival or Royal Caribbean for that matter) ship. Eden sails with just under 2000 guests. Emerald sails with nearly 3000.
Eden understandably has a more intimate feel, with the public spaces (lounges and bars) not looking like they are built to cope with large crowds. This is probably most obvious in comparing the Theatre of both ships, and the outdoor/pool areas of the ships.
Eden has a feeling of being very modern. Not a touch of RSL carpet anywhere. Lots of navy, beige, lovely greens, a real modern, elegant but casual feel to it. Emerald feels far more traditional – darker timbers, more traditional designs on the carpets, a little bit more grandiose in style. A touch more formal, but still quite relaxed.
Both ships have beautiful dining areas. The Emerald still has a traditional buffet style dining area (as well as a more formal "be seated and be served" dining room (Boticelli). You can eat continuously from 5am until 11pm. There is a pizza bar, ice cream bar and International Café where you can dine on fare which is included in what you have paid for your cruise.
Eden has a totally revamped concept in casual dining on ships where "The Pantry" is a food court style arrangement where you can choose Mexican, Carvery, Fish n Chips, Salad, Bread or Asian style cuisine, which is served to you by the staff in these outlets. Very hygienic, very beautifully presented. Exclusive to the P&O fleet, the Eden and Aria (and new Explorer) also have an Italian and an Asian fusion restaurant on board where you can dine included in your fare.
Both ships have amazing speciality dining options also. Luke Mangan Salt Grill on the Eden, and Curtis Stone Share on the Emerald. Dinner and/or Lunch only, cover charge, but wow what amazing food – the cover charge is excellent value for the amazing experience you will enjoy in these eateries.
Also extra on board both ships are the day spa and salon treatments, personalised fitness and yoga classes etc, however the gym facilities on board both ships are complimentary to use, and I must say the size of the gym on Emerald Princess blew me away – it was huge.
Both P&O and Princess offer beverage packages (this is new in the last few years) where you can pay a fixed price per person per day for the entire duration of the cruise and drink as much as you like. The packages come at different tiers, from a coffee card, to a soft drink only package, to one that includes all alcoholic beverages and even cocktails and premium tea and coffees and energy drinks. It is cheaper to pre purchase these packages prior to departure thru your on line check in process that it is to purchase on board.
Beware or tarring either cruise line with generalisations about who cruises with who, and what age you should be to travel with them. P&O is generally aimed at the younger and family market, Princess is generally aimed at more the retirees and multi-generational traveller. However both cater for all groups. Both have great kids club facilities, P&O probably has more on board activities suited to the younger ones. Both have great pool / water play facilities – Princess has more options and bigger pools. Both have great dining options. The things to consider more that may help you decide are the more practical things I believe….for example the size of the ship – are you more comfortable in more intimate surroundings or do you like to have lots of public areas to explore? What destinations do the departures sail to and when do they leave? What specials are in the market place and what inclusions are you getting with your fare? P&O have more short 2-4 night sailings, Sea Breaks, and special event cruises like State of Origin, MOFO in Hobart, Melbourne Cup, Australian Open, Australia Day, Comedy Cruises, Food and Wine Cruises etc…. Princess tend to have sailings that are a longer duration (which is a factor that "self limits" how many families/young children are on board). If you want to stick to the smaller ships with Princess you can do that – stick with the Sun and Sea Princesses.
I have a gazillion photos that I can show you from the 2 inspections, and I am happy to have a more detailed chat with you any time.
I hope that you have learned a little from these notes, and that you may like to consider your next cruise on the Pacific Eden or her sister Pacific Aria, or the Emerald Princess (who is sailing the Canada/Alaska season when she leaves us at the end of the summer).
I would like to thank my hosts Angus Mackay from P&O, and Shaun Kavanagh and Rachael from Princess Cruises, who gave up their days to show us around their pride and joys. You were wonderful hosts and the lunches you treated us to on board were exceptional…. Made me want to go back for more!