Sun Princess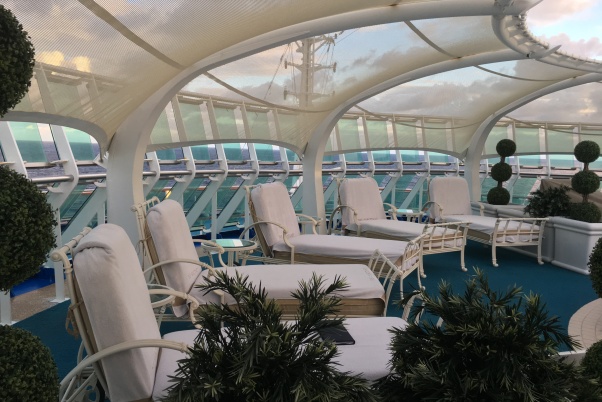 So on the first weekend of June this year, I decided to sample my first Princess Cruise – I sailed a short little hop on the Sun Princess from Brisbane to Sydney. I hope these insights give you some idea of what to expect if you are considering a Princess Cruise for yourself.
I cruised with my two children, aged 9 and 8. They were 2 of only 15 children on the whole ship. Princess is family friendly, but not family focussed, so there were no waterslides or rock climbing walls, and the itinerary of the ship had been a 16 day sailing including PNG and Honiara, so not a typical child friendly itinerary either – longer, in school term, and to more remote exotic locations. This needs to be a consideration on Princess if you are taking family – the destination is key, and the longer the cruise the less likely there is to be playmates on board for your little ones. Having said that, the craft classes happening during the day appealed to my cherubs as much as they did to the predominately senior ladies in attendance. The carpet bowls and table tennis appealed to the kids also, as did the indoor putt putt golf and the bingo! I was a little surprised at how much the children enjoyed the evening entertainment – almost as much as me! The "Shimmy" show was great fun, and the Country themed performance the following night a winner also. May have had something to do with audience participation in getting up to line dance all together in the middle of it!! Kids club was a hit, with Mario Cart, T-shirt decoration competitions, movies, a pyjama party, scavenger hunt and more to entertain the children whilst Mummy was getting her nails done at the Lotus Spa! Sometimes I think my personal favourite aspect of any cruise is kids club! It gives me some "me time" as well. Overall the kids enjoyed the experience, but I think they would have had more than enough if we were on a 2 week cruise.
So enough of the children, what about other important considerations….like food! The dining room was lovely. It lived up to expectation of tasty, fresh, interesting menus for each meal. The Norman Love chocolate desserts have to be seen to be believed…..and the real winner was that they tasted as good as they looked – I find often desserts that look wonderful lack flavour and "pizazz" when you eat them – not in this case. I found a real winner was the International Café – Also included in your fare, it was a great option to eat simply – grab a ham toasty for a light lunch. A croissant and latte for a light breakfast. When the buffet became overwhelming (due to overeating which is so easy on a cruise) the Café was a relief. Open 24hrs, so a snack was an option at any time with menu choices appropriate to the time of day. The Buffet was for me a highlight. It was the best buffet I have seen anywhere (not just on a ship) for a long time – the food looked SO appetising. The cold food was really cold, the hot food was more than warm, and not dried out under lights. There was plenty of healthy eating and light options, lots of variety in the choice, overall a standout in my mind for value. Included in the fare of course. The speciality dining options of Curtis Stone's Share and the Sterling Steakhouse I did not get to experience. The Share menu will not appeal to all tastes, but for those with a modern palate, happy to experiment with delicious food done "differently" very worthwhile. The meat on offer at the Steakhouse looked second to none – be aware that in the specialty restaurants there is no such thing as a kids menu option – the meals on offer are strictly as per the menu only, so an adult experience generally speaking.
The only disappointment was the quality of the food in the outdoor grill area above the pool – although the chicken drumsticks were good, the pizza was tough, the pies dry on the inside (not even I could eat them) and overall just not great. I could have chosen a bad night/time to try this venue, but overall I would have much preferred the buffet option. The beauty of dining outside, even in winter, was the availability of the polar fleece blankets – so you could snuggle up warmly on the deck chairs with as many blankets as you need to watch the Movies Under the Stars whilst munching on New Zealand Natural Ice Cream – another sure fire winner.
Loved the option of hot tubs (as the pools were way too cold) and The Sanctuary adults area (although be aware that in cold or windy weather, this area may be shut down for safety reasons, likewise the pools on the main deck closed).
If you were on a longer cruise, and a bit over a production show each night, the fact that you could watch movies on demand in your stateroom was a pleasant surprise for me. I had always assumed that there would be a charge on them, but no. All genres, news and sport, readily available. Even some nice peaceful rainforest or ocean soundtracks to help you drift off to sleep.
For the technological, I loved the Princess at Sea App – when on the ship (you must be on board to access it) you need to log onto the ships WIFI and follow a few simple steps – and voila! There is your Princess Patter on your mobile phone, where you can bookmark and save your favourite events, and plan your days to attend all the activities, music, quizzes, shows, art auctions, bingo and shore excursions that you fancy.
For me there were a few things that surprised me once on board, so here are my "not so obvious" observations. I had an On Board Credit to spend on my booking, and when we checked in, the staff at the Reception Counter could not see any record of it. So for my whole 48hrs on board, I was unsure if my account was keeping proper tally. Even on debarkation, I was still showing a bill owing. I called Customer Support as soon as I was home, and they confirmed that they could see the OBC and that I would not get a bill from my cruise expenses. Handy Hint – take your booking advice with you that clearly shows what you are entitled to, as this information is NOT on your e-ticket or boarding passes.
The Future Cruise desk is ALWAYS busy. It is definitely the best way to plan future cruises….either with a deposit on a particular departure, or just a credit to apply to the cruise of your choice "down the track" – you have more flexibility with the deposit (it can be refundable) and you get more on board credits (spending money) by booking on board for next time. The best part is you can tell Princess that you wish the booking to be looked after by your favourite travel agent, and this can happen to, so you will still get that great customer service and personalised experience, and not have to deal with a different person on the end of the phone each time as happens when you deal with the cruise line direct. So the biggest lesson here – get a drink from the bar or a large coffee, and be patient. You will have to wait your turn, or chat with Reception and ask them to make you an appointment.
Laundry – there is a self-service laundry on board. Not all ships have this. There is a small charge associated with this, and as it's all done by swiping your cruise card, it pays to check that the charges are accurate as your cruise progresses (this is good general advice, as we are all human and errors are made – best to check each few days to ensure all the drinks charge to your account are yours, and that all other charges are correct and accounted for).
As for the cabins – they are not the most spacious at sea, but that is OK. The beds are super comfortable and the pillows divine. If you are travelling in a triple or quad share cabin, I would definitely go for a balcony stateroom – all that humanity in one room with no fresh air for the length of the cruise, no light during the day, and no space to move around in easily whilst you are all in the room together – the extra space of the balcony to escape to, and the fresh air will be relationship-savers on your holiday. For a short little cruise, a family would be fine in these rooms, but for a cruise that is a bit longer, please consider adjacent or interconnecting cabins….yes you will pay a few extra dollars, but for the extra square metres, breathing space and room to move about, your stress levels will be much lower, and remember not everyone picks up their clothes or tidies up after themselves perfectly – consider this when deciding what type of cabin to choose. You are on holidays – falling over someone's shoes / handbag / dropped socks or day pack is not fun. Give yourself room to move if you need more than 2 people in a room. They are perfectly designed and sized for single travellers and people travelling in pairs.
Brisbane port was an interesting experience – there are 2 ports in Brisbane so make sure you head in the right direction to get to your ship. We left from the Fisherman's Grain Terminal – as the name suggests and industrial port. So the check-in was basic (walking thru temporary marquees) and the view sailing out was, surprisingly, interesting though not visually beautiful – it was cool to watch the cranes loading containers on and off the vessels in port – something you don't see every day, and the machines lit up at night looked almost alive. The operators have a great skill.
The crew were amazing, the nightly chocolates on our pillow as part of turn down a nice touch. Just because we were only on board for 2 nights, we were treated no differently to the passengers who had been on board for the previous 14 nights – this was a nice touch and a change from what I have experienced on other cruise lines.
Would I cruise Princess again? Absolutely. It was relaxing, fabulous service, food I could eat for 3 weeks or more easily, and entertainment that I enjoyed. Would I take the family on Princess? Yes if the time of year and the itinerary was appropriate. It would be prudent to pick and choose wisely if travelling with children. Would I take my parents on Princess? Definitely. It was a cruise experience designed perfectly for the 50+ age group. There were also younger people on board, but it did not strike me as the party crowd. It was for more discerning travellers, not to say boring by any stretch of the imagination, just more mature looking for a valuable experience, about destination, meeting people, and feeling that little bit special whilst on board.
Thankyou Princess for a great experience – I will definitely be back!