River Cruising - Is it for you?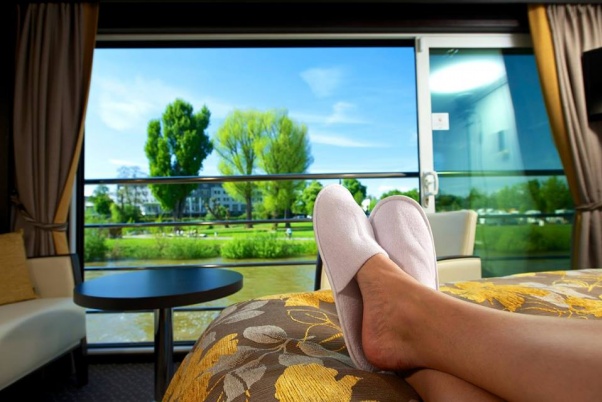 There are so many river cruise companies to choose from, how do you decide which one to entrust with your next holiday? The memories you make will last forever, so here are a few points of difference between a selection of varied operaotrs. This is by no means an extensive in depth analysis, but hopefully an overview in the words of the cruise lines themselves, that may give you a few ideas comparing just 3 of the cruise lines plying the rivers of Europe and the world.
AVALON WATERWAYS
Avalon Waterways offers River Cruises throughout Europe, China, South East Asia, South America and the Galapagos Islands, offering the newest, quietest, and most spacious river cruise and small-ship cruise ships. As part of the Globus family of brands, we're also the best on land for escorted travel, with over 89 years of coach touring and escorted travel experience. Our unique fleet of Suite Ships include Staterooms are that are 15% larger than the industry standard. Our Panorama Suites are 30% larger. We offer floor-to-ceiling sliding glass doors, French balconies and luxurious living spaces.
Introducing Avalon Fresh
Think healthy food should also taste good? We do, too. And while Avalon cruises have always provided a selection of nutritious, delicious recipes, this year, we're really raising the bar with Avalon Fresh! We've teamed up with two of Europe's rising culinary stars, the Wrenkh brothers, to design an exciting collection of wholesome menu items so mouth-watering, you won't believe they're healthy. Our focus on fresh, local ingredients from small farms and producers comes together with a splash of innovation that will have you feeling great—as you're eating and throughout your day. We even offer gluten-free options.  
Click here to learn more…
Maintaining your healthy lifestyle on holiday shouldn't be difficult-and with Avalon, it isn't, because we're as committed to your well-being as you are! We make it easy to stay active…with our state-of-the-art, onboard Fitness Centre, free bicycles available in select ports, and complimentary Nordic walking sticks to put that extra spring in your step. And at the end of each busy day, how about a little salus per aquam (health from water) with a relaxing soak in the Sky Deck's rejuvenating whirlpool?
You won't find a butler service on an Avalon river cruise – Avalon believe everyone is special and deserves to be treated as an equal to anyone else on board.
Tauck River Cruises
How you see the world matters... and on Tauck's river cruises, you can expect to see the sights a bit differently than you would with anyone else. The custom-designed riverboats of Tauck's Destination Fleet are spacious and comfortable, welcoming you to an onboard experience characterized by the Tauck Difference – all-inclusive river cruises featuring personalised cruising enhanced by those "little Tauck touches;" our intimate, sophisticated atmosphere onboard, and the uncommon access to exclusive cultural experiences on our included excursions ashore, ensuring experiences as memorable as the places you visit... not simply what other travellers see and do. We also feature special Solo Traveller Savings on all of our river cruises; have a special program for group travel; and are the only river cruise line with dedicated multigenerational family cruises. Discover river cruises that go beyond the ordinary...
Click here for a little Tauck Magic
Themed Cruises
Did you know that you can choose themed river cruises? Christmas Markets most people know about, but what about the chance to walk with our musical experts in the footsteps of Mozart, Beethoven, Bartók, Liszt and more on a tune-filled 12-day trip with a 7-night Danube cruise and 2-night stays in Budapest and Prague. For the foodies...Sip and sample your way through France's epicurean heart with a 7-night Rhône cruise and two nights in Paris – gourmet dinners, pastry and cooking classes, a Lyon tasting tour and more.
Family and Service
And just in case you were worried about being looked after, you're in good hands as you cruise with three Tauck Directors and a Tauck Cruise Director on every cruise – the most director-level staff on Europe's rivers.
A real point of difference is the way Tauck cater to the family who wants a river cruise holiday...Tauck Bridges has been designing and guiding family river cruises for 7+ years – all-inclusive family holidays with exciting shore excursions, onboard activities, and exclusive experiences all designed with families in mind. Our family river cruises also offer great flexibility and variety – just the right balance of shared activities and downtime; we thoughtfully choreograph your trip with a blend of culturally–immersive guided sightseeing ashore, organised onboard fun, and time for just relaxing and doing as your family pleases. On a Tauck Bridges family river cruise, you expose your children or grandchildren to the history, food, culture and beauty of Europe in ways the kids can appreciate. Dock on the River Danube and learn medieval games at Devin Palace, explore an amazing maze dating back to 1698, and investigate real catacombs. On the Rhine, live like the French for a day in Strasbourg… spend an evening at Reichenstein Castle, complete with working drawbridge… and ride bikes by the river. Sail down the Rhône to Provence to play pétanque with the locals… cook at culinary school… and enjoy lunch and a cowboy show on a family ranch. Or cruise up the Seine to Normandy for a hands-on experience of the vehicles, radios, and battle gear of World War II to complement your visit to the D-Day beaches…
VIKING RIVER CRUISES
The Viking Difference: The Thinking Person's Cruise
We travel to explore, to learn, to understand. As the world's leading river cruise line, we believe in offering you extraordinarily well-designed cruises that bring you closer to the cultures of the world. That's why our intimate, inclusive itineraries are designed to help you explore nuances of your destination: its food, culture, people and customs. Here's some of what we feel defines the Viking Difference:
This is cruising on an intimate scale, with a personal touch. Meander along the world's great waterways at the easy pace of the river gliding past magnificent vistas and pausing to explore riverside ports, all while unpacking your bags just once.
SMALL SHIP EXPERTS. On a Viking ship, you will sail into the heart of your destination, so you can explore up close and in depth. Our innovative, award-winning Viking Longships have set the standard in river cruising: our intimate vessels have all the amenities of a fine hotel, providing the ideal opportunity to comfortably be transported each day to and from your next destination—where enriching discoveries are usually just a short walk from your ship.
CULTURAL ENRICHMENT. Our Culture Curriculum, an exclusive onboard program, brings local history to life with lectures on history and art; tasting of vintage wines from your destinations; restaurant menus inspired by local cuisine; informative port talks; enriching Destination Performances featuring folkloric shows and musicians playing regional and classical music. Enlighten yourself further with our Library's carefully curated collection of informative and inspirational books.
MORE STATEROOM VARIETY THAN OTHER SHIPS. Your private sanctuary on the river. Viking's innovative thinking and patented design provides you with more choices and a more enriching overall experience than other ships. Each of our spacious staterooms offers deluxe comfort during your river cruise. Whichever stateroom you choose, your hotel-style bed topped with European linens and duvets provides the perfect place to turn in after a full day of exploring Europe's great towns and cities. And you'll feel pampered by bathrooms equipped with heated floors and premium Freyja™ bath products.
Click By Sarah Fenton