Tanzania and Rwanda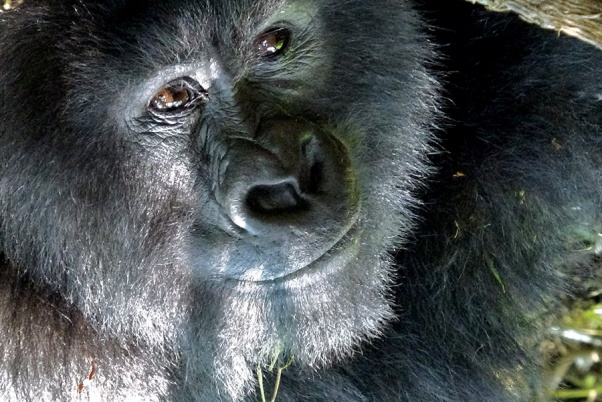 So you want to go to Africa, not all on your own, but not with the masses either. Seen South Africa? Looking for more adventure? Looking to see those amazing Gorillas in their antural habitat? Look no further. Consider this trip itinerary with Bunnick Tours - small groups no larger than 12, as small as 4. Airfares included.... makes it so easy for you.
Maybe this is the trip for you?
This tour takes in two incredible destinations. From the vast plains of the Serengeti to the incredible Ngorongoro Crater, Tanzania offers a breathtaking scenic and wildlife experience. You'll also journey to the mountain rain-forests of Rwanda which provide a spectacular backdrop against its famous mountain Gorillas.
TREK THE 'BIG 5'!
Enjoy games drives through some of Tanzania's best known game parks including Tarangire National Park, Ngorongoro Crater and of course, the Serengeti. Keep your eyes peeled and camera ready as we search for the "Big 5"! You'll also experience the rich culture of these lands by visiting local homes and markets in Mto Wa Abu, an authentic Tanzanian village and a colourful Maasai Mara village where you will enjoy traditional dancing.
MAJESTIC PRIMATES
Crossing over into Rwanda, our touring begins in the capital Kigali - a great place to learn more about Rwanda's history and culture. We also visit Ruhengeri, located at the foot of the Virungas and home to the endangered mountain gorillas. Here we have the opportunity to get up close to these amazing creatures.
DAY 1. DEPART AUSTRALIA
DAY 2. ARRIVE DAR ES SALAAM
'Karibu' to Tanzania! Meet your fellow travellers tonight for a welcome drink.
DAY 3. DAR ES SALAAM - ARUSHA
After breakfast we fly to Arusha, the safari capital of northern Tanzania. On arrival we'll visit the Arusha Coffee Lodge for lunch and a tour of the plantation and factory. This evening we'll enjoy a group welcome dinner. [B,L,D]
DAY 4. ARUSHA
This morning we'll visit a local flower farm before returning to the hotel for lunch. In the afternoon we'll take a city tour of Arusha to see the famous Clock Tower (supposedly situated at the midpoint between Cairo and Cape Town), and the Maasai and Central Markets. [B,L,D]
DAY 5. ARUSHA - LAKE MANYARA NATIONAL PARK
After breakfast we depart for scenic Lake Manyara, known for its distinct baboon population. En route we'll get a unique taste of Tanzanian culture, visiting Mto wa Mbu, an authentic Tanzanian village. We'll enjoy a lunch prepared by the villagers and then continue to Lake Manyara. [B,L,D]
Special Experience: Admire the scenery, monkeys and birds from high in the beautiful forest treetops on the Manyara Treetop Walkway, one of the longest in Africa.
DAY 6. LAKE MANYARA NATIONAL PARK - SERENGETI NATIONAL PARK
Explore scenic Lake Manyara, described by Ernest Hemingway as "the loveliest setting" he had seen in Africa, before heading for the sweeping plains of the Serengeti. En route we stop at Olduvai Gorge, home to world-renowned archaeological finds. [B,L,D]
DAY 7. SERENGETI NATIONAL PARK
Our day is spent discovering the spectacular Serengeti! The landscape is characterised by vast rolling plains which we will explore on morning and afternoon game drives, looking for big cats, gazelles and zebra. [B,L,D]
DAY 8. SERENGETI NATIONAL PARK - NGORONGORO CRATER
Special Experience: Visit a Maasai village and learn about their way of life. We'll see how milling machines are used in their everyday life and visit a school.
In the afternoon we'll witness some spectacular views over the Ngorongoro Crater on a nature walk along its rim. [B,L,D]
DAY 9. NGORONGORO CRATER
The incredible UNESCO World Heritage-listed Ngorongoro Crater was created by the implosion of a volcano. We descend to the crater floor in search of the 'Big 5' and discover the abundance of wildlife including wildebeest, zebra, elephants and hippos, set against a remarkable backdrop of forest-covered crater walls. [B,L,D]
DAY 10. NGORONGORO CRATER - TARANGIRE NATIONAL PARK
Today we make our way to Tarangire National Park, famous for its elephants, baobab trees and tree-climbing lions. This afternoon we'll take a game drive, searching for the elusive predators that lurk amongst the vegetation. [B,L,D]
DAY 11. TARANGIRE NATIONAL PARK - ARUSHA
We return to Arusha and head out on a game drive in the national park. Often overlooked as a safari destination, it offers amazing landscapes, habitats and a chance to see the inquisitive blue monkeys. [B,L,D]
DAY 12. ARUSHA - KIGALI
We transfer to the airport for our afternoon flight to Rwanda. [B]
DAY 13. KIGALI - NYUNGWE FOREST NATIONAL PARK
This morning we discover downtown Kigali, including a visit to the Kigali Genocide Memorial, a powerful and moving commemoration of the 1994 event that shocked the world. After lunch we'll travel south to Nyungwe Forest National Park, 
a largely untouched tropical rainforest, home to a huge array of beautiful flora and fauna. [B,L,D]
DAY 14. NYUNGWE FOREST NATIONAL PARK
In the heart of the Nyungwe Forest we embark on a half-day trek in search of the Angola colobus monkeys. [B,L,D]
Special Experience: Visit a nearby tea plantation and chat with the local farmers.
DAY 15. NYUNGWE FOREST NATIONAL PARK - LAKE KIVU
We head north to the shores of Lake Kivu, visiting several local markets en route. [B,L]
DAY 16. LAKE KIVU - MUSANZE
Today we travel through the verdant countryside to Musanze, at the foot of the Virunga mountain range. Along the way we'll stop at the famous Bralirwa Brewery. [B,D]
DAY 17. VOLCANOES NATIONAL PARK
Enjoy a magical encounter with the endangered mountain gorillas today - the largest living primate on earth! Watch them in their natural habitat, feeding, playing and bonding with their young. [B,L,D]
Special Experience: This afternoon visit an award-winning gorilla conservation initiative run by former poachers.
DAY 18. MUSANZE - KIGALI
The morning is at leisure before we return to Kigali for our group farewell dinner. [B,L,D]
DAY 19. DEPART KIGALI
Today we begin our journey home. [B]
DAY 20. ARRIVE AUSTRALIA
TRAVEL
Return economy class flights from Australia to Africa. Taxes included
2 economy class flights within Africa
Airport transfers on the first and last day of tour
All touring in air-conditioned vehicles (excluding open safari 4WD)
7 nights in good quality hotels (3½-4½ star)
10 nights in African lodges (4-4½ star)
17 breakfasts, 14 lunches, and 14 dinners, including group welcome and farewell dinners
English-speaking locally based driver/guides (max. 6 people per vehicle)
Entrance fees to all national parks are included
Gorilla & Angola colobus monkey tracking permits are included (approx US$1,600)
ACCOMMODATION & MEALS TOUR GUIDES ENTRANCE FEES & PERMITS SIGHTSEEING
Experience an incredible display of nature and tradition in Tanzania
Enjoy lunch and a tour of the plantation and factory at the Arusha Coffee Lodge
Visit a local flower farm in Arusha
Tour the city of Arusha visiting the famous Clock Tower (supposedly situated at the midpoint between Cairo and Cape Town), and the Maasai and Central Markets
Visit local homes and the markets at Mto Wa Mbu, an authentic Tanzanian village, and learn about the rich cultural diversity of the region
Admire the wildlife and scenery of Lake Manyara National Park from the Treetop Walkway, one of the longest in Africa
Safari through scenic Lake Manyara National Park, home to the legendary tree-climbing lion
Visit Olduvai Gorge, home to world-renowned archaeological finds
Go in search of the Big 5 on game drives in the famous Serengeti, the jewel in the crown of Tanzania's protected areas
Visit a Maasai village and discover their way of life. Learn how milling machines are used in their everyday life and visit a Maasai school
Walk the rim of the incredible Ngorongoro Crater, created by the implosion of a volcano, and enjoy the spectacular views
Descend to the floor of Ngorongoro Crater and search for wildlife against a unique backdrop of forest-covered crater walls
Discover Tarangire and Arusha national parks on exhilarating game drives, searching for the tree-climbing lions and inquisitive blue monkeys
Feel the magic of the mountains in Rwanda
Take a city tour of Kigali, including the Kandt Museum and the Genocide Memorial
Track Angola colobus monkeys in the largely untouched tropical Nyungwe Forest
Tour a typical Rwandan tea plantation and chat with the local farmers
Explore local markets enroute to Lake Kivu, one of the African Great Lakes on the border of the Democratic Republic of Congo
Visit the Bralirwa Brewery, Rwanda's largest brewer, at Gisenyi on the shores of Lake Kivu
Spend two nights enjoying the serenity in the foothills of Volcanoes National Park
Search for the majestic and critically endangered mountain gorillas in the foothills of the Virungas
Visit an award-winning conservation initiative in Rwanda, run by former poachers