NCL - Norwegian Jewel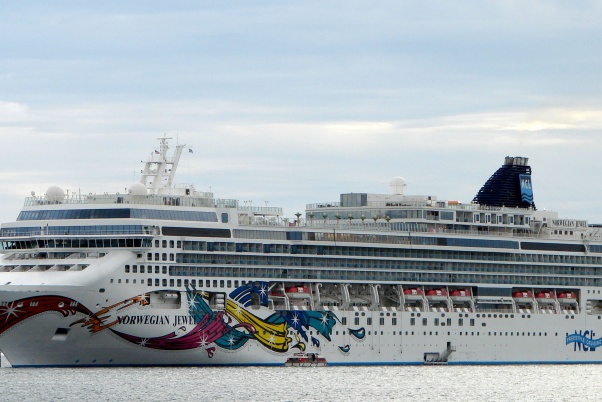 Norwegian Jewel – Inspection 17 November 2017
So, I went on board this ship looking to find positives and negatives about NCL compared with the other cruise lines I know and ships that I have seen. It did not quite work out that way in the end though – I ended up with a list of differences between this ship and others, which were neither better nor worse than any other ship, just different.
It's up to you to decide how you feel about the differences and descriptions below and then decide if you think a cruise on the Norwegian Jewel is for you! I will try and keep things in a logical order.
The first thing you notice about the ship is the brightly coloured design covering her bow. Traditionalists like the clean white of an ocean liner, however more and more ships these days are wearing "livery" so I think we must learn to move with the times. The bright colours and fun theme is just a taste of what you will find inside.
THE HAVEN
This area is like a ship within a ship and totally unique to any cruise ship sailing in Australian waters at the moment. The Haven is a series of suites, each with 2 or 3 ensuite bedrooms, a living area, some even have their own baby grand piano. All Haven guests have access to an exclusive pool area with butler, spa, food and drinks service, and a relaxed, refined area. On some ships of the NCL fleet you even have your own restaurant in The Haven which other guests cannot access.
The Haven is luxurious, exclusive and oh so very nice, however remember that it is not an adults only area – the 3 bedroom suite can sleep up to 10 people so is perfect for family groups, and the presence of children is to be expected on most cruises.
The Haven is a real point of difference on the Norwegian Jewel and a step up from the suite offerings of other cruise lines.
THE SPA
The Spa on the ship has a distinctly Balinese feel to it. It is definitely not as polished and luxurious as some I have seen, but the range of services on offer is excellent and the atmosphere peaceful. There is also a hair salon, and acupuncture services are available. Elemis products are used on board, similar to on other cruise lines.
FREE STYLE DINING
This is one area where there is a noticeable difference in the way things "are done" between NCL and other cruise lines. Even though you book on other cruise lines to enjoy "any time dining", once you are on board you are asked to book a time and try and either stick to it, or book a time in advance each night, so that the restaurants can manage the flow of patrons. You will often get the same table each night, and be served by the same staff, to allow you to build up a rapport and sense of familiarity. This is NOT the case on Norwegian Jewel. The restaurants never request that you book a time to eat unless you really want to. There is no fixed seating and you will more than likely be seated at a different table and meet new staff each night. This is of no concern to some, but for traditional cruisers who value the friendships they develop on board, this is a major departure from "what is usual" and may not be to some peoples liking. NCL is all about "Freestyle" Cruising – doing your cruise your way – and there are some people who enjoy the routine and tradition of the structured cruising lifestyle. If this is you, then NCL may not be for you.
The selection of dining options is huge – from Chinese and Asian style, to Irish Pub style fare (included in your fare, and available 24/7), from free flowing help yourself ice cream machines to Teppanyaki, a French Bistro to a Steakhouse and more – the choice is truly wide ranging and a great deal is included in your fare.
DRINKS PACKAGES
This is another major difference that NCL can offer you that is to your advantage, making them a true standout in the field. On all other cruise lines, if the max allowed value of a drink in your package is $12, and you want a fancy cocktail that is $15, then that drink is NOT in your package and you pay $15 for it.
On NCL you are considered to have a drinks package that covers ALL drinks to $12, so if you order something special for $15, then on your bill you will see a charge for only $3. That is, you only pay the difference. This is unique, and most people would agree so much fairer, and makes for a much more attractive option for those cruisers who do take a drinks package when they cruise (which is I believe about 98% of Australians who cruise these days!)
DÉCOR
This is the "love it or hate it" make or break. More and more cruise lines as they refurbish their ships are going for the more muted natural tones, dark blues, relaxing pale greens, light timbers and complementary brown tones. Think 180 degree opposite to this, and you have the Norwegian Jewel. Brilliant dark purple, vivid hot pink, dark emerald green, bright aqua and teal, vibrant golds and reds – absolutely everywhere. There is nothing subtle or understated about any part of this ship, from the public areas to the cabins. My first impressions was gaudy, and to think "where are my sunglasses – need them on inside" – but after a while you get used to it, and the energy of the strong colours grows on you. HOWEVER, like it or loathe it, after she has finished her first season cruising from Sydney, Norwegian Jewel is off to Singapore for a $50Million overhaul that will see all sorts of refurbishments and improvements made, so in a year from now, these comments may be totally irrelevant.
The refurb is needed – some of the throws on the beds, some of the upholstery on the couches/sofa beds, some of the balcony furniture and flooring is definitely looking tired, occasionally a bit threadbare, and really needs a facelift. The positive is that the facelift is already in the diary. Many of the changes and improvements will be kept "secret" until the big reveal, however one thing we do know is that every cabin will have USB ports included as well as traditional power points, a sign of moving with the times.
US HANGOVERS and OTHER LITTLE POINTS TO NOTE
The ship is in USD. The power points in the room are US so you will need converters. Outlets that are 110Volts are clearly labelled. All rooms have fridges and a stocked mini bar. Portacots are available to be requested in the suites. Ironing boards can be requested. There is no self service laundry
THE BRIDGE ROOM and OTHER THINGS
What a fabulous experience this can be – there is a viewing room that, as well as housing the ship's plaques from inaugural port visits, has a huge glass window that allows an expansive view into the bridge. It was so cool seeing the officers getting ready to sail, see the comfort they have to work in, and to see just how large and spacious the Bridge is. I have never seen this before on any ship. Wish we could have watched for longer. Imagine being here watching from the Captains View, the scenes as the ship arrives into and departs from some of the most beautiful ports in the world!
The Theatre is the largest at sea. The shows are on twice a night (7.30 and 9.30 generally speaking) and the theatre is large enough that if everyone on the ship wanted to watch the show in a single night, over the 2 seatings, they can. No one will miss out.
The current production is not "Broadway style" it is an actual Broadway production of Burn the Floor – over 25 dancers on stage, live musicians, and incredible costumes. Some of our hosts on the day from NCL I know have worked for other cruise lines and seen many a show in their day, and they all without hesitation rate the NCL theatre shows as the best they had seen.
One feature that is an obvious omission from the Norwegian Jewel is that "adults only" area similar to The Sanctuary or The Serenity areas on other cruise lines. There is none. There is an adults only hot tub on the lido deck where you can safely soak away your stress without being splashed in the face by the little ones, and there is a smaller sun deck on Deck 15 which has no facilities as such other than lounges, no pool and no activities, therefore you find children do not hang out there as its "boring". So although its not officially "adults only", it is generally a quieter more relaxed part of the ship.
As expected, there is a library on board, a games room with proper cards tables, casino, professional photographer, and internet café area. The internet is chargeable on board, though with the NCL offers you can often choose an internet package to be included in your fare.
The Shore excursions desk had an extensive range of A4 brochures on each port destination and the excursions available there.
There is a games arcade upstairs near the kids club areas.
INTERESTING ROOM FEATURES
The most interesting feature of the rooms was the layout of the bathrooms. If you have a mini/suite then you will have a shower over bathtub. If you have a balcony room or below, it's a walk in shower only. The special feature of the bathroom is very natty. Who hates the fabric shower curtains flapping around their ankles, and letting the water splash the floor as they wash? The Norwegian Jewel shower cubicle has a sliding glass door that makes the shower waterproof, and means no more ankle flapping issues!! AND – wait for it – the toilet is also against the opposite wall of the rectangular bathroom, which means it too has a half wall and sliding glass door – you can do your business in privacy and contain and not-too-sweet smells by closing the door behind you when you are finished. Tis the simple things in life eh? I thought this was neat.
There was one drawback in some of the cabins that we saw – you walked from the bedroom to the bathroom via a little "hallway" created by having the bathroom wall on one side of you and the wardrobe on the other. I am a very average sized person, and barely felt like I fitted. I have plenty of larger clients who may find it slightly difficult to navigate this small section of the room layout. If you have the wardrobe door open, certainly there is no way someone can walk past you to the bathroom. The wardrobe door nearly touches the opposite wall. This is a minor consideration, but something that stood out to me as we inspected the standard inside and ocean view cabins.
Be careful choosing your ocean view cabin, as some of them are above the lifeboats and although you can see straight out of the window, you cannot see down – you can only see the roof of the life boat.
The carpet along the corridors is jade green with little yellow fish "swimming" along it. If you are ever lost or not sure where you are going on the ship, look at the fish – they are all swimming towards the front of the ship – they all swim forwards. Except for the occasional little red fish – the rebellious one – he is swimming against the flow, and he has the honour of having a cocktail in each bar named after him!
The ship is moving with the times re technology. There are touch screens all around the ship which allow you to navigate where you are, what's on, and how to get there. There is also the NCL app which you download before your cruise, does not require the internet to work whilst you are on board, and has all of the daily information about your cruise and what's on loaded, so you can know everything at the swipe of an icon as you roam around the ship.
FIRST TIMERS ISSUES
Yes, as with all ships that are making their inaugural visits to new ports, and sailing inaugural seasons in a new destination, there are teething issues. There are intricacies of Australian Maritime Law, of Australian Customs, and of the Coast Guard regulations that NCL are dealing with for the first time this season, and it is fair to allow them to get a cruise or two under their belts to learn the ropes. There were some passenger finance hiccups with on board accounts, there were teething issues with navigating Customs and Port Authorities, and boarding was delayed by over an hour the day I saw this ship as the Coast Guard decided to board and run the crew through various safety drills and carry out inspections of some parts of the ship. These things happen. These issues are experienced by all cruise lines, and are invaluable lessons to the crew and NCL administration to assist in perfecting their cruise program.
The 2017/18 season for NCL has been a great success out of Sydney. The second season for this ship has been confirmed (and remember she will be back with her $50million refurbishment next season) and it is hoped that a 3rd Australian season will be announced.
There are advantages of being the "new" kid in town – NCL has had to design itineraries around the availability of berthing space in Sydney, Melbourne and all the other ports they visit. This has allowed for the creation of some unique sailing opportunities. There is an itinerary coming up that sails for 16 nights out to the South Pacific, and then comes back to home port via Cairns, Airlie Beach and Brisbane – the South Pacific and Barrier Reef combined in one cruise – what a coup! There will be some lovely sailings to NZ coming up, and combinations of Tasmania/Melbourne and Eden as destinations visited out of Sydney.
Was I impressed with this ship? Yes. Will everyone like it? No. There will always be certain features of every ship and every cruise line that appeal more to some people than others. Food? Very nice. Bars – lots of them and lots of seating. Dining venues – indoors and out doors all nicely laid out and very clean. The Haven is unique, the entertainment exceptional, the value of the inclusions in NCL specials make it a great value proposition. The pool – a bit small, but on the flip side it feels a spacious lido deck, plenty of room for the pool side BBQ to dome out on sea days. Would I cruise with NCL on the Norwegian Jewel – absolutely!