Rosewood Phuket – A Luxury Resort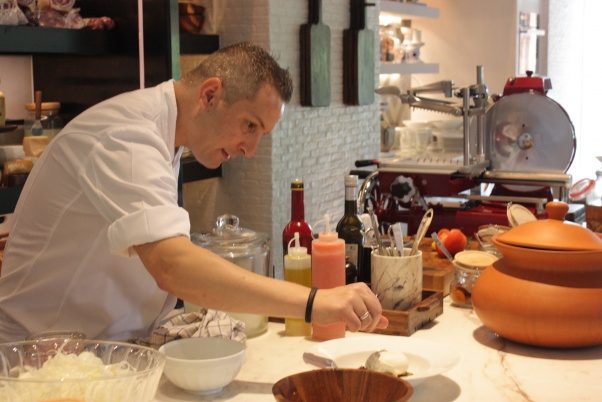 So, have you ever wondered what makes a luxury resort, well, luxurious? How do people that stay there feel they have received great value spending $1,000 on a room for the night? Is it not just a bed to sleep in? The answer is no. If you are staying at a budget hotel and that is the functionality you want, then that is what you book. The Rosewood Phuket offers a total experience, not just a bed to sleep in – let me try and explain.
Recently I was lucky enough to be hosted to lunch and a property walk-around at the brand-new Rosewood Phuket. I was there on the Friday, and it had been opened only 4 days earlier. 40 of the 71 villas and pavilions were open, with the remainder due for opening very soon.
We arrived to a securely guarded gate which glided smoothly open for us when we told the guard who we were. By the time we had reached the reception area we were greeted with glasses of ice cold water and chilled towels. Now you may have had chilled towels on arrival at other resorts, but these were scented with peppermint – a nice extra touch, although a seemingly small detail, to help reinvigorate our hot sweaty bodies!
We were greeted by name and made feel very welcome. We first looked around the day spa area. Not just a room in a building where you have a massage. It was a cluster of rooms around a garden, dotted with private arboretum-style sitting areas. Lush and green and cool. Before your treatments, you have the chance to discuss what else may be ailing you in mind, body and spirit. Natural remedies for many conditions are made on site from the fresh herbs and flowers grown in the garden, and the formulation tailored and applied to your needs - a very personalised touch.
The resort is a brand-new build – meaning built on an uncleared forested cliff face, not a renovation of an existing resort. Instead of clearing the cliff area, building the resort to plan and then replanting what was removed with juvenile plants as often happens, the design of the resort was made around the vegetation. Only the vegetation that required removal was taken away – the rest left undisturbed. Along all the pathways that join the rooms there are planter boxes with ferns and vines growing – the extra effort was made to use mature plants so that the full visual and environmental effect was immediate. A little extra expense but an environmental and aesthetic benefit.
Many "big international" companies come in and building new developments to the detriment of the local community. Rosewood has gone to great lengths to ensure the authenticity of its resort and its impact on the local community are both positive.
The rooms at a Rosewood property are not screaming out loud in a décor typical of their location. Rosewood Phuket is no different. The rooms are elegant and modern, they have a real contemporary feel. But not over the top like you are too scared to touch something in case you break it. It feels like home (even if it looks so much nicer!)
The book cases in each room include volumes dedicated to the life and work of Jim Thompson. There are books on Buddhist religion, folklore around the local fishing industry, stories of the Royal Family. In the wardrobes are lovely woven beach bags for your use to take your belongings to the pool/beach/shopping etc. These are all designed and made by a local Phuket artisan. There is a wide range of complimentary mini bar drinks for your enjoyment, as well as some top shelf spirits for those who prefer to purchase something stronger. The spirits and the cocktail mix that comes with them are made by a local Phuket distillery. The woodwork in the bathrooms is designed and made by local craftsmen. It's all very subtle, but the more you look, the more local contributions from the Phuket community you will find in your accommodation styling, very few hotels can make this claim about the rooms in all their properties worldwide.
Now why would you come to a sea side resort, pay for a luxury experience, and stay in a room from which you cannot see the sea? Not only do all Pavilions have a sizeable balcony with individual plunge pool (yes – all pavilions!) but they all have an ocean view. Every single one.
You can sleep up to 4 people in a room depending on their ages – a queen bed, a day bed, and then a rollaway brought in for the little ones. This is another rarity in and Asian hotel property – 2 people is easy, 3 is possible, family of 4 is difficult. A nice acknowledgement of the family unit being a valued client. If you did not want to be so cosy, many of the rooms are interconnecting, and the doorways that do this are so subtle that you can barely notice they are there. A minor detail, but one in a long list of minor details which are paid much attention.
The main restaurant Red Sauce - is amazing. The ingredients are the freshest I have ever seen. The kitchens fully open to view so you can see your dishes being created from scratch. Order off the menu as you like, be seated indoors or out. What was impressive is that on my visit, after we looked over the spa facility, we were taken straight to lunch and the staff who had not even met us as yet immediately greeted us by name. Never have I felt so special. A minor detail you say? It's growing into a very long list of minor details – seeming to all start and add up to something don't you think?
The food was exquisite. There is also a casual poolside seafood restaurant "The Shack" down by the pool area, the Mai Bar which is an elegantly casual bar and eatery by day, turning into a funky and sophisticated mixology venue at night. Last but not least Ta Khai – a casual dining venue with the ambiance of being in your own little world. The aim was to recreate a Thai fishing village – dinner is served in pavilion style buildings (and since the weather in Thailand can be warm, there is even one enclosed pavilion with air conditioning for your dining comfort). What better place to source ideas for a Thai fishing village atmosphere than……a Thai fishing village! The Rosewood people went to a small Phuket village and bought houses lock stock and barrel from some of the locals and transported them to the Resort to use in this restaurant. They rebuilt new homes for the people whose houses they bought. Great trade! And no way to be more authentic. The fishing artefacts dotted around the gardens are real. The gardens are a feast for the senses with all sorts of herbs, spices and curries being grown to use in your meals. The fish are contained in a concrete dam with circulating water to keep them nice and healthy, and you can use traditional fishing implements to catch you own dinner.
You may say "another small detail" – usually you choose the fish and the chef or another staff member remove it from the tank. Here you do it all yourself. Our list of small details is growing every time we look around. The Ta Khai restaurant has 2 entrances – one for hotel guests and one for the locals – everyone is encouraged to eat here and the locals do in good numbers so far…as well they should – the recipes were written by and taught to the hotel chefs by an "auntie" and "uncle" of the island – senior members of the community who have lived in Phuket for generations. Quality simple food, well priced, with amazing flavours. Yet more details which has been paid attention. Quality and authenticity.
The resort has fabulous facilities – the kids club is complete with a stage for putting on theatre shows and an operational outdoor kitchen (child size of course) and herb garden for the chefs to come and give the children cooking lessons. The gym is state of the art with modern equipment with PT sessions available.
The resort is large – but all the rooms are on a flat level and there are bicycles that resort guests can use to make moving around more pleasant. Even though the resort is beachfront, on one of the cleanest beaches I have seen in Thailand, there are still 4 pools for your enjoyment, and if you are a bit sportier, there are kayaks and boards for your use.
Have you ever enjoyed a hand-made ice block, made in a stainless-steel tube and frozen by stirring a whole heap of these tubes around in a bucket of salted iced water? Hard to describe, amazing to watch, and another lovely little detail to have these handed around to all guests at the pool at the end of a hot afternoon, compliments of the hotel. Yet another special touch. And of course, every staff member you have contact with knows your name, and uses it, even before they have met you.
So, after a wonderful look around, amazing lunch, cool swim and some refreshments, I had to leave the Rosewood Phuket and return to my own 4 star mainstream family resort. Upon arriving back at my sparsely yet tastefully furnished room with ceramic tile floor, where there were oodles of friendly staff hard at work, yet none knew my name, I started to realise why people spend good money on luxury holidays.
It's not the cost – it's the value. It's the subtlety. It's the service. It's the points of difference that are not obvious but go into the planning, preparation and execution of every experience you have during your stay. The attention to detail – to so many small details. It's the way that you can come away knowing that you have not missed out on anything – you have given yourself the best possible experience that one can have. You are not jealous of what others have that you may have missed out on. There is no "if only" or "I wish" starting any of your thoughts when you reflect on your holiday.
Life is too short to say, "I wish" or "If only". When you holiday, make sure you create an experience that is the best that you can possibly make it be. Rosewood hotels all around the world are a part of that process – making your dreams come true!