Majestic Princess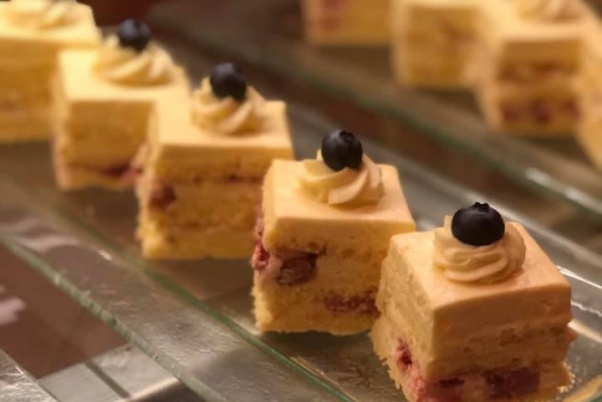 Where to begin… Luxury beds? Lavender bath bombs? Siberian Shower or Tropical rain mist? Gluten Free Orange Tapioca pudding or the Ultimate Mai Tai? I think the Hollywood Pool Club and Bar!
Everyone has a different view on what makes not only a great holiday but what makes a great cruise holiday. Is it the food? Your stateroom? The Entertainment? The Day Spa or Cocktail List? I would like to share MY view of these aspects and more about the Majestic Princess – with thanks to the team from Princess Cruise for hosting me for a ship inspection and lunch on board.
What do you value in your stateroom? Let's be practical – the power outlets come in various shapes and sizes – US Euro and Australian (plus USB ports near the lamps in some cabins). If you take at least one adaptor you should be able to juggle keeping devices charged. Remember some adaptors have USB ports and power outlets on the one device – handy!
Who does not like a good nights sleep? The beds across the fleet are designed to maximise your comfort, there is a pillow menu, and you can even tune your TV into a station that plays relaxation music of your chosen theme – water, forest sounds, acoustic, your choice! This is a special touch.
There are no ocean view cabins on this ship – only inside and balcony categories. The inside cabins are reasonably spacious – some have walk-in robe areas between the bedroom area and bathroom, some traditional wardrobes. Most have pullman style bunk beds that fold out from the wall for the 3rd and 4th berth. The significant difference in layout between the inside and balcony cabins comes in this 3rd and 4th berth- in the standard balcony cabins the bunk beds drop down from the ceiling.
The Majestic Princess is a classy ship and will offer you a special experience. Why not take a step further with your accommodation and look at the mini-suites, suites and penthouse suites? The rooms are much more spacious (fabulous news for families on longer itineraries), all have balconies, the benefits such as priority embarkation, complimentary afternoon tea, upgraded amenities to name a few are only small when listed individually, but in combination will make you feel like a VIP.
The penthouses at the rear of the ship have a huge L-shape wrap around balcony that is almost as big as some of the public areas on other ships! It's amazing! Little touches like a leather-look padded wall as your bedhead rather than a bare wall just makes you go...ahhhhh. And did I mention access to the VIP lounge for afternoon canapes?
Majestic Princess cruises through Asia when she is not in our waters, and as such you won't be surprised to find venues such as Gong Cha – a specialty tea bar…. And Harmony – an Asian Specialty Dining venue with an extensive 5-course menu. For the steak lovers, Crown Grill is on board, as is Alfredo's Italian and La Mer with its French cuisine. For a premium dining experience at the Chefs Table Lumiere, imagine sitting in beautiful white leather chairs at a round table for about 6 people, having a curtain of crystal beading closing around you, then another curtain of crystal beads coming down from the ceiling around you…..then being served a delicious degustation dinner with sommelier paired wines, a description of each dish from the executive chef, oh and did I mention a galley tour? Wow!
Click here to learn more about Princess Cruises.
But you do not need to pay cover charges to enjoy great food on this ship. With 3 dining rooms as well as the World Market and International Café (don't forget room service too!) you will never go hungry.
Think everything you buy on a cruise ship will be expensive? Let's burst that bubble – how about a coffee – a Large Flat White for $4.50? Regular Hot Chocolate $2.50? Cocktails between $11 and $15
Casino? Check! Adults only zone? Check! The Hollywood Pool Club and Bar is Adults Only – no cover charge, light and bright and airy, the ultimate relaxation zone. Movies Under the Stars? Of course! Lap pool and hot tubs….definitely.
The thing that impressed me about the kids club was its location on the ship – a huge space with massive floor to ceiling glass windows along the whole side of the room – best view off the ship! Princess is not family focused – you will not find themed movie or animation characters, waterslides or dodgem cars, but you will find the Discovery Channel themed activities in the Kids Clubs fun and interesting, the facilities clean and new, the variety of books, games and activities wide enough to ensure that no one gets bored.
So much of what I have written about, what impressed me, is not that difficult to learn about elsewhere – you can find information about these aspects of the ship and more (like the gym and fitness facilities including an outdoor workout area, like the stellar quality of the evening production show entertainment) on the Princess website.
So what can I offer you that the internet cannot? Some opinions on who would feel at home on this ship and enjoy sailing on her. There is no one I would rule out, but there are things to consider.
This ship has a feel – a style – that some people will love, and some won't value. We are all different. I see things through the eyes of a 448-year-old mother of 2 pre-teens. This would not be my first choice of ship to bring away the family for a short break / party cruise. Yes, there is the kids club and a jam packed agenda of activity throughout the day. Yes, there are great bars and venues that the grown ups will have fun at too. Some families will love it - a great balance of adult and kid vibe that suits their family. If you want a party cruise where you can send the kids to the kids club all day and just get settled in for a long session at the pool bar, crucial to you having the cruise you want would be the friends you have with you in this scenario. Some people will not be at home here at all. If you like to have a few beers in the public bar at your local, and then to stand on the chairs and belt out the chorus to "Am I Ever Gonna See Your Face Again" then you probably won't find a the venues on this ship to your ideal taste.
I found this ship stylish in a really understated and elegant way. Nothing is over-the-top or pretentious. I did not feel overwhelmed or uncomfortable at all. Things are just done nicely. Someone asked me to explain once how Princess differed from other cruise lines that sail the Australian waters. This was my example. One cruise line has their crew in a uniform of chinos and polo shirts. Clean and tidy, but very relaxed. That's their style. Princess crew wear tailored black trousers and a pressed white collared dress shirt. That's their style. It's subtle, but when you have enough little subtle differences around you that don't stand out on their own, their total adds up to me more than the sum of their parts. It's hard to define. Its intuitive service. Its people who know your name. It's the standard of the food at the included dining venues being better than you expect. It's the quality of the bathroom amenities. The lavender bath bombs to put in your basin at night to scent the room for a good night's sleep. The sum total of the parts of a Majestic Princess cruise will far exceed your expectations.
The only way to put her to the test? Book a cruise on her today.