Crystal Cruises - Crystal Symphony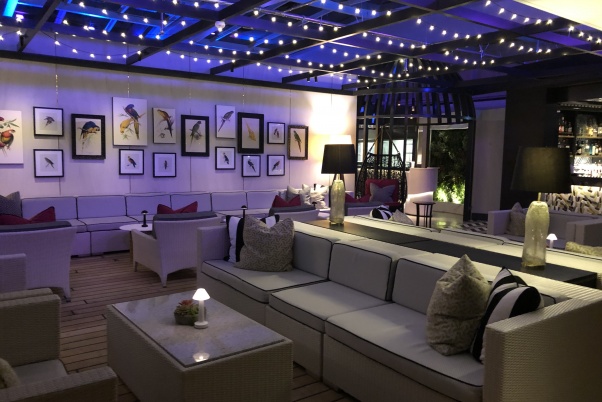 Choose 3 things they said. Keep your review short and sweet, and choose 3 things to focus on. So here we go. I won't promise it will be short and sweet but I will try and keep it concise!
On Sunday night April 7, I was excited to be invited for a ship tour and dinner with clients on board the beautiful Crystal Symphony. It was my first experience on a luxury cruise ship and I had no idea what to expect. I was very impressed in so many ways, but I am going to highlight my top 3 thoughts from the evening, with a theme of Luxury.
Luxury – is subjective. What is luxury to you may be different to my definition of luxury. If your luxury is fine wine and fine dining, attentive service, spaciousness, variety of entertainment, multiple options for dining, drinking, being outdoors, maybe fitness facilities, or having a traditional smoking room full of newspapers and old world charm, maybe computer courses at sea (!) then think Crystal Cruises. I have chosen my top 3 luxuries – things that make me feel special.
TIME
If your luxury is time, think Crystal Cruises. Open dining (eat when you are hungry not when you are told). Book a suite and have your own butler – no need to waste time packing, unpacking, doing laundry, booking shore excursions, booking spa appointments or specialty dining events. Let the Butler take care of it all for you. Time is precious and you can have as much of it as you like on a Crystal Cruise.
DINING
Dining- if fine food and wines are your luxury, then think Crystal Cruises. There are specialty dining options on board the ship, and everyone can dine there at least once per cruise without paying a cover charge. Umi Uma is operated by Chef Nobu so the menu, presentation, and experience are carefully designed to be just like dining in his shore-side restaurants (which is a minimum $300 experience). Asian. Steakhouse. Italian. Your choice – it's all included. But why is the food so special?
What makes the main dining area – Waterside – a lovely dining experience? There are 2-3 options per course, but there are multiple courses and you can have as many of the options from each you can eat. But it's the variety of choice that is the winner – whether you enjoy simple fare, or something more exotic, there is something just for you, and the presentation has to be seen to be believed.
For example as an appetizer, are you intrigued by a White Tomato Mousse with Gin and Pumpernickel? Pumpkin and Coconut Soup with Yuzu Lemon Pearls? Pork Tenderloin with Black Bean Puree, Glazed Apple, Endive and Cashew Nut?
Maybe you are more traditional and would prefer a Red and Green Caesar Salad? Tomato Soup with Ricotta Gnocchi? Or Roasted Duckling with Braised Red Cabbage, Brussel Sprouts and Williams Potato?
SERVICE
Service - If your luxury is being made to feel special, but not overwhelmed, this was maybe the most impressive part of the evening for me.
Yes the cabins are beautiful. There are summer and winter weight robes to choose from. There are beautiful toiletries in brightly coloured large sized bottles to last the distance. The balconies are spacious. There is lots of storage space in a well designed layout.
Yes the staff look amazing – the housekeeping staff had the most beautiful, professional looking tailored uniforms I have ever seen.
But have you been to a dinner where you are told the wines with the meal are included? Your first glass comes quickly, then the next refill is a little tardy, and then when you are looking for another mouthful there is no drink-waiter to be found? Or maybe the opposite- the waiters are continually hovering and as soon as you have taken two sips the glass is refilled – you feel like your whole meal is a constant passing parade of waiters in and out of your evening.
The timing of the food and drink service in Waterside I found SO impressive. We all ordered different meals from different sections of the menu, some having appetizers, soups, entrees in different combinations, yet somehow all the meals come out at just the right time that no one was ever eating alone, no one was sitting with nothing in front of them while everyone else ate. The Ladies were served first, and the Gentlemen second – old fashioned maybe, but a little bit of tradition I think is nice.
Each time my wine glass was nearly empty, just as I was starting to think "I wonder if I may have another" as if by intuition, the drinks waiter would appear and the glass would refill. Not only does this allow you to keep track of just how much you have had to drink, it was super nice to not have staff hovering around all night. The food would come, the plates would clear, the drinks would refill, the coffee and hot chocolates came with dessert, and it was almost like the waiters were invisible. Always there when you needed, but they were so friendly, so discreet, so professional – it was a treat to see them at work.
This example of service I use to try and imply what service a cruise on Crystal is like in all aspects, not just in dining. Crystal employ all of their own staff and train them to their own high standards. When a new ship, aircraft, or river cruise vessel is launched, the staff on board are half experienced cruise ship staff and half new staff – this ensures that the new staff taken on board are supervised and trained by experienced Crystal crew to ensure that standards across the fleet are maintained.
And – wait for it – when the ship was re-imagined 2 years ago with updated furnishings, refreshed venues and new staterooms introduced, the passenger capacity of the ship was deliberately reduced – all allow more space on board for clients to feel relaxed, to provide larger staterooms for more comfort – it's not about the dollar value of getting people on a Crystal ship – it's about providing next level service and amenities to those on board who are looking for the luxury experience – whatever their definition of luxury may be.
Do you deserve to feel special, in a relaxed and comfortable atmosphere? Is being spoiled your luxury? Talk to me more about Crystal Cruises – as their fleet grows in the coming years, the opportunities to cruise with Crystal will grow, allowing you so many ways to discover your personal luxury with Crystal Cruises.