Fiji - a First Hand Review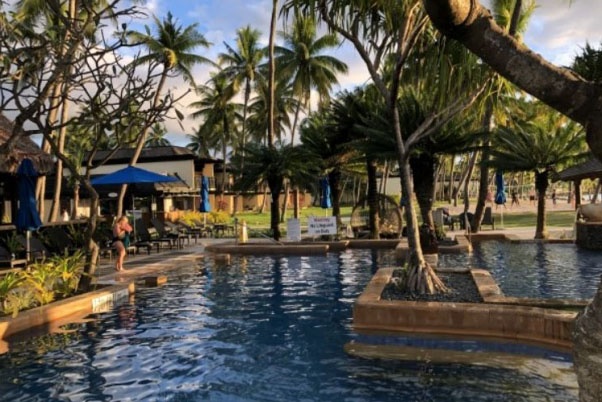 Bula Family! My overriding memory of my holiday to Fiji with my husband and children will be the sensation I had when our Fijian hosts used that word '"Family"
I happened at a couple of places, where the first words we heard were Bula Family! We immediately felt relaxed and at home – it would not have mattered if we were at a 2* B&B or a 6* resort. We were welcome.
If you are planning a holiday to Fiji I hope that the following insights will help you choose the right location, resort and activities to allow you to come home rested and having achieved what you wanted from your trip. I stayed at 3 different resorts along the Coral Coast and looked over a 4th, and we did 2 activities which I will review honestly for you.
The first thing to wrap your head around is "no worry no hurry". Everything happens on Fiji time while you are on holiday. For most things, this is the charm of a holiday. But if you are paying top dollar to stay at a 5 star property, and over AUD25 for a cocktail and almost as much for a beer, the concept of sipping on a drink as you watch the sun slip below the horizon can be tainted when it takes nearly half an hour for your drink to arrive from the time you ordered. It almost seems like some staff take the concept of Island Time to the extreme. It can be frustrating and there is not much you can do about it. Accept and move on.
Embrace the concept of happy hour and order multiple drinks at a time. In some resorts if you order a bottle of wine during happy hour they will keep it at the bar for you so you can have some now, some with dinner, and the rest tomorrow (if there is any leftover!) The range of beers, cocktails and wines is wide and of good quality, so there should be no trouble finding a drop that you enjoy.
Our first stop was the Shangri La Fijian Resort and Spa. This resort is BIG. If you don't like this idea, avoid it. However for the sake of some average service we received in some areas, this resort is perfect for families with children. We were told at booking that interconnecting rooms for us and the children were requested however when we arrived discovered that the Lagoon Deluxe Rooms where we were staying do NOT HAVE interconnecting available. First tip – if you want the interconnecting rooms you must book the Ocean Wing rooms.
The beach area was great – the best we saw along the coral coast. The beach was flat and sandy to play on. The waters calm and deep enough to swim and snorkel with ease. The newly installed inflatables for the kids to play on were a hit – our kids lived on them each day we were there. There is a roped off lane that you can swim out to them in, and then just play, jump, slip and slide for hours. Good quality rubber must have been used to make them as the kids got no burn marks/Velcro scratches etc while playing on them. Winner. The calm waters also made it easy and accessible to get plenty of use of the SUP and kayaks. Wearing of life jackets during all water sports was compulsory, so nice to be assured safety was a consideration.
The rooms were very spacious and simply yet pleasantly decorated, the usual ceramic tile floor, and everything you need – fridge, hairdryer, safe, iron/ironing board, robes, plenty of towels, good size bathroom and shower, good space on the balcony (table and 2 chairs fit easily) – with gorgeous views over the grassy lawns towards the water.
The food – absolutely no complaints. Food and drink purchased within the resort is not cheap. Fiji done staying anywhere along the coral coast I do not believe is a "cheap family holiday" any more. I would highly recommend the meal plans be purchased as part of your accommodation package. At the very least have breakfast and dinner included. You eat like a king for as long as you like at the breakfast buffet, grab a light snack for lunch or eat lunch on your day trip/excursion that you may be doing, then come back for a big feed at the buffet that night.
After 3 days of having 3 meals a day included in our rate, I skipped lunch altogether on the last day and only ate by the clock, not because I was hungry. It was a typical holiday indulgence, but in hindsight unless I was feeding ravenous teenage boys, I would just get the B+D meal plan.
Quality of the buffet was spot on. Kids loved the chocolate fountain to dip their marshmallows and waffles under…..it was there for breakfast and dinner!!
We dined water's  edge at the Beach Bar & Grill for lunch as there was an easy selection on sandwiches, burgers and wraps, and the kids under 12 ate free from the kids menu if we were eating there (likewise at the buffet for breakfast and dinner only)
We enjoyed changing up breakfast to other restaurants in the resort (food was the same everywhere) but the change of scenery was good.
I would still consider the Shangri La even if you are an adult only travelling group – there is a new wing called Reef Wing opened last December which is an adult's only haven. Your own accommodation wing, dining option, infinity pool and bar area, a secluded stretch of beach, just gorgeous and the suites are very spacious and comfortable.
If you are in the resort on a Sunday keep and ear open for the local church choir who come and sing a few hymns for you – I am not a religious person, but their voices were magic and just sitting there under the palm trees on a balmy evening listening to them was a wonderful memory to make.
For regular patrons of the Shangri La properties, you will understand if I say this resort should probably be called "Fijian Resort and Spa, a Shangri La Property" rather than lead with the Shangri La branding. Yes, it does lack finesse in some areas, but on the whole I must say we still had a fabulous experience and would I go back? Yes.
Top tip for the coral coast resorts as a whole – it's not called the coral coast for nothing….if you plan on entering the ocean or walking the beach, pack your reef shoes. The coral is very hard and occasionally sharp under foot, and there were times and places that we could not have managed the beach without our shoes on.
While staying at the Shangri La we spent the afternoon doing and Eco Trax adventure. TOTALLY RECOMMEND this as something for the whole family – if you can sit on a bicycle seat you can do this. This company have put to good use the old sugar cane train railway tracks that are no longer commercially operational. They have modified pushbikes so that you sit 2 bikes on a platform which runs along the tracks. They are powered by electric motors operated by batteries and you can simply press a button and away you go! If you wish to expend a little energy you can then start pedaling and a dynamo takes over and power assists your bikes. Basically zero effort required for a lot of fun. There is a safety briefing in the sheds before you leave, and then the fun starts. Thru sugar cane fields and farmland, over bridges and thru forest, you follow the coastline along to a gorgeous deserted white sandy beach where you rest for about an hour. The water is crystal clear and snorkeling is great. REEF SHOES ESSENTAIL for a comfortable visit here – lots of coral to walk over to get to the water. Well worth it. Refreshed with fresh tropical fruits, fresh coconuts and icy cold water, we re-boarded the bikes and pedaled back to the shed. As you pass through the local villages many of the children come out to greet you. We were there on a Saturday, so as there was no school, there were literally hundreds of welcoming children. If you wish to take any donations to the local villages (not cash – but clothes, toys, stationery, sporting equipment etc) then you can, and you get to personally hand it over to the children yourself. Fabulous afternoon that my whole family enjoyed.
Our next stop for 3 nights was the Outrigger Fiji Beach Resort– a little further along the coral coast. This was our furthest stop from Nadi, and by now we are a good 1.5-1.75 hours from the airport. The Queens Coast Road is one lane in each direction with the occasional passing lane. For a road that sees so much traffic this surprised me, however this is Fiji after all – no hurry no worry.
The Outrigger was a much smaller more intimate property, though still very much a resort. The chapel and spa are on the opposite side of the main road to the resort, high on a hill overlooking the water, and you jump in one of the resort buggies to make the trip across. There is also an adults only bar area which is the perfect place for a few quiet sundowner beverages, you feel like you are up in the stars!
The gentleman who is the security guard on the main gate I promise you has the best "BULA" in all of Fiji. You can be halfway into the resort and still hear his big voice booming to welcome every arrival to the hotel. In a quirky way, he was one of my highlights of this resort – something that I will never forget.
At this resort we did get our interconnecting rooms. Next time someone says to me "just the cheapest room we will all fit into please – it's just a place to sleep" – I  had reinforced to me on this family trip why that saying is just not true. All being in close confines to each other for an extended period of time (no one has work or school commitments to break up the day) has an effect. Every now and then someone needs a little time out. Someone is tired and just wants to chill for an hour. You have a whole family of people who need to use the shower and toilet at the same time when you are getting ready for dinner. And if, as happened to us, you have a whole day when it pours down rain, you will be in that room all day more than likely, you MUST be staying somewhere where you are comfortable and not falling over each other and the piles of dirty clothes kids just dump on the floor. Having the second room, the second bathroom and toilet, makes life SO MUCH EASIER for everyone and I do put a value on what that costs. 1 night here and there, yes we can all put up with that easily. But for an extended family trip, comfort counts. Most people have their own room in their own home – don't compromise too much when you are on holiday and wanting everyone to be happy.
We stayed in the ocean wing room, and one of the best "friends" my daughter made on this trip was Rosa – our butler. Every night just after 5pm she would knock on the kids doors and offer them a cold drink of their choice and some canapes. Then she would look after my husband and I. The kids loved that she made them feel special by letting them go first. This service is only available in the ocean wing rooms. These rooms also put you in close proximity to the pool and restaurants of the resorts. Likewise the bures are in a good position. To choose the hotel style rooms at the top of the hill overlooking the property you are giving yourself a bit more exercise that I enjoy on a holiday (!) to get down to breakfast and the "Heart" of the resort each day. The activities on offer were just right – crab and frog races for the kids, pool aerobics and swimming / bomb competitions, kava ceremonies every second night (the kids enjoyed this until they realized they had to drink the kava, which to their credit they did try – we deliberately did not tell them the drinking part was involved as we knew they would object). It was a great experience and fun for all.
The beach at the Outrigger was a bit, well, nothing. There is a gentleman with a few ponies who offers the kids horse rides for $1/minute (no helmet) and leads them up and down the beach. My kids enjoyed that. The wind was reasonably strong the days we were there and we did not watch the tidal information closely enough to pick a good time to swim/snorkel.
Our excursion that we took whilst staying here was all the way across the road from the resort at the Kula Exo Park. It is Fijis biggest family fun park, originally established as a bird park, but now incorporating a variety of animals  (that you can pat and hold) and baby turtles that you can feed. There was also an awesome zip-line for the children young and young at heart – flying thru the tree top canopy of the park – when we wanted to take some photos and videos of the kids and were wondering how we would know when they were on their way from the top – the shrieks of delight were heard all through the park and heralded their arrival without fail!
And then of course there was the sure fire hit water slide – lost count of how many times they went up and down and up and down – fun for the adults too – and a good way to counter the effects of the buffet breakfast and tone those thigh muscles! The Fijians also had good tips for the kids on how to make themselves slide faster… winner!
Food at the café here was average at best, typical slow service and it was all cold by the time we got it. Still we were hungry so ate it.
Upon checking out of the Outrigger we made our way back along the coral coast, stopping half way to our ultimate destination for a walk around and lunch at the Intercontinental Hotel Fiji Golf Resort and Spa.
This was the most amazing property to see. A true 5 star experience from the arrival, the rooms, facilities, club level facilities, dining options and overall finesse. There was nothing here that looked "tired". Every room has a Cleopatra bathtub on the balcony with a privacy screen. Bathrooms were large, clean, well designed and had lovely amenities provided. The pool area was massive. The beach was beautiful soft white sand and had a gentle small surf the day we arrived – too much to snorkel but good to swim and good for the water sports on offer. As expected we paid a premium price for our lunch which we enjoyed here, but gee whizz it was a large serve and well presented, served in a timely fashion and really tasty. Worth every cent. As we did not stay here for any length of time, I cannot comment overall on the service levels (the hardest thing to accommodate in Fiji to our expectations) but I would love to come back and put it to the test! The only thing I felt being at this resort was that it was a little isolated. There was absolutely nothing within walking distance beyond the boundary of the resort, it was a decent drive to get to either Sigatoka or Nadi for any day trip/activities. This would be a true resort holiday, and perfect for the golf fan with their own course.
Of all the places we saw, this one visually (location, grounds, rooms and décor) was the most impressive.
Saving the best till last, for random reasons, we finished our stay at the Westin Denarau. This is one of the oldest resorts in Denarau and as our stay went on we noticed more and more the aspects of the resort that are well overdue for a renovation, and these are indeed scheduled to happen after the upcoming renovations at the Sheraton (a sister property next door) have been completed.
Our balcony doors were a bit warped and not running on their tracks so we did not use them. In the heavy rain our room had 2 small leaks. We arrived to a ceiling fan we could not use at it made a shocking noise and swung around like a propeller when it was turned on. However the fan was fixed and some broken light bulbs replaced within an hour of us advising the issue. When the solution happens so fast, the problem is no longer a problem.
Even with this list, this was still my favorite place to stay. We had a 2 bedroom suite –  massive bedrooms (each with own bathroom and toilet) separated by a huge living area with kitchen, separate toilet, dining table and day bed, with room to spare. Each room had a TV (so 3 in total -which was great on our last full day as it poured rain all day and we had an "indoors" day. Even got to watch the NRL games so husband was happy!)
The décor of the room was welcoming – the usual cool tile floors, but very high bure style ceilings with exposed dark timber beams, a really long Fijian artwork print was the feature behind the bed heads, dark timber furnishings, gave the rooms a really traditional feel. Again I knew I was in Fiji, this was not just a run-of-the-mill room anywhere in world. The staff were very friendly (as we found everywhere) and nothing was too much bother.
I really found my happy place when we arrived and wandered past checkin in the amazing and huge entrance foyer, and carried on to the pool area. A labyrinth of pools of different sizes and depths, scattered areas of lush green grass with day beds – all overlooking the harbor thru a border of palm trees, out to the islands beyond. A sandy promenade scattered with comfortable chairs and loungers, with the fire dancing performance entertaining us as the cocktails were served, and the sun dropped out of sight for the day.  The Westin really felt like home.
I recalled some of the training I had done on these properties as I looked around our room – the Westin does try and focus on the well-being of its guests. If you want you can borrow gym gear belonging to the hotel to allow you to use their facilities if you don't have your own. Their menus all feature a section of healthy eating options and light alternatives. The renown Westin Heavenly Bed and pillow menus were obvious as soon as you lay down. They were the best hotel beds I have slept on in a very long time.
We enjoyed the dining options. The breakfast buffet had possibly the best coffees we had drunk in Fiji and a proper latte or cappuccino was included in the buffet fare, not extra. The kids certainly got their fill of hot chocolates too. The fresh juice bar was a joy – your choice of 8 different types and fruit and veg to choose to put through the juicer for a truly fresh way to start the day, and if required (!) there was champagne on ice also for those who wished to indulge in a champagne breakfast.
Dinner at Zing was very enjoyable. There was a soup and salad bar with all sorts of interesting thing beyond the usual "lettuce tomato and cucumber" options, and you could help yourself to as much as you liked. The meat selection was prepared a la carte and there were about 10 different options you could choose from. If you could not decide between a peri peri chicken or the BBQ teriyaki prawns, then have a little of both! Dessert was then also all you could eat of deliciously portioned selections of cheesecakes, slices, cakes and sago pudding. Or simply ice cream if that's what you wanted. The kids menu I thought was great – small things make a difference – went beyond the usual nuggets, bolognaise or fish n chips option, and offered minute steak – which my son ordered and enjoyed (though a little overdone in his words!)
For the kids the highlight of our stay at the Westin was the long awaited trip to the Bug Bula Waterpark. It was great! A small area (not acres that you could lose them in) with a series of inflatable water slides and challenges, topped of at the end with the fixed slides – some really tall steep drops that my pair did not attempt, but some great fully enclosed twisty turning ones they had a ball on, and one that we called "the toilet" because you come down the slide and finish in a big "bowl" with a hole in the bottom of it that you circle closer and closer towards, before finally dropping through into the pool below. Use your imagination!! Loved this place – spent about 3 hours here. Food and drink reasonably priced, and the best was – something for the parents!! If you did not want to slide there was plenty of shade, plenty of seating, day beds and cabanas, and a hut where there was a lady offering henna tattoos, massages, manicures and pedicures for the best prices in Fiji I reckon!! Needless to say while the kids played, I sampled all services on offer (except the henna) for educational purposes!  Not a cheap day out, waterparks never are, and no discounts for anyone except the locals. As a non-participating adult I paid the rate of a senior for admission.
That night we dined buffet style and the Sheraton. The Westin, Sheraton Villas and Sheraton Resort are sister properties all lined up side by side. The kids club is at the Sheraton and free to guests, Westin kids can go there at a fee. The beautiful spa facility is at the Westin, so if you are staying at the Sheraton and book a spa treatment you have to come to the Westin. The buffet dining option is at the Sheraton called "Feast" and what a feast it was. Entertained by the fire twirling dancers as we arrived, the food here was top class. Some of the tastiest curries I have ever enjoyed, good seafood, stone fired pizza, and tender roast meats. Not a cheap dinner, but very tasty and we certainly needed the walk back home afterwards.
Denarau is a man made island and as such there is no beach = the resorts end at a manmade rock retaining wall so no sand in sight. This surprised the kids as they thought everywhere in Fiji was on the beach – not so. The Bula Bus operates in a continual loop between all of the main resorts and the Denarau Marina. The usual suspects for gift and souvenir shopping, good dining options for lunches and dinners if you wish to escape the resorts, and of course the starting point for the day trips and ferries that operate out to the islands. We had planned on a day trip but the weather worked against us, pouring down rain on our last day. There seemed no end of options for island excursions, for the day, overnight, snorkeling/diving, sunset cruises or day trips to a beach club. Adventure/adrenalin activities were on offer (parasailing, sky diving, flying fox, white water rafting) or cultural excursions (local villages, schools, fire walking, fire dancing, kava ceremonies) and places  to see native wildlife and animals, or simply go hiking in the jungle.
What would be my key points from this trip to help you plan your perfect holiday to Fiji?
I would look at what activities you are interested in, find them first and where they are located, and then choose a suitable resort that is close enough that you don't have to start and end your day with a 1.5-2 hour drive to get to its location. The travel time would be something that would take the icing off the cake for me if I wanted an active holiday.
Give serious thought to your room type/configuration if you are traveling as more than a couple. For an extended period of time, size DOES count, especially if you get a day or two of weather that includes some "liquid sunshine" (the local term for rain). Then stay in the best place that you can budget for that has that accommodation available.
When it comes to food and drink, your trip will most definitely not be lacking. But be prepared for island time. If you want/need something in a hurry then say so – ask for things to move along. It may not always happen, but if you don't ask you don't get. Remember….no hurry no worry.
Fiji is not like Bali when it comes to family holidays. Good quality accommodation is not as cheap as chips. Day trips and excursions will hit your pocket more in Fiji than in most of Asia. But the weather during the Australian winter is just perfect. The hospitality of the Fijian people is legendary and lives up to expectation every time. If you are sunsets and balmy weather type of person, Fiji will suit you down to the ground. Perfect destination for romantic getaways, perfect also for family holidays. Like everywhere it comes down to going at the right time, and importantly making the right decision on where to stay so that you can achieve the goals of your trip. This is where the advice of someone who has been there and experienced these situations is invaluable.
If you would like to talk more about Fiji, and maybe start to plan your next travel adventure, please feel free to contact me any time.
Sarah Fenton - MTA Mobile Travel Agents
0404 831 867  ||  sfenton@mtatravel.com.au   ||  www.facebook.com/sarahfentonMTA