River Cruise - the Mekong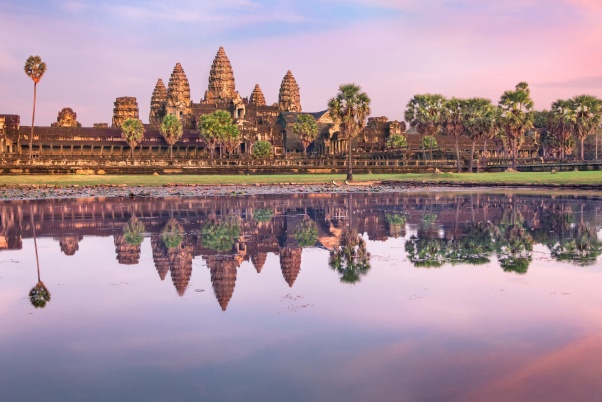 There is so much more to River Cruising than just Amsterdam to Budapest (though this is still one of the most popular itinerary choices for Australian travellers!)
Had you considered the Mekong River in SE Asia as a destination for your next river cruise holiday?
Evergreen Cruises and Tours have compiled a list of the Top 5 things to see on a Mekong Cruise, as well as a few other tips and hints for planning a trip here, so I thought I would share their insights into this destination. 

A journey along the magnificent Mekong River is a wonderful way to experience Vietnam and Cambodia, giving you a real flavour of life on the river. During your Mekong river cruise, meet and engage with local people, admire the stunning architecture, enjoy delicious cuisine and learn more about the local history and culture.
From temples and pagodas to floating markets and small villages, here are our top five sights to experience during a Mekong River Cruise, between Ho Chi Minh City and Siem Reap 

1. Local Life
During a Mekong river cruise, there's always something new to see and to experience. Spend time on the Sun Deck of Emerald Harmony or on your private balcony and simply soak up river life over a drink with friends. Be awed by the passing boats with their cargo and supplies, watch children playing on the water's edge and spot temples perched on hillsides.

2. Temples and pagodas
From the famous Angkor Wat in Siem Reap to Wat Kampong Tralach and the Oudong Temples in Kampong Tralach, Vietnam and Cambodia are home to many historic temples. Oudong, the former royal capital of Cambodia has many important remnants including the burial sites of Khmer kings and religious artefacts, dating back more than a hundred years. As part of our You're Invited program, you can receive a traditional Buddhist Blessing from the temple resident monks.Angkor Wat Cambodia
3. Floating markets
Floating markets play an integral part to daily life in Vietnam and makes a great place to buy local fresh fruit and vegetables straight from the growers in their boat. From pineapples, mango and lychee to coconuts, durian, dragon fruit and more, be sure to try some of these local fruits.


4. Sampan rides
Sampans are a small flat-bottomed wooden boat that are used to navigate the smaller backwaters of the Mekong River. Enjoy a sampan ride to Evergreen Island and walk through a local village to get a glimpse into the lives of the local farming community. Take the opportunity to engage with the friendly local people, and admire the rice paddies, orchards and enchanting landscape.Sampan Ride
5. Phnom Penh – Killing Fields
Stop in Cambodia's capital city Phnom Penh, once known as the "Pearl of Asia" and visit the Killing Fields at nearby Choeung Ek, an important, but incredibly moving place. Learn about the horrific regimes of the Khmer Rouge and this chapter in Cambodian history, with the opportunity to walk through the fields, where you can experience the eerie silence of this tragic event, that affected so many of the Cambodian people.
You can also visit the Tuol Sleng Genocide Museum (also referred to as S-21), a former school, that was converted to the main prison and torture headquarters of the Khmer Rouge.
Each season of cruising on the magnificent Mekong River has its benefits, but the wet season (May through October) is ideal. Higher water levels lead to the smoothest of sailing, and less tourists make it a quieter time of the year to travel. In the dry season (November through April), lower humidity yields slightly cooler temperatures.
So what better time to start and plan your Mekong River Cruise for next year....call me on 0404 831 867 and lets get you there!
Many thanks Evergreen Cruises and Tours for letting me share your information.