Sydney to Doha Part One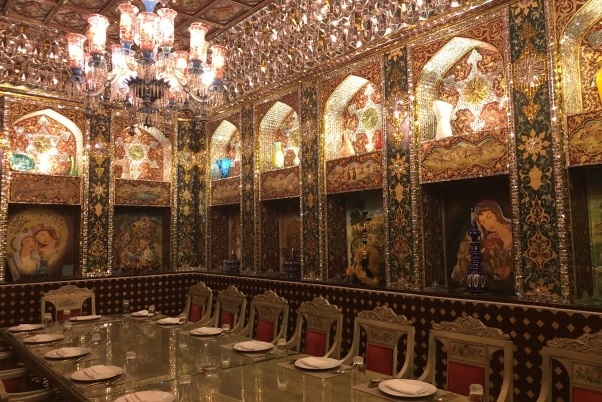 It was just like my first time. I was feeling a curious mix of excitement and trepidation. It's been a long time since I have done this!
I have a whole week of new experiences planned both in the lead up to my Norwegian Encore Inaugural Sailing and afterwards.
This is the first time in more years that I can remember that I have travelled as a solo. No family with me, no tour groups to guide, just me on my adventure!
Off to a great start I must say. Fast train from Broadmeadow at 9.30am to Sydney Central. Changed to platform 23 for the airport service and it was only about 4 stops to the International Terminal. Could not have been a smoother or easier journey. Much more economical and less stress than driving.
Was at the airport before check-in had even opened. The line to check in for travellers who had done on line check in was significantly shorter than for those checking in at the airport.
Qatar has only economy and business class cabins on their Boeing 777-300ER aircraft, and their customer sales/service desk is with the check-in counters.
The business class Q suites look lovely with single suites on the windows and dual seating in the centre of the craft for couples to travel in privacy. Have to save that review until after I win lotto!
I had an exit aisle seat allocated. If in doubt, just pay the money and take the comfort. Qatar has really well priced economy fares, so splurge a little to stretch out those legs. I am on a Boeing 777-300ER in seat 23K. It's a 3-4-3 configuration for most of the plane with 3-3-3 across the exit row, and I am in exit row bulkhead seating.... luckily with no babies in bassinets beside me. Actually in this flight the middle seats were empty so guess who moved over to enjoy having no neighbours. It's not a flat bed or fancy menu like business class but I am certainly very comfortable. I am sitting up with my legs stretched straight out in front and have to point my toes and stretch to reach the wall in front.
Unlike many plane designs I have seen, the emergency exit doors do not encroach on the legroom of the person in the window seat on the exit row. A massive positive feature in the comfort department.
The headrests on the seats not only have the side wings that fold to fit your head, they slide up and down in the seat to allow passengers of different heights to still rest comfortably. There is an amenity pack with eye mask, toothbrush and toothpaste and socks, plus a blanket and pillow and headphones provided in each seat.
Was quite impressed to find that my economy seat not only has a USB port for my devices but a universal power outlet as well so I could use my laptop on charge during the flight if I wanted too.
Straight after take-off (on time just after 4.30pm) menus are handed around. Movie and TV selection looks good. Between those, eating and snoozing I think the time will pass pleasantly. Quite nice also that connecting onward flights to major destinations are shown on the monitors on the plane with the Gate Number so you know in advance where to head.
I have always been a huge fan of Singapore Airlines and Emirates when people ask about my favourite airline choices, but I now can add Qatar to that list with confidence.
Arrival into Doha was impressive
Big clean quiet cool airport... most off my flight exit the plane and turned right to the transit desks. A few of us turned left headed for baggage claim. Did I say the airport was big? Signs indicated an 18min walk! Argh!
So I took the train. A little two carriage silent tram that runs inside the building and shaves 10mins off the trip. Got bags and was thru customs in a breeze - photographed and fingerprinted and straight out to the orderly line of patiently waiting drivers.... found mine and to the hotel we go.
Movenpick Doha West Bay.
There are two Movenpick hotels in Doha and this one is great. Fast check-in (have not had to show credit card and leave my passport at the desk) and straight to my cool room with the most comfortable bed.... and pillow menu of course!
Gym- yep I know how to use one (!) opened at 6am and I was there. Beautiful views from the indoor pool area also across the water with beautiful architecture. Bit of a mish-mash of modern and traditional but stunning anyways.
Booked my free hotel shuttle to the airport for tomorrow..... went a little like this.
"What time is your flight madam?" he asked.
"3.30pm" I advised.
"I will book you the 1pm shuttle. What is your room number?" he asked.
"2209" I replied.
"I will give you late checkout till 1pm" he said.
Just like that!
Winner!
Decided as I am on a time table today I would breakfast at the hotel in the "ForKnife" on the first floor.
What a magnificent buffet. So much choice and so fresh.....just heading back for my third course as I am typing this out. 
Day trip around Qatar with Hussain.
Discover Qatar – all my transfers and sightseeing have been booked through Qatar Airways website in conjunction with my flights. What an easy and economical way to do things.
Not only was my hotel cheap as chips (AUD150 for 2 nights single occupancy in a 5 star property right across from the corniche) but the sightseeing good value too – its all done on a private basis over here so if you try and book as a group of 1 or 2 people only through other channels it's a bit pricey. 
This morning was Museums of Doha. We started with a little drive around town on the way to the MIA – Museum of Islamic Art. Now I never thought of myself as much of a Museum person, but this place was pretty neat. There were enough artefacts with enough variety (both in content and origin) to be interesting without being overloaded, and what really struck home was the antiquity of the pieces….everything form inlaid wood to jewellery, from stoneware to weavings, carvings to calligraphy. But the dates......some of the artefacts dated back to the 9th and 10th Century, or earlier. Mind blowing. Pieces from Turkey, Syria, China, India, Iran, Iraq, Egypt, Morocco and more.
A beautiful courtyard café outside offered views of the New City and the Bay, also the Old Town.
From here we headed towards the National Museum, however due to circumstances beyond our control it was closed today, but the building itself if just amazing to look at, with architecture inspired by the desert rose.
For our second visit we headed to a pop up exhibition near Souk Wakif full of art works made from scraps and junk. Again, totally mind-blowing, in a way polar opposite to what we had just seen. You name it, and it had been recycled into art-works made from scrap metal, spoons and forks, cogs and sparkplugs, wire, plastic and household objects.
A quick little spin thru the souk before siesta, to what would have to be one of the most magnificent restaurants I have seen – Parisa. This place alone is worth booking your next trip to anywhere via Doha to include a stopover. Apart from the fact that you can ride Arabian horses in the desert, see Oryx and ride camels, go 4WD-ing in the sand dunes, see the museums, shop, see the falcon school and more, stopping here in the Qatari capital is worth it just to have a meal here. I hope the pictures I post on my Facebook page will do it justice.