The Full Doha Experience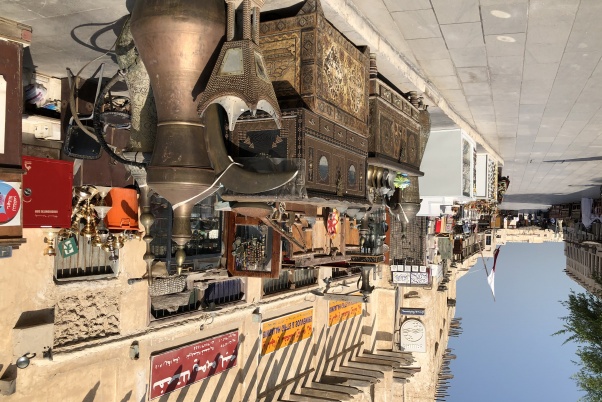 My morning with Hussein was very interesting.
My self and an American passing through on business started the day with a Scenic drive to the MIA- Museum Islamic Art, houses in a building designed by IM Pei.The volume of work inside was not overwhelming (I usually have a short attention span in Museums) and there was a great variety of textile, glass, ceramic, carved sandstone and timber, jewellery, calligraphy, pots, armour and more. It is a collection of Islamic artefacts from all over the world - Syria and Turkey, Iran and Iraq, India and Andalusia and evening China. Lovely views across the bay to the New City and back towards the Old Town.From here we should have gone to the National Museum, homed in a dramatically designed building signifying the desert rose. However it was closed today so we went exploring instead. Found a newly opened pop up installation housing sculpture made from scrap and recycled materials which was amazing. Spent nearly an hour here too. So many photos from my morning so far I would not know how to pick a favourite.

Next stop was Parisa. The most amazing restaurant I have entered. I would love to come back with friends and family and dine here just for the sheer delight of feeling like royalty as soon as you enter the door, and walk the corridor lined with brightly coloured glass and crystals, framed in beautiful art.The dining room is stunning and the private dining alcove fit for the royalty that it has entertained.We stopped at a cafe and had a beautiful sweet tea.... a mix of tea with milk, cardamom, ginger and herbs that gave an end taste almost like caramel.Have tried to find it again but of course cannot remember it's name. Best I have done so far was to get a sweet ginger tea for breakfast and if ginger is cleansing let's just say from it's strength of ginger flavour, that I'm cleansed now till after Christmas.... I did like it though.

Once back at the hotel it was time for a little siesta through the heat of the day.To finish my big Doha day out I had booked an evening city tour including dinnerThe city tour at night was certainly worth it as the character of the place changes - all of the buildings are lit and many with coloured lights.We started at the Katara Cultural Village.It was more an event space with a mosque, art studio and photo studio spaces, cultural educational facilities and performance spaces including an 8000 seat amphitheatre for theatre and music outdoor performances.There were many international restaurants around and being right on the waters edge (with the city's only public beach - though ladies still not allowed in bikinis) a nice cool breeze.We saw the harbour where the boats go over to Banana Island (a great family resort) and the Dhows depart for dinner and party cruises.
Then it was across to The Pearl. A man made island and home to those who can afford the upper end of the rental market (maybe USD3000/month in some places?)It was surreal. Retail include Versace, Ferrari, Gucci and the like. It reminded me of trying to be an Arabic alternative to Monaco with the marinas close by also and some lovely motor boats around.A whole neighbourhood of The Pearl has been themed in Venice. The houses are numbered as Casa, the street names as Corsica and there is even a network of canals, gondola rides, and - wait for it - a replica Rialto Bridge.I tried to work out why the copy was a bit kitsch and realised in the end. It's so clean. It looks brand new and shiny clean. The whole city does. It's one of the cleanest places I have seen. And safe. Both guides told us crime is basically zero. There is no homelessness, zero unemployment, education and health care are free. The government gives all men a land grant to get them started when they are 18 and if they want a loan to build a home or kick start a business they get one - interest free from the government.This is a place where travelling as a solo female I feel totally safe. This country is rated as the second safest in the world. Yes, dress respectfully. Stay out of the mosques during prayer time and use the women's areas if they are there. There are still traditions to observe, but they are no hassle at all.

Highlight of the night was exploring the Souk. Souk Wakif is a big maze but you can always seem to find your way out easily enough. Have found the tailors, gold, birds and carpet souls, but highlight was the Falcon Souk. Small birds on their stands in shop after shop. Some wearing hoods. The shops were selling the hoods, gloves, tracking devices, leads, travel cages, even fake stuffed pigeon toys for training the birds.There was a distinctive, let's say "pet shop smell" to this Souk but all the owners were happy for us to browse, ask questions and take photos. A real highlight.

So for my last morning in Doha, what to do?Decided to take it easy and grabbed a cab (QAR15 from West Bay) to the Souk Wakif again. Wandered a few unexplored laneways and found a nice cafe on the Main Street for breakfast. Thank heavens for the big fan units the cafe owners run to keep you cool. Even in the shade at 9am the perspiration is trickling.Breakfast today I went more local. FATTEH (mix of hummus and yoghurt with garlic and tahini on fried bread with pine seed topping ) which was QAR20A 500ml water bottle was QAR3 and the teas and coffees all about QAR12.If you wanted to finish with a Shisha that was QAR50.

Off for a last stroll before it's time to shower again (poor people on the plane near me otherwise!!) and off I trot to Hamburg this afternoon.