Brit Awards 2020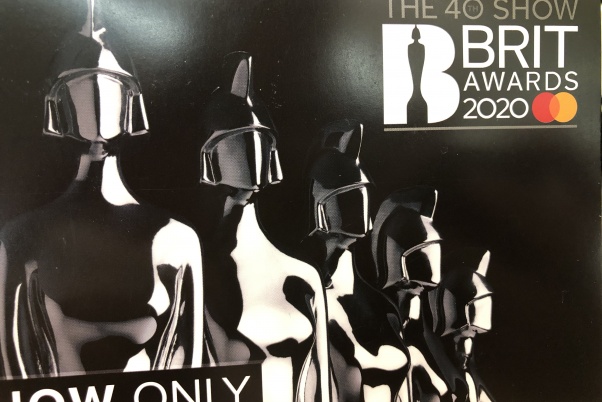 O2 Arena London – The Brit Awards!
Thanks to major sponsor Mastercard, I was lucky enough to attend the 40th Annual Brit Awards at the incredible O2 arena. Where to begin? I would have to say that no matter how you are tempted, getting anywhere by private car in London is a nightmare. From the West End where we are staying to the Canary Wharf area where the Arena is located took nearly 2 hours…..just to get across town. Even though not as glamorous or comfortable, and regardless of how the locals may joke about it, TFL (Transport For London) have a great system with the tubes and busses and rail for getting around. The never ending dilemma in London in winter is what to wear. It is absolutely freezing once the sun dips down in February, and we were quite comfortable in the area, but some of the ladies looking so glamorous must have woken today with the flu from wearing their tiny little dresses and high heel sandals, I was the obvious tourist in dress pants and boots!
The arena is amazing – if you are ever going to an event here, make a whole evening of it. You should arrive at least 2-3 hours early, head into Icon and do some shopping, and then it will take you at least 45mins to roam the arena and choose where you should eat your dinner – the number of food and beverage outlets is amazing and they were all doing a great business on the night. We arrived with only 20mins to spare until we needed to be in and seated (thankyou London traffic!) so opted for pre packaged sushi boxes and a cold drink so we did not have to rely on waiter service and kitchen staff to get fed before the show.
Remember to not take any hand held recording epuipment other than your mobile phone into any show here (they cannot take phones from you but any other camera/VCR will be taken and held till after the show, as will waterbottles)
The show was excellent. The standard of the performances was next level, even though some of the artists I had not actually heard of, nor was I familiar with their music. Mabel (whose mother is Neneh Cherry – a name I DO know!) opened the show with a bang, David did a really good piano duet, Harry Styles must have really hated his road crew and pianist backing players as he stood in ankle deep water to perform, as did they, and all his roadies and crew got soaked as they packed up after him.
Billy Eilish performed with an orchestra the theme to the new Bond movie which, although haunting and beautiful and typically Bond, did not really thrill me, but her voice - man she has some serious vocal chords happening there - like the song or not, you cannot take away the fact she is talent with a capital T.
Stormzy was another artist I was not familiar with, and his music not my ideal, but man could he put on a show! His medley saw the stage full or dancers and singers and it lifted the roof of the arena. So much energy on one stage - it was electric. Lewis Capaldi possibly one of the funniest award recipients I have seen in a while…..search it up on You Tube for his acceptance of his first award of the night….and his performance of "Used to be Someone I Loved" about his grandmother was just beautiful. Took his bottle or beer up on stage with him to accept each of the Brits he won - dare I say it- typical Scot!
In a tip of the hat to the older people in the crowd, and the longevity and success they have enjoyed in the industry, all-time favourite Tom Jones performed, and then the show was closed by Rod Stewart and Ronnie Woods.
All in all a really great night, although our feet did get a little soggy as we dashed through the rain to our waiting cars which whisked us home in good Cinderella time to ensure we all finished our evening as Princesses, and not pumpkins.