Hard Rock Hotel London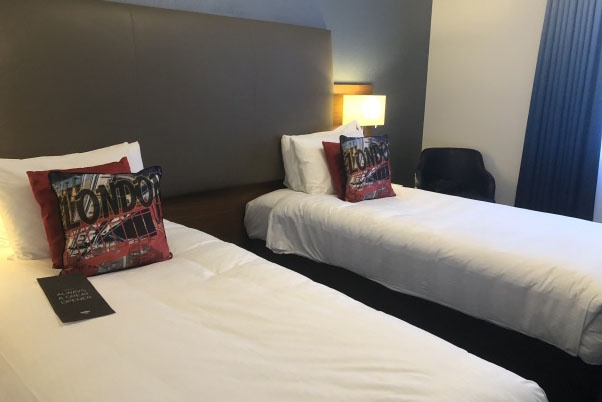 Hard Rock Hotel – London
Not to be confused with the Hard Rock Café opposite Green Park, the Hard Rock Hotel used to be known as the Cumberland, and enjoys a fabulous location in London. Right outside the front door of the hotel is Marble Arch, the tube station being a 10m walk to access, and the start of Oxford Street at your doorstep, Hyde Park across the road, you could not be better situated.
The hotel has a lovely (though not stunning) large foyer area with plenty of lounge seating, a cosy bar and good sized breakfast buffet / restaurant on the ground level. The staff are multi national, as are many of the hotel guests, and the expected Rock n Roll memorabilia is on display. My favourites would be Freddy Mercury's piano and a jumpsuit worn by Rita Ora that, although leaving little to the imagination, would have looked stunning on her.
The rooms are very comfortable – again nothing stunning stands out as a WOW, other than the fact that for a London hotel (many have notoriously small rooms and nothing much to commend them for what you pay) the rooms are spacious, modern, clean, the beds are very comfortable, the dooners are cosy and warm, the air conditioning works so well, and the bathroom is also super clean, spacious and modern, with a heated towel rail.
I would definitely stay here again if I was looking for a good hotel in a good location that would give you nothing to complain or be concerned about. A big branded hotel like this is not where you would stay if you were looking for a traditional English styled experience, it is very generic as you would expect, but an excellent choice for comfort in an awesome location. A nice little touch that all hotels should be upgrading to these days is also evident – as well as loads of power points (4 double point outlets in the room plus a single outlet beside the mirror to use for a hair dryer/straightener etc)  each double power point outlet has 2 USB ports so there is no shortage of power and charging options for as many devices as you can possibly travel with!
The gym is a little unusual – it is located within a hotel room, so not that large and I must admit though I usually patronize the fitness facilities when I travel, on this short stay I have opted to leave the training gear at home, so no review on these facilities this time.
Breakfast has been more than adequate each day. The buffet has been identical so you know exactly what you can have – hot porridge, as selection of cold cereals, eggs cooked to order if you are early enough, the usual hot English breakfast choices, toast, cheeses and cold cuts, fresh fruit, a range of breads, and a little middle eastern area with falafel, pita bread, hummus and olives and cottage cheese. Tea and coffee are brought to the table in jugs (but you pour yourself) but you can order a cappuccino or other style coffee. Now don't stress that there is no vegemite for your toast – you are in England now so Marmite will have to do you, and there is always jam, marmalade and Nutella!!