BA Museum Waterside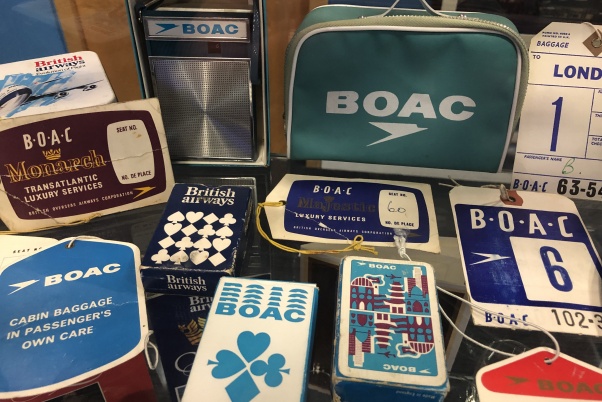 And for the "almost" last instalment of "Sarah does London in 3 Days" we finished our time at the BA Museum at the BA corporate offices "Waterside" located on the perimeter of London Heathrow Airport.
The building itself is like nothing I have seen – glass ceilings and windows everywhere allow a phenomenal amount of natural light into the building. The building itself is 3 connected under a single ceiling and walkways, and like a self contained community – there is a fitness centre, couple of cafes, hair salon, retail outlets and even a Sainsbury supermarket opening soon. We had a tour around the BA Museum which traces the history of the airline from its early beginnings to today. BA is the end result of a constant series of mergers and amalgamations of smaller airlines, transitioning through British Imperial Airway, British South African Airway (and more) to BOAC and what is not British Airways. The ideas that were innovative, cocktail lounges on board early planes, even the changing fashion of the ashtrays that were on board planes over the years. The museum has memorabilia from Royal visits, a series of uniforms and carry on luggage from through the years, and we were lucky enough to see, while we were there, a group of new trainees receiving their Wings – graduating as new cabin crew. In days gone by they would have started on short haul flights and worked their way up to long haul flights once they were experienced – but today once they have their wings, they can fly any and everywhere.
Waterside as the head office, houses the financial, IT and operational divisions of BA. There are other buildings where the cabin crew training takes place. To give a sense of scale and history as you enter Waterside there are two sets of landing gear on display – tyres and their hydraulic arms – and further into the building is a nose from the now out of commission Concorde.
From the museum we headed back to Terminal 5 on the BA staff bus and off to the BA Business Class Lounge. The Concorde lounge is exclusively for First Class BA clients only, but the Business Class lounge is for Business Clients as well as QF Gold Members and above to use, regardless of the class of flight they are booked on. It is a much larger area than the lounge in Sydney – lots of comfy chairs, lots of high tables with stools, open bars for spirits and wine, coffee and tea counter, salad and cold food buffet as well as hot food. Free Wifi? Of course.
So the next big question facing the powers that be in London is how to keep growing with consumer demand. Heathrow became the major airport for London only after WWII literally starting as a tent city, and now is in need of another runway to cope. There is one thought that the Waterside area with the BA Offices will all be demolished and cleared and another runway put there – which is not great for the local residents. Another plan is to increase the runways at Gatwick (which is against the local councils current charter but rules have been broken before) and current PM Boris Johnson has his eye on a new location on the Thames Estuary, which is out of London thus would also require new transport infrastructure.
Anyhow, such problems are for others to solve as I sip on my pink gin and tonic, waiting to head to my departure gate shortly. Next stop Singapore Changi Airport and discovery of the Jewel before heading home.