6 BENEFITS OF SMALL SHIP CRUISING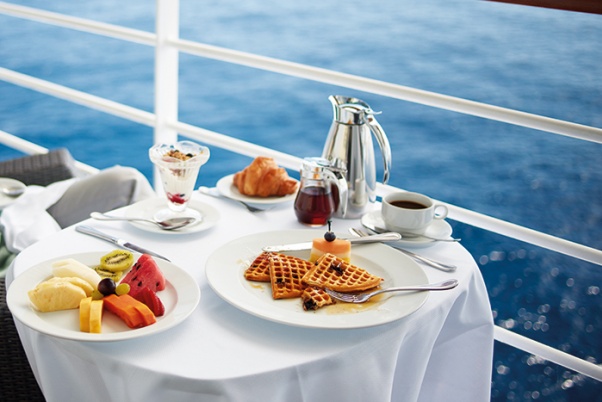 From the chance to explore more unique, boutique ports to fewer crowds, there are so many reasons to love small ship cruising. Whether you're seeking an Alaskan adventure, the perfect Mediterranean voyage or a tropical escape to Tahiti or the Caribbean, the benefits of Oceania Cruises' small-ship experience are many – here are just a few of our favorites.
 * Smaller ships equal access to boutique, uncrowded harbors. 
With our cruises, you'll have the chance to explore unique and off-the-beaten places that larger ships can't reach. In destinations that aren't overrun with tourists, it's that much easier to enjoy authentic travel experiences, interact with the locals and make memories you'll never forget.
 * Quicker embarkation and disembarkation 
This makes the beginning and end of your cruise that much more enjoyable – no long lines or crowds to deal with when you arrive at your departure port or when you're ready to disembark on the very last day. This is true for port days too whether you're tendering or docking – you'll enjoy more time in the destination since you won't be waiting in long lines to disembark and you won't have to worry about crowds when re-boarding the ship either. This is a perk that's welcome every time.
 * Mouthwatering dishes created à la minute for breakfast, lunch and dinner. 
With only 684 guests on our Regatta-Class ships and 1,250 on Marina and Riviera, the impressive ratio culinary staff to guests enables each dish to be created à la minute and makes every meal a gourmet culinary experience. Whether it's croissants and a cappuccino in the morning or a five-course dinner at Toscana, The Finest Cuisine at Sea means that only the best and freshest ingredients are used and each dish is created by our innovative chefs selected from the world's best restaurants.
 * Our intimate onboard ambiance makes it easy to feel right at home. 
Not only are our ships easy to navigate – no mile-long walks to your suite or stateroom or 10-deck hikes for a cup of coffee – but you'll find plenty of cozy spots and hideaways on board like our English-style library and the serene Patio just outside of Terrace Café. Faces become familiar much more quickly too, both fellow guests and our staff and crew, which brings us to our next point…
 * Warm, personalized service from the moment you step on board. 
Whether it's your first cruise with us or your 30th, you'll feel the attention to detail and warm, friendly service throughout your cruise – whether you're lounging in the sun by the pool, returning to your stateroom for the day or enjoying dinner at The Grand Dining Room. As our Oceania Club members will tell you, the officers, staff and crew will soon feel like your second family, doing whatever they can to make your voyage even more special and memorable. 
* You'll meet like-minded seasoned travelers. 
When you sail with Oceania Cruises, you'll meet well-traveled individuals as passionate about traveling and exploring the world as you. Conversation will come easily and the other guests you'll meet on shore excursions and happy hour often transform into lifelong friends.
Posted by Oceania Cruises in Oceania Cruises and shared with thanks