India and Nepal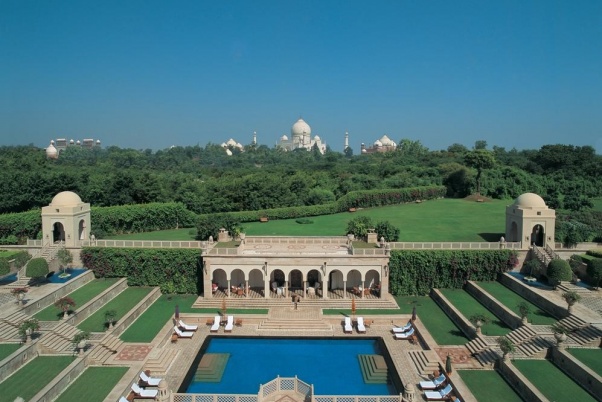 It has always been a policy of mine when planning my family's vacations that, when travelling to less developed countries, I always pay a little extra and go with an upmarket operator for a whole range of reasons, not the least of which is safety.
So when two clients phoned to book a tour to India and Nepal and mentioned "TAUCK" there was an audible sigh of relief from me. I have been to both countries and they can be challenging and confronting but fabulous all at the same time.
When I looked up the tour they were interested in, it said…"this trip is designed for guests who have a spirit of adventure." That pretty much sums up the two countries... but be prepared for the unexpected like driving down a two lane road and seeing a car, bus, elephant and men on bikes (piled high with goods) all coming towards you from the opposite direction… White knuckle stuff!
So for those who are contemplating a holiday to these two countries, my clients have generously shared a little feedback from their trip for your reading pleasure…
"As mentioned, our trip to India and Nepal was wonderful, we had a great time and stayed well – no Delhi Belly!
It was such a mix of experiences – seeing the amazing temples and palaces of Kathmandu and Bhaktapur, a scenic flight along the Himalayan range, being able to get up close to the wildlife in Chitwan National Park (one-horn rhino) and Bandhavgarh Tiger Reserve, and of course the iconic Taj Mahal and the cities of Delhi and Mumbai. Then two nights at the Raffles, Singapore to revive a little before coming home.
The hotel we stayed at in Kathmandu was Dwarikas. We also spent a night at their resort hotel in Dhulikhel, about an hour or so out of Kathmandu, right up in the hills.  Apparently it has wonderful views of the Himalayas but sadly we didn't have any view due to the smog.
The food was very plentiful and good – especially at their Japanese restaurant – and the rooms were extremely comfortable. We would recommend them both highly, particularly the one in Kathmandu which is close to the airport, Durbar Square and Pashupathinath temple complex on the Bagmati River. It was also good to be able to step out outside the hotel and you were immediately in the thick of it all. We went for a short walk both evenings. 
The Taj, Meghauli Serai Lodge at Chitwan National Park was also excellent with lovely views from new and very comfortable units across the river to the National Park. 
Mahua Kothi adjacent to Bandgavgarh National Park was also very good. The Imperial in New Delhi and the Oberoi hotels in Agra and Mumbai were also excellent."  
Tauck will run this tour again in the latter part of 2017; if you are interested please give me a call. Average group size is 20.
Raffles (Singapore) is a member of the Virtuoso family as am I so if I book this hotel for you I can offer the following Virtuoso amenities:
Virtuoso Amenities for 2017
Upgrade to next available category at time of booking (Personality Suite, Grand Hotel Suite, and Presidential Suite upgrades upon arrival, subject to availability. Blackout dates may apply.) Complimentary daily Continental Breakfast for up to two in room guests, served in Tiffin Room Complimentary Singapore Sling on arrival One USD $100 F&B credit per room per stay (not combinable, no cash value if not redeemed in full) 10% off Raffles Gift Shop – terms and conditions apply. Complimentary 45 minute history tour (must be booked in advance during time of reservation) Early check-in, subject to availability/Guaranteed late check-out up to 4pm Complimentary Wi-Fi