Kangaroo Island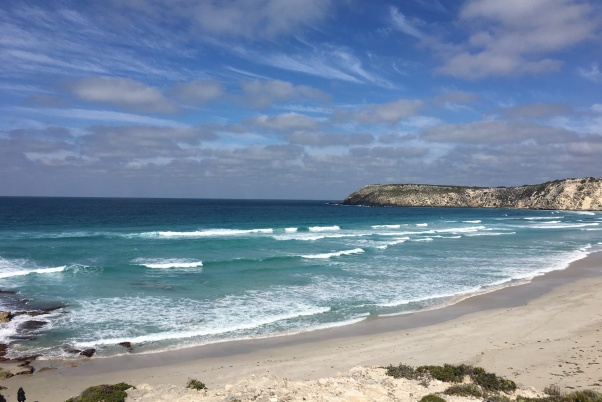 I'd like a dollar for every time someone has said to me – "I need to get away from the stress of big city life; I want peace and quiet, beautiful beaches, good food but I'm on a budget. Where can I go?
Australia has so many places that come to mind but one of my favourites is Kangaroo Island, South Australia.
I don't often get asked for this destination which is a pity because it is a beautiful part of the world and it has recently reinvented itself as a place that 'foodies' would love with honey, cheese, seafood, lamb, eggs and wine all locally produced. For photographers and (Australian) wildlife enthusiasts, it is a dream destination.
Sadly I think a mistake that people make as first time (and possible not repeat) visitors, is driving from either Kingscote or Penneshaw on the east coast to Flinders Chase on the west and expecting Kangaroo Island's attractions to be served up on a platter. They come away scratching their heads saying... "Is that all there is?"
The main highway is just that … a road from one side to the other. The hidden gems of Kangaroo Island are off the beaten path; it's up to you to find them. The beaches are magnificent and many times you will only share them with the seagulls and possibly some seals or dolphins if you venture into the ocean.
If you need to be entertained with clubs and bars and are only comfortable staying in a 5 star Sheraton or Ritz Carlton hotels, then go to Bali. The accommodation here is simple (well unless you can afford the Southern Ocean Lodge which should be on everyone's Bucket List – the only 'simples' you will find here are – simply stunning; simply amazing – simply the best – good name for a song!).  http://southernoceanlodge.com.au/lodge;
Divide your time 50/50 between east and west so that you can enjoy the serenity and wildlife of the national park plus all the beautiful walks (west coast) and then the beaches and good restaurants on the north, south and east coasts.
There is accommodation dotted all around the island, much of it self-catering (so remember stock up before you set off because it can be really annoying when you arrive at your destination only to have your partner ask "Did you remember to buy eggs and milk?".. and the supermarket is a 45min drive back into one of the towns. And fuel – remember to fill up before you go. Petrol stations are few and far between.
Getting there:  Fly (Regional Express) or ferry (Sealink) – that's it.
My favourite places: Pennington, Hanson and Vivonne Bays (south coast) and Stokes and Emu Bays (north coast).
Must see: Admiral's Arch, the Remarkable Rocks, Seal Bay Conservation Park, Emu Bay Lavender Farm, the Raptor Centre plus John the Pelican man at Kingscote.
Must do:
-       Swim with dolphins – sometimes over 50 of them. I like KI Marine adventures. http://www.kimarineadventures.com.au;
-       Go for an early morning walk in the Flinders chase National Park – you will be surrounded by wildlife.
Must not do:
-       Drive after dark or if you do, slowly please. The animals come out at night and they don't move as fast as you will probably drive. The speed limit in certain parts is 110 – way too fast in my opinion.
Favourite place to eat:
-       Fine Dining: Sunset Food and Wine (not far from Penneshaw). http://www.sunsetfoodandwine.com;
-       Casual meal – 'Fish' in Penneshaw. Run by a former chef at London's upmarket Ivy Restaurant who came for a visit and never left.
-       Can't be bothered to cook or go out --- order from 'Two Birds and a Squid', a gourmet catering company.
Plan a holiday to this wonderful part of Australia; you won't be disappointed and I would be only too happy to assist. I can arrange everything from flights, ferry, hotels, car hire to tours. Allow at least 7 nights to truly enjoy this beautiful island.
SOUTHERN OCEAN LODGE is a Virtuoso property and if I book this for you, as a Virtuoso Agent, I can currently offer the following additional amenities:-
Virtuoso Amenities for 2017
. Upgrade on arrival, subject to room availability (suite upgrade applies from Flinders Suite to Ocean Retreat only)
. Full breakfast for up to two in-room guests, in restaurant.
. One $50 USD equivalent Spa credit and one $50 USD equivalent Bespoke Experience credit to be utilized during your stay (the credits will be in AUD at this hotel) – they cannot be combined and must be applied to individual treatments; no cash value if not redeemed.
. Early check-in / late check-out (subject to room availability)
. Complimentary Wi-Fi.