River cruising in Europe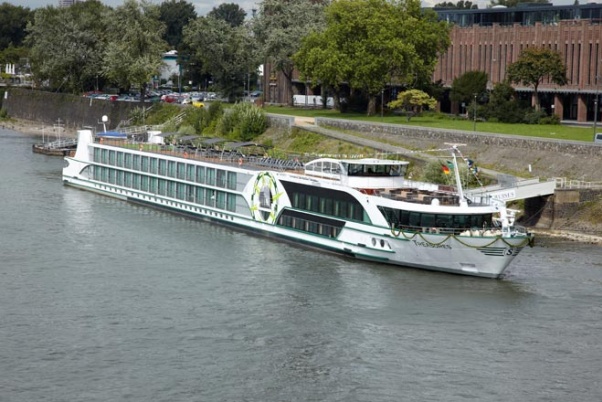 Oh, for a dollar for every time I have been asked: "If I like ocean cruises, will I also like river"? The answer to that is: You can't compare the two and you shouldn't even try. 
If you are a regular ocean cruiser, to switch from one to the other requires a change of mindset. If you must have a restaurant choice i.e. at the very least 5-6 restaurants; be entertained every night by big, grand shows; need a largish pool and spacious accommodation – then stick to the ocean.
River cruising is more simple; it is all about relaxing and enjoying the beautiful scenery as you float by. If you choose the right vessel and river cruise operator, you can expect:
a) Good service and food but in a limited choice of venues;
b) Evening entertainment by way of small musical groups from the towns through which you are passing;
c) Easy access to towns; you dock at their door unlike ocean liners (think Civitavecchia to Rome; Warnemünde to Berlin; Safaga to Luxor). 
d) A variety of talks on places to be visited provided by either guest speakers or the ship's Tour Directors;
e) Quality accommodation which is, of necessity, more compact. Having a balcony is not always an advantage as it can eat into the size of your cabin;
f) Quiet rivers – it is almost impossible to get motion sickness on a river; 
g) An opportunity to visit places virtually impossible to reach from the ocean;
h) A chance to meet everyone on the ship – how can you not when there are only 100-150 passengers on board.
I was very fortunate recently to have been offered an opportunity to experience a Tauck river cruise (aboard MS Treasures) up the Danube, through the Main and into the Rhine.  

The itinerary:Budapest – Bratislava – Vienna – Durnstein & Melk – Passau – Regensburg – Nurnberg – Bamberg – Wurzburg & Rothenberg – Rudesheim – Cologne – Amsterdam.
I am not a big city person so I probably can't look at Budapest, Vienna, Cologne or Amsterdam objectively.
I thought Budapest looked very tired and needs to be spruced up (Tip: don't miss the Hospital in the Rock under Buda Castle). Vienna is a lovely city with so much on offer but it is always busy so best visited in spring or autumn when there are fewer crowds (Tip: choose Hofburg Palace over Schonbrunn). Cologne – the cathedral is amazing as are the Roman sewers. Amsterdam looked better than the last time I was there. The canal cruise was very enjoyable and I loved the Rijksmuseum. (I'm still trying to get my head around how many bikes are in this city.)
All the other towns and cities were fabulous, no exceptions. Loved the medieval town centres! I never much cared for Germany before; I have now fallen in love with it. My plan is to return and self-drive the Romantic Road. http://www.romanticroadgermany.com;
The overall cruise experience I would rate as excellent. Tauck go the extra mile to ensure that you have a wonderful time. They include many little unexpected 'extras' e.g. a lunch; an unplanned stop at a small town; entrance fees into a special attraction - which give every day a "WOW" moment.  
A few tips: - It is better to cruise south-east to north-west as both the scenery and towns get better and better. 
- If there is a choice between Wurzburg and Rothenberg – choose the latter. 
- Don't take cash in Australian dollars. There are very few foreign exchange facilities and I was told many times, banks don't cater for 'exotic' currencies! 
- Choose a cabin with a balcony – even a French balcony is better than a window. It feels very claustrophobic going down those deep locks and it helps to be able to open a door. 
- Best time to go: Although I enjoyed autumn and all the beautiful colours, I would suggest spring especially as you will see the tulips in Amsterdam (mid-April).
- When NOT to go – mid-summer… far too many people. October was cold!
Tauck 'Treasures' is to be completely refurbished. I did see Tauck 'Joy' and apparently this is what Tauck 'Treasures' will look like - more modern, much lighter décor – white, grey, black with silver trim. I've been told that the beds are to be repositioned to face the window so you can lie in bed and enjoy the view. There was also a whisper that they may make the cabins larger so then, of course, that would mean fewer cabins overall. 
In summary, if you want an outstanding experience, travel with Tauck; if you put price above professionalism, cruise with the others because Tauck will probably be more expensive but it is money well spent. The only other company which will give it a run for its money is Crystal.