Explorer and Expedition cruises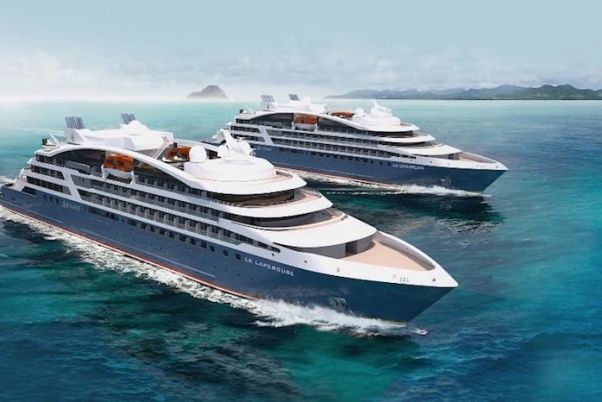 EXPLORER AND EXPEDITION STYLED CRUISING
Cruise Lines are always looking for new avenues to entice travellers on-board. The words 'Explorer and Expedition' are very fashionable at the moment. Ponant and Hapag Lloyd have entered this competitive market and will soon launch new ships.
Ponant's Le Lapérouse
The first ship in the new Ponant Explorers series, Le Lapérouse, is currently under construction in Norway.
The vessel will be the first of the four Ponant Explorer expedition ships to launch in June, followed by Le Champlain (autumn 2018); Le Bougainville and Le Dumont-d'Urville (2019).
With only 92 staterooms), the Ponant Explorer ships have been designed to reach the most inaccessible sites where other vessels cannot travel.
These 4 ships will feature an exclusive multi-sensorial underwater lounge, known as Blue Eye, which will allow passengers to experience life in the ocean depths.
Hapag-Lloyd's Expedition Ships
The bilingual expedition ship, Hanseatic Inspiration, will commencing cruising October 2019.  During the European summer it will be based in the Arctic region and move to Antarctica in the European winter. In between seasons, it will visit the fjords of Chile, the Amazon jungle, Cape Verde and the Azores and even the Great Lakes in North America.
This ship accommodates a maximum of 230 guests (reduced to 199 on Antarctic cruises) in 120 outside cabins with balcony.
Its sister ship, the Hanseatic Nature, is aimed exclusively at the German-speaking market and will be launch in April 2019.
Both ships feature the Ocean Academy which will offer guests a technically advance way to discover more about the regions they are visiting. Presentations are also held daily in the Atrium with lectures by marine experts and scientists.
There will be 3 restaurants on board offering different dining experiences – a 44 seater speciality restaurant with gourmet dishes from Japan and Peru; the ship's main restaurant (178 seats) and a bistro restaurant (184 seats – some indoor and some outdoor). Flexible dining times and open seating will apply.