Holiday under the Sea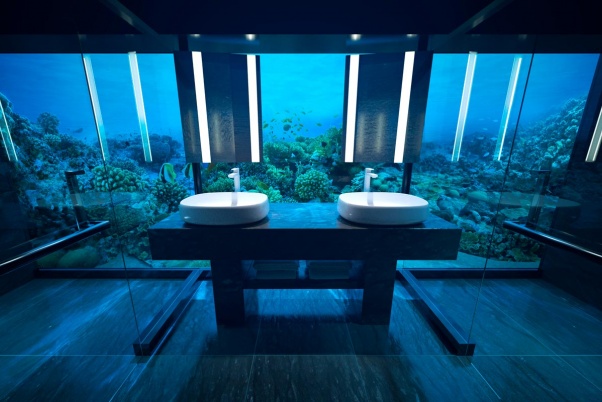 Considering a holiday in the Maldives and want to try something different? Then you might want to look at the new, soon to be opened, Conrad Resort on Rangali Island, the world's first undersea residence.
To be named The Muraka, which translates as 'coral', the undersea residence gives guests an intimate and immersive experience of one of the Earth's most breathtaking marine environments. Muraka is designed to blend into its environment, giving guests unparalleled views of the Indian Ocean at every turn.
The undersea residence is a two-level structure comprising space above the sea level and an undersea suite designed for sleeping under the ocean's surface. The undersea suite features a king-size bedroom, living area, bathroom and spiral staircase that leads to the upper-level living room. The undersea bedroom floor level sits 5 metres below sea level, providing uninterrupted views of the surrounding marine environment.
Muraka's upper level features a twin-size bedroom, bathroom, powder room, gym, butler's quarters, private security quarters, integrated living room, kitchen, bar and dining, which features a deck that purposely faces the direction of the sunset for optimal viewing pleasure. On the opposite side of the villa sits the relaxation deck that faces the direction of sunrise and is complete with an infinity swimming pool. The upper level also contains an additional king-size bedroom and bathroom, which boasts an ocean-facing bathtub, ideal for soaking in views of the horizon. In total, Muraka can accommodate up to nine guests.