Rovos Rail V Blue Train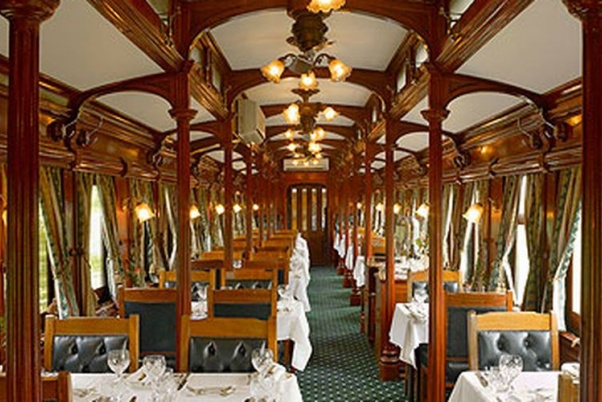 Who would have thought when I walked into a cocktail party recently, I would leave holding details of a free trip to South Africa!
Something I've dreamt about for a long time and hoped to experience one day was the opportunity to travel on one of the country's luxury trains. You can imagine my excitement when I read the itinerary and it said 3 days / 2 nights on Rovos Rail! I had won the Travel Lottery.
If you haven't heard of Rovos… It was (and is) a luxury mode of travel from a bygone era. From the moment you arrive at the private train station; from the red carpet welcome to the tea and sandwiches reception, you are transported back a hundred years.
The journey didn't disappoint but I've since been asked many times, "Which is better... Blue Train or Rovos Rail"? I haven't been on the Blue Train, but I read this review recently and I think it says it better than I ever could.
So, which train is the better option?
The welcome: No comparison, Rovos Rail wins by a long shot
Exterior appearance: A matter of taste, but Rovos Rail would get my vote.
Interior finish: It's got to be a tie
Food: Both are excellent, but the Blue Train has more menu options, and this gives it the edge.
Ride quality: The Blue Train wins by a country mile but when it comes to the staff on board, Rovos Rail turns the tables – it is as though you've known them for years.
Off-train excursions: It's got to be Rovos Rail as you visit both Matjiesfontein and the Kimberley Mine Museum while on the Blue Train you get one of the two – depending on the direction of travel.
Everything you eat and drink is included in the price on both trains. Cuban cigars are offered on Blue Train. There's no Wi-Fi on Rovos Rail but it is available on Blue Train. (You are actually discouraged from using your laptop and iPhone. Not a bad idea!)
Conclusion Make no mistake, both trains offer an unforgettable experience, but if I were to go again, the choice would be Rovos Rail. The fact that you are on the train for more than 50 hours (compared to 27) makes the journey more of a holiday, and after all, luxury travel is about the journey and not the destination.
I couldn't agree more!