Sabi Sabi Earth Lodge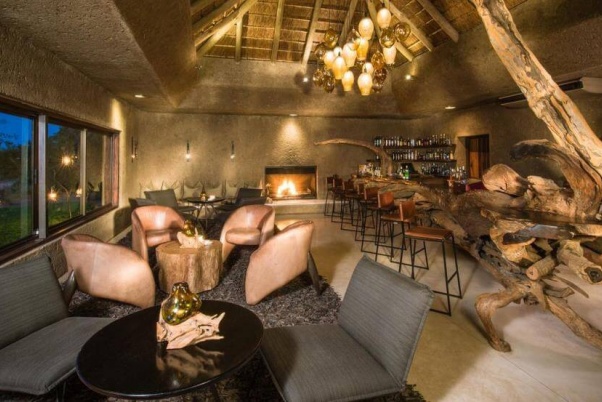 There are thousands of beautiful lodges in the world but every now and again, you come across one which stands out; where every aspect of its design is aimed at fitting in with and not disturbing the environment and when this happens, it literally takes your breath away.
I was recently lucky enough to win the major door prize at a South Africa function. The 2 week trip was fabulous but I want to focus on the last lodge I stayed in. It is located in a private concession in the southern part of the Sabi Sand Game Reserve and its name is SABI SABI EARTH LODGE.
As soon as we pulled up in the driveway, I knew this was my kind of place. Whoever built this lodge went to considerable lengths to ensure it completely blends in. You enter through a hidden corridor and exit to a panorama of uninterrupted bushveld and the open-plan Reception area. It is as if the lodge has been sculpted into a slope of the earth. The materials, the décor - all have been carefully chosen to ensure everything feels part of the surrounding terrain. Certainly the animals seem to have accepted it as part of their world. We were greeted by an elephant casually grazing on the roof covering the entrance.
The accommodation is exceptional consisting of thirteen ultra-luxurious suites including the Amber Presidential Suite. Each of the suites features individually designed furniture, private plunge pool, the biggest bathroom I have ever seen and indoor and outdoor shower. (I opted not to take a shower outside when I saw a lion at the waterhole located not far from my back door.)
Each morning and evening, game drives take you through a wide variety of habitats within this private concession. Our game ranger and Shangaan tracker were fabulous, spotting animals we would have otherwise driven straight past. On the first afternoon drive, they asked us what we wanted to see and we said - lion, rhino and leopard - and we did!! Tick, tick tick!
In the evening, we dined on the freshest ingredients, served in the outdoor boma. Its walls are made the traditional way - with tree roots, piled up piece by piece. Dinner under the African sky is magical. Sitting under the stars with a large fire burning, listening to the sounds of the night, the rest of the world just melts away. I wanted to stay forever.
So add this award winning lodge to your bucket list. The owners are committed to ecologically sustainable tourism and it is one of the most eco-friendly African safari destinations on the continent.