ENDURANCE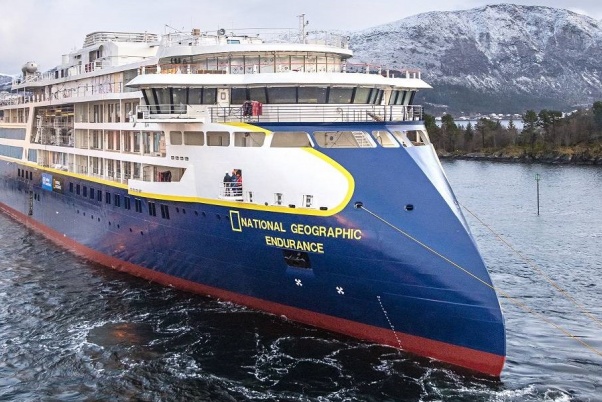 There have been several expedition cruise ships launched recently, all capable of operating in the Arctic or Antarctica regions but National Geographic's ENDURANCE is in a class of its own. It has been built with the highest ice class rating available for any purpose built passenger ship – PC 5 Category A, which means it can operate year round in the Polar regions.
Thanks to its unusual, sloping X-bow, Endurance will be capable of cruising through the roughest seas with less movement (think 'Drake Passage'); this also means greater fuel efficiency and less emissions for reduced impact on the pristine environment through which she will pass.
This unusual bow also improves wildlife viewing. Utilising walk-out areas next to the Bridge and Observation Lounge, passengers will no longer need to lean over the side but will be able to look straight down the sides of the ship. 
For the more adventurous, nothing has been forgotten in the way of equipment. In addition to a fleet of Zodiac boats for remote landings, the shiip will have kayaks for aquatic tours plus snowshoes and cross-country skis for land exploration.
For those who need to know what is going on underwater, Endurance has its own remote-operated vehicle. There will be hydrophones on board for listening in on the marine wildlife plus an underwater video system. The ship also will carry video microscopes for the budding scientist.  
Yes she is rugged and tough with safety being top priority, but comfort has not been forgotten. Scandinavian style is evident everywhere. The ship's central gathering point for daily presentations and social gatherings will be the Ice Lounge and for relaxation after a full day's sightseeing, there is a cosy hangout on the Observation Deck called 'The Den' complete with fireplace and comfortable lounge chairs.
Endurance will have multiple dining venues including a main restaurant (Two Seven Zeroº) and a casual eatery (C. Green's, names after explorer Ernest Shackelton's cook). There also will be a Chef's Table hosted by the ship's chef that will feature 'inventive, regionally inspired and sustainable dishes'. Every passenger will have an opportunity to experience it once per voyage.
If you enjoy a little pampering, there is a spa area with a glass-walled yoga studio called the 'Sanctuary' and twin outdoor infinity Jacuzzis. For private outdoor viewing, guests can venture to the top deck where they will find two igloos, perfect for sheltered wildlife observation.
Endurance will carry 126 guests. Accommodation ranges from 13 large balcony suites with feather duvet-topped beds, a walk-in closet and stone-clad baths. All but 16 of the 56 standard cabins on the ship will have balconies and there will be 12 balcony cabins specifically for solo travellers.