Kruger Shalati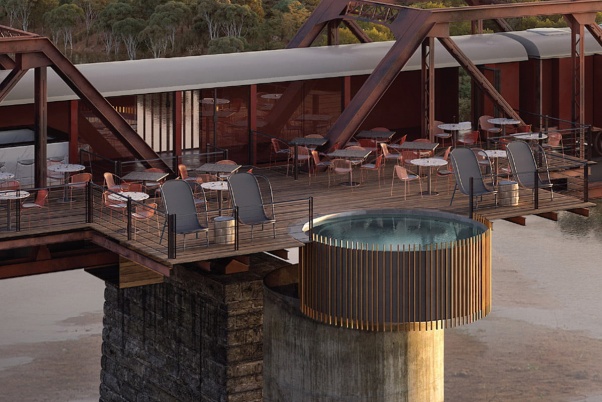 Who would have thought - a train from the 1920's, an unused railway track and an historic bridge - 100 years later, these 3 things would be transformed into one of the most anticipated and unique hotels to open in South Africa for many years.

An unexpected touch of luxury at the doors to the famous Kruger Park. This 'one of a kind' boutique hotel rests high above the riverbank on the very spot where the original train stopped for the night so guests could sleep before heading to the next destination the following day.

Kruger Shalati - The Train on the Bridge - will comprising 31 rooms (24 glass-walled carriage rooms and 7 Bridge House rooms) all with uninterrupted views over the Sabie River. One of the suites is solely for honeymooners and another caters just for families, although children under 12 must wait till they older before they can visit.

The whole complex pays homage to by gone days and the visitors who ventured into Kruger over 100 years ago. The style of the train is a striking celebration of African design and culture in collaboration with local artists. 

Kruger Shalati is easily accessible being only 4kms from Skukuza airport with access via the Paul Kruger and Phabeni gates of Kruger National Park. It is a longer 5-hour drive from Johannesburg and 2 hours from Kruger Mpumalanga International Airport. Rates are inclusive of all meals and two game drives daily.

It's the perfect way to start your African safari!   krugershalati.com;